Is anyone else feeling a sense of déjà vu? That's been the sentiment over these Prime Big Deal Days as a whole, as many of the deals we recommended during the July Prime Day event have returned. This isn't bad news as such, in fact, it means we get to spotlight some of our favourite deals once again, and it just so happens that my favourite Prime Day deal is back for round two.
The ultra-short throw Xgimi Aura 4K projector is down to that tempting Prime Day price of £1719, making it an enticing option if you're looking for a TV alternative once again. With nearly £700 off the asking price, this is a remarkable deal, and you have the chance to snap it up once again.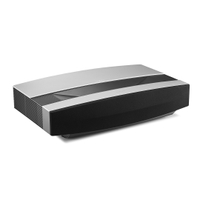 XGIMI Aura 4K £2400 £1719 at Amazon (save £681)
The XGIMI Aura 4K boasts punchy colours and excellent sound by projector standards, making this a tempting choice for those who want something a bit more cinematic than their TV or don't want the hassle of setting up a home cinema projector.
Read our full XGIMI Aura 4K review
XGIMI, purveyors of projectors in all shapes and sizes, hopped aboard the UST bandwagon last year with the Aura 4K and we had plenty of nice things to say about it. The only issue was that at £2149 / $2499 / AU$3999, it was rather expensive - and since our review, it has jumped up to £2400, ouch.
The XGIMI Aura 4K was awarded four stars in our review last year for a whole host of reasons. Starting with the most important factor, picture performance, the XGIMI certainly isn't perfect (especially when it's fresh out of the box) but with some light tweaking we reached an image that had plenty of admirable qualities. Namely, the punchy and vibrant colours that make the image spring to life, even if they do sacrifice some subtlety in the process.
XGIMI has also given plenty of care and attention to contrast on this unit, which results in impactful three-dimensional depth and impressive highlights in brighter scenes. As the name suggests, it's a 4K projector meaning the picture is nice and sharp, and it also supports HDR10, although there's no HDR10+ or Dolby Vision here unfortunately. That being said, their absences aren't what we'd consider to be detrimental, and overall, we really can vouch for the picture on this projector.
What's even more impressive is the Aura 4K's sound performance. While it does have eARC for hooking up a soundbar, it's not a necessity, as the built-in Harman Kardon sound system is plenty powerful enough for clear dialogue and weighty explosions alike.
And just when you think it couldn't get any better, the Aura comes with Android TV and Chromecast built-in, meaning you can access all your favourite streaming apps like Netflix, Disney Plus, Prime Video and more directly from the projector - very handy indeed.
If you're courting the idea of levelling up your living room with a TV replacement or dipping your toes into the world of home cinemas, then the XGIMI is a great place to start, especially with nearly £700 knocked off the asking price.
MORE:
Find the very best Amazon Prime Big Deal Days offers
Check out our full XGIMI Aura 4K review
Check out the best projector deals
And the best soundbar deals too