If you're after a well-featured, high-performing music streamer under £1000, it's likely the Cambridge Audio CXN (V2) won't only have made your shortlist but is sitting at the top of it. It's a multiple What Hi-Fi? Awards winner, after all – it has just won its sixth consecutive award at its price level, in fact, and before its time the streamer sitting in that spot was the original (V1!) CXN. So yes, Cambridge Audio's mid-range streamer is pretty special, to the point where I chose it to stream-savvy up my hi-fi system at home for several years.
What's also pretty special is its current Black Friday discount, which brings the price from £799 down to just £599 at Cambridge Audio, Amazon and (if you sign up to the retailer's free VIP program) Richer Sounds. I don't recall seeing it fall below £699 before, so this truly is a great price – and I'd be surprised if it fell any lower.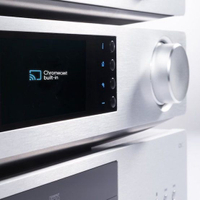 OK so I couldn't help myself – I trawled through the What Hi-Fi? Awards archives and found that the mid-series CXN model has been a winner since 2015. That the current V2 iteration has dropped in price so heavily for Black Friday 2023, and is the best part of six years old, makes me think a third-generation CXN or another mid-range model altogether from Cambridge Audio is on its way soon – but that shouldn't put you off if you are indeed looking for a bargain around the £600 price point.
The CXN (V2)'s spec sheet certainly doesn't let on its age, with AirPlay 2, Google Chromecast, Spotify Connect, Tidal Connect and UPnP part of its feature list, as is access to the main streaming services. And while we don't know Cambridge Audio's firmware update roadmap, we imagine the CXN (V2) will be privy to the updates for its proprietary StreamMagic platform for a while to come.
Naturally, it sounds terrific – class-leadingly so below the £1000 mark. And one of the reasons I enjoyed living with the CXN (V2) so much is that the Cambridge app is reliable and easy to get along with.
Just recently we included the CXN (V2) in a dream mid-range streaming hi-fi system builder alongside Cambridge Audio amplification and Bowers & Wilkins speakers, though the CXN (V2) could also partner with electronics and speakers a little above its price point without being a weak link. If you were wondering, yes it would be a good match for the company's CXA81 amplifier (also £200 off!)
All in all, the CXN (V2) is a superb buy – especially with a £200 Black Friday discount. If you're after a streamer around this money (or even a bit higher), there really isn't a better all-round performer available right now.
MORE:
Read our Cambridge Audio CXN V2 review
Check out how to add a streamer to your hi-fi system
See the very best music streamers on the market