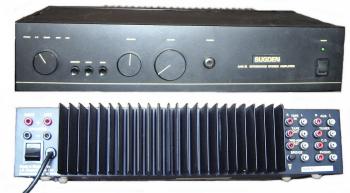 Hello,
not been here for a while.
Right.... like most people I have a list of things that I want to do and own.... Having past '30' I have learned to no longer qualify them with an age requirement (i.e. things to do/see/kill/own before I am 30!).
I have one for audiophile equipment and, those that vaguely can remember me, I do better at the interesting older (read 'cheaper') end than the new shiny end.
I have always wanted a Sugden A28 II amplifier, well I have for a long time and today I managed to get one, kind of..... it is actually an A48 III (which looks vaguely like an A28)... it was an impulse buy.  Impulse buys make me shudder... they always feel great, they always come back to bite you on the buttocks, the shine always proves to be spit....
.... so I started doing my research after I had put my bid.... and do you know what?  I cannot find a decent review of them.  The Gramophone Archive was not really helpful this time.... I pulled up another reference at a rival mag's Arcam page which bluntly stated that the A&R A60 made the Sugden A48 struggle....
I vaguely remember an old conversation with the Sugden service department in which they warned me off certain models because it was difficult to replace some of the switch arrays... I think that it was the earlier ones and that would make intuitive sense, but I cannot remember....
Reassurance What Hi Fi Forum.... ! Reassurance......?