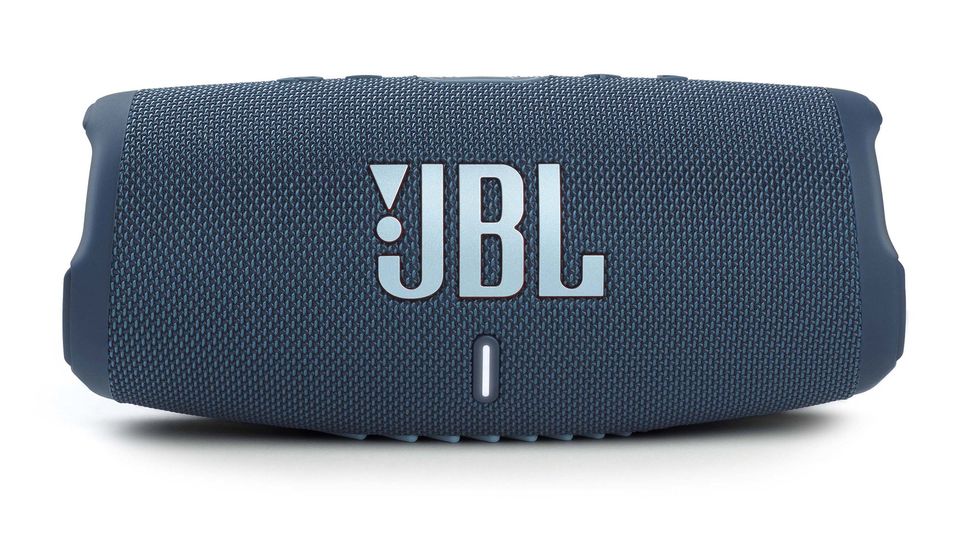 Battery life: 20hrs
Bluetooth: 5.1
Dimensions: 22 x 9.6 x 9.4cm
Weight: 960g
A current What Hi-Fi? Award winner, the Charge 5 sounds as good as any Bluetooth speaker in its price range and offers a huge battery that will last you all day. It's a lot bulkier than the Flip 5 but is more capable because of that. A superb option to take out to your garden.
For
Clear, detailed, powerful sound
Updated dustproofing
Can charge other devices
Against
Pretty bulky to carry around
Battery life: 12hrs
Bluetooth: 4.2
Dimensions: 7.4 x 18.1 x 6.9cm
Weight: 540g
If it's a smaller, more portable option you're after, for regularly flinging in a bag and taking out with you, the former-Award-winning Flip 5 will do you proud. It still sounds excellent and can be picked up at an even more bargain price, though it does forego some bells and whistles such as a shorter battery life and older Bluetooth spec.
For
Great sound for its size
Bargain price
Super-portable
Against
Feature set is basic
Charge 5 sounds more powerful
JBL makes some of the best Bluetooth speakers around, but just because a wireless speaker is very good, that doesn't mean it is necessarily right for you. Which one will suit you best depends on whether a speaker's skillset matches your needs and priorities. Want one to take to the beach? Then it's no good opting for a speaker without good water- and dust-proofing.
The JBL Flip 5 is a great portable option, offering excellent sound quality for not much money (it's even more affordable now that it's been surpassed by the Flip 6). But perhaps you'd be better served by the model-up JBL Charge 5? This bigger, slightly pricier sibling packs the ability to juice up your mobile device on the go, making it perfect if you're away from a power socket for a long time.
So which represents better value? And which should you go for? Let's find out...
JBL Charge 5 vs Flip 5: price
The Charge 5 is the pricier of the two models. It launched in 2021 at £160 / $180 (around AU$280), but can now be picked up for around £110 / $150 / AU$200.
The cheaper Flip 5 launched in 2019 at £100 / $100 / AU$139, but now that it's been superseded by the 2022-released Flip 6 it sells for as little as £73 / $79 / AU$130.
Neither speaker is going to break the bank, and both are bargains given the audio quality and convenience they offer, but if your budget doesn't stretch to the Charge 5, your decision might already be made.
Both Amazon Prime Day and Black Friday sales events will most likely discount both of these Bluetooth speakers, but you'll have to wait until July or November respectively to take advantage of those.
Winner: JBL Flip 5
JBL Charge 5 vs Flip 5: design
You can file both the Charge 5 and Flip 5's designs firmly under functional. And, if you want, colourful too. Build quality is second to none for their size and price, and they certainly feel like they're built to last.
The Charge 5 is newer and therefore has a more modern design than the fifth-gen Flip. The JBL logo has been enlarged and looks more striking, while the rubberised underbody comprises pleasing diagonal lines for traction when you set it down. The USB-C charging port is uncovered, but the USB-A port (used to charge your other devices from) is covered by a small rubber flap.
The Charge 5 is significantly bigger than the Flip 5 too, standing just short of the height of a wine bottle. And importantly, it is more resistant to the elements as well –rated IP67, meaning it's dust-proof and will survive being submerged in up to a metre of water for up to 30 minutes.
The Flip 5 is waterproof to the same resistance but lacks its sibling's dust-proofing. The Flip 5 essentially looks like a smaller Charge – JBL has been consistent in its design language over the years. It doesn't have a USB for charging phones and other devices, but it does have the same uncovered USB-C port charging port and as a whole still feels nice and rugged – you can drop it without worrying about the delicate little darling breaking in two.
Winner: JBL Charge 5
JBL Charge 5 vs Flip 5: features
Being the bigger, pricier of the two, the Charge 5 has the higher spec. Inside is a 52 x 90mm bass driver and a 20mm tweeter. These both have dedicated power amplification – 30W for the woofer and 10W for the highs.
Bluetooth 5.1 is onboard, giving you greater range and a more robust connection than the Bluetooth 4.2 found on the Flip 5. And the 7500mAh battery is much bigger than the Flip 5's 4800mAh one, giving it a longer battery life – 20 hours compared to its smaller sibling's 12 hours.
Both speakers feature JBL's PartyBoost, which lets the speakers work wirelessly in sync with other JBL models. Sound familiar? Earlier JBL speakers had a similar feature called Connect+. The two features are broadly the same, but unfortunately you can't use JBL Boost-compatible speakers with those sporting Connect+.
Because they both use PartyBoost, the Charge 5 and Flip 5 can work with each other. The tech lets you sync up to 100 PartyBoost-compatible speakers together to create one heck of a sound. Both work with the JBL app too, which you use to sync them with other speakers.
Winner: JBL Charge 5
JBL Charge 5 vs Flip 5: sound quality
Both of these speakers are What Hi-Fi? Award winners at their respective price points: the Charge 5 won in 2022 (so currently holds the crown) and 2021, while the Flip 5 emerged victorious in 2020. So you can rest assured they both sound superb. But which sounds better?
Being bigger and more powerful sounding, the Charge 5 is the pick of the two if scale and breadth of sound are important to you and you want to fill a bigger space. It has greater heft than the Flip 5 (and Flip 6) and ultimately is an all-round class leader in its field. The leading edges of notes in the low end are crisp, lending the performance an agility that is lacking in other similar-specced speakers, while vocals pack plenty of energy.
It's an effortless performance, capable of delicacy and nuance among all the excitement and bass clout. And any brightness in the Charge 5's new tweeter melts away once the speaker is run in, leaving only cleaner, clearer treble frequencies.
Pleasingly, the Flip 5 has a similar sonic character – JBL has been around in this space long enough to have nailed a sound that's enjoyably easygoing yet compelling. The Flip 5 doesn't have as big or as bassy a sound, but it's still impressively weighty for a speaker its size.
Winner: JBL Charge 5
JBL Charge 5 vs Flip 5: verdict
It's a close-run race, considering the two JBL speakers share a lot in common and offer as much as you'd expect from a Bluetooth speaker at their respective price points. If you can afford either asking price and don't mind a physically bigger speaker, we'd go for Charge 5. Not only is it newer, but it also offers more features and has a longer battery life and more powerful sound quality.
That said, the Flip 5 is still a very capable little speaker to stash in your pocket or bag as you go about your day, and therefore might reasonably be your pick of the two if your budget is tighter and/or you want a physically smaller speaker.
While we believe the Charge 5 is worth the extra outlay and will appeal to more people, both speakers are five-star bargains that won't disappoint.
MORE:
Check out our JBL Flip 6 review
Decided on the Flip? See our JBL Flip 6 vs Flip 5 in a battle of new vs old
See the best Bluetooth speaker deals on the internet