The 10th anniversary of the Samsung Galaxy range has been marked with the launch of not one but three new Samsung Galaxy S10 phones.
The expected Samsung Galaxy S10 flagship has been joined by the more compact and affordable Galaxy S10e, and the bigger, more expensive and more powerful Galaxy S10+. Together they give you screen options of 5.8, 6.1 and 6.4 inches. That's how you celebrate a birthday...
If it's new features and specs you're after, you're in luck: the Galaxy S10 models bring with them a new "Infinity-O" OLED display, HDR10+ video support, Dolby Atmos audio, an Ultrasonic Fingerprint sensor underneath the front of the screen, a triple rear camera lens, a hefty 4100 mAh battery, the option of a 1TB memory, a microSD card slot and even a trusty 3.5mm headphone jack.
Galaxy S10 release date and price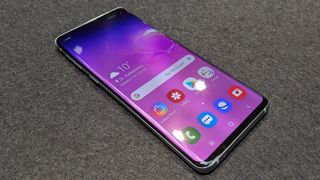 In line with other top-of-the-range phones, the three new Galaxy S10 handsets don't come cheap, with the Galaxy S10+ 1TB Performance Edition topping out at £1399. Thankfully, the cheaper Galaxy S10e is a slightly more reasonable £669.
The full Samsung Galaxy S10 UK and US prices are as follows:
Galaxy S10e £669/$749
Galaxy S10 128GB £799/$899
Galaxy S10 512GB £999/$1099
Galaxy S10+ 128GB £899/$999
Galaxy S10+ 512GB £1099/$1299
Galaxy S10+ 1TB £1399/$1499
Samsung Galaxy S10 pre-orders are open from now, with the official release date set for 8th March.
Design and build
The three new Galaxy S10 phones are largely similar in design and in truth feel largely familiar. Samsung is not alone in finding it hard to distinguish its phones from others on the market at first glance.
Smartphone manufacturers have largely settled on an optimum design – slim, black rectangles with minimal bezels – and, but for a camera bump or notch (of which there is neither here), it would be hard for the average punter to pick one from another in a lineup.
Samsung has done its best to help by offering a selection of colour options, albeit this only affects the rear of each unit. All three models come in Prism White, Prism Black and Prism Green. The compact S10e also has a Canary Yellow option, while the larger S10+ is also available in Ceramic Black and Ceramic White.
Galaxy S10e, S10, S10+ dimensions and weight
Galaxy S10e
142.2 x 69.9 x 7.9mm, 150g
Galaxy S10
149.9 x 70.4 x 7.8mm, 157g
Galaxy S10+
157.6 x 74.1 x 7.8mm, 175g
And, of course, they are different sizes. The Galaxy S10 has a 6.1-inch screen, the S10+ offers a 6.4-inch screen and the smaller S10e has a 5.8-inch screen. More on those displays later, but with last year's flagship Galaxy S9 sporting a 5.8-inch screen and the Galaxy S9+ offering a 6.2-inch screen, it's a jump in size when it comes to comparing like-for-like models.
The S10 and S10+ have an Edge AMOLED (OLED) display, where the screen rolls over the side to maximise the screen real estate, while the S10e has a Flat AMOLED. With the phones measuring only 7.8/7.9mm in terms of depth – the S10e is a smidgen bigger – they are 0.7mm slimmer than their predecessors. If you can feel that we'll give you a banana, but crucially they feel sleek and manageable in your hand. Even with those massive screens.
They're a little bit lighter than last year's models, too, which is testament to Samsung's engineers, especially considering the phones are packed full of new features and upgraded components.
It's hard for any phone to have the wow factor at the moment, even those from Apple, and, while we have few complaints here, we'd be lying if we thought the new Galaxy S10 phones really screamed £1000. But that's true of rivals, too. When it comes to parting you from your cash and justifying that price, it's all about what's inside.
Features
Samsung has done its level best to deliver headline-grabbing features pretty much everywhere. The screen, under the screen, the speakers, the earbuds, the battery, the memory... Everything is buffed to top-tier levels of performance, at least on paper.
So, where to begin? Well, the S10 and S10+ are the world's first phones to feature HDR10+-certified screens for ultimate 4K HDR picture performance. This means the potential to display video in a whole new level of loveliness thanks to the all-important addition of dynamic metadata.
This essentially translates to frame-by-frame attention to picture detail, as with competing format Dolby Vision. On a TV we're smitten with HDR, but we look forward to seeing just how much difference this particular spec can make on a 6.1-inch screen.
There's also no notch (as on the iPhone X and the Pixel 3 XL, for example) for the front camera lens here because Samsung has opted for the 'hole-punch display', making a small cut in the screen where the selfie camera sits. This isn't the first phone to do this and it seems instantly easy to live with and less intrusive to our eyes than a notch.
Turning our attention to the other side of that screen, Samsung has become one of the first – though not quite the first – to move the fingerprint sensor underneath the display. Previously this has been below the screen, wasting further bezel space, or around the back. Samsung is calling this Ultrasonic Fingerprint, which certainly sounds cool. Samsung says this design placement makes it harder to hack, too.
We got a brief chance to use this ahead of the Galaxy S10 launch and certainly all signs suggested it will work every bit as well as a sensor found elsewhere on the handset. That's good enough for us, and means it simply comes down to where you want it and how it might affect your screen.
Will it get dirtier quicker? What if you don't want to be touching your screen all the time? We will have to see over time how this move works out. Prefer face unlock? Facial recognition is here too.
Elsewhere inside the phone, we see a not insignificant jump in memory size. The S10e comes with 128GB or 256GB storage, the S10 with 128GB and 512GB options, but the show-stopper is the S10+, which is available in 128GB and 512GB as standard, but with 1TB of storage in the case of the Ultimate Performance Edition. This is a crazy big amount of storage, albeit it does also come with a crazy-ish price tag. But the option is there. And all three have microSD card slots, too.
The phones weigh in with 3100, 3400 and 4100 mAh batteries respectively, the latter giving the S10+ the edge even over the latest Galaxy Note 9. Last year's Galaxy S9, with its 3000 mAh battery, has also been left in the shade.
And if you're wondering what to do with all that juice, you could always share it. Samsung's Wireless PowerShare is on all three S10 phones, which allows you to share your phone's battery with any other wireless charging device simply by placing the two devices close together. The new Galaxy phones are IP68 water resistant, too.
Screen
All three phones have an AMOLED aka OLED display; Samsung's latest Infinity-O Display, no less, in a 19:9 aspect ratio.
The S10 and S10+ sport the aforementioned Edge design, with the screen curving around the frame slightly, eliminating any bezel. They also have a Wide Quad HD+ Dynamic AMOLED (WQHD+) at 3040 x 1440 resolution. The smaller S10e has a flat design and a Full HD+ Dynamic AMOLED at 2280 x 1080 resolution.
You can shoot and watch HDR10+ video on the Galaxy S10, and Samsung name-checked Amazon Video in its launch as a source for 4K HDR10+ content. The phone promises 1200 nits peak brightness and interestingly also highlighted the minimal blue light from the screen.
On the video loaded to our test screens, the colours looked typically bright but natural too – not over-egged just beautifully crisp and sharp. Fast-moving footage looked so vibrant as to be reminiscent of a computer game, only in a good way.
We declared that the S9+ had "the best screen on a smartphone" with deep blacks and punchy colours, and these new models have hopefully only upped the ante. We frankly can't wait to see how good TV and films can look on a phone screen when we get the new S10 phones in for a full review.
Sound
Did we mention the Galaxy S10 phones have a headphone jack? While it may sound like we're being facetious, it's clear from the reaction to those handsets that have removed the 3.5mm headphone connection, opting for USB-C or Lightning, that plenty of people would prefer still to have the option of a standard jack. If that's you, you're in luck here.
The phone comes bundled with Galaxy Buds, too, so there is the option to go true wireless out of the box. They're 30% smaller than Samsung's previous Icon X wireless earbuds.
The handset has AKG-tuned speakers and support for Dolby Atmos, so the company has headlines for those of us who care about audio, too. We look forward to testing how it sounds in our full review.
The S9+ sounded controlled and full-bodied with all types of music, but particularly with better quality files, and supported 24-bit/192kHz PCM and DSD hi-res audio files.
Camera
The Galaxy S10 and S10+ have a triple rear camera and a dual front camera for an impressive five lenses. The S10e settles for four.
There's a 12MP regular lens, 12MP optically-zoomed telephoto lens, and a new 16MP ultra-wide lens, plus a dual-pixel 10MP camera on the front.
As is customary with top tier phones, it comes with a frankly bewildering range of camera modes, including Panorama, Pro and Live Focus. Artificial Intelligence ensures you can remove any confusion and opt for the 'intelligent camera' scene optimiser or shot suggestions. Super Steady Video promises to make shooting video even easier, too.
Samsung says it's analysing thousands of photos to help it learn and in turn advise you as you take shots.
Initial verdict
The Galaxy S10 has certainly upped the ante, on paper. There's something for everyone when it comes to screen size, assuming you're prepared to put your hand fairly deeply into your pocket.
Thankfully, we were blown away by the performance on last year's S9 models, so with upgrades to the display, video and audio support, and the all-important battery life and memory, it's hard to see what's not to like about the S10 and S10+ if you want a top-class Android experience.
And with the S10e potentially bridging the gap for those not wanting to stretch their hands or their wallets, Samsung really could have a one new Galaxy range to rule them all.
We look forward to finding out just how good they are, how the S10 phones compare to the S9 and rival handsets from Google, Huawei and more, and delivering full tests of the new Galaxy S10 handsets very soon.