If you're in the market for a Dolby Atmos soundbar that doesn't cost the earth and have been waiting for the Black Friday deals to make your move, your patience has been rewarded: the Bowers & Wilkins Panorama 3 is now just £399 at Amazon and Peter Tyson thanks to a £500 (or 55 per cent) discount.
Unsurprisingly, that's the lowest price we have ever seen this premium, single-unit bar drop to, though it has fluctuated around and above £499 since earlier this year. Considering we awarded the B&W Atmos soundbar four (out of five) stars at its original price of £899, you'd be right in thinking that it's highly recommendable at this knockdown price.
We might prefer the Award-winning Sonos Arc as far as premium Atmos performers go, but despite a £106 discount at Amazon it still costs £694. For the current price of the Panorama 3, you won't find a better TV sound-boosting solution from such a discrete package.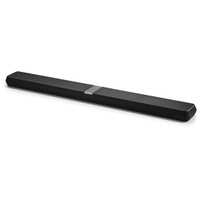 Bowers and Wilkins Panorama 3 was £899 now £399 at Amazon (save £500)
Bowers & Wilkins's first Dolby Atmos soundbar is a sleek, standalone soundbar that delivers 3.1.2 channels of audio from a single unit. There's Amazon Alexa onboard for hands-free voice commands and streaming via AirPlay 2, aptX Adaptive Bluetooth and Spotify Connect. This Amazon deal is sold through Peter Tyson, so unsurprisingly is also available at Peter Tyson's webstore too.
The Panorama 3 measures 121cm long, so you'll need to make sure you can accommodate it and that it looks in proportion to your current TV. It's 6.5cm tall, which isn't too tall by modern standards so it should slip in below most modern flatscreens.
Inside the bar are 13 individual driver units powered by ten 40-watt amplifiers in a 3.1.2 configuration. Across the front, in a Left-Centre-Right arrangement, each channel group includes twin 5cm midrange drivers partnered by decoupled 19mm titanium-dome tweeters. Meanwhile, two angled 5cm drivers are on the top to deliver height effects.
The result of such build and engineering is, as we said in our Bowers & Wilkins Panorama 3 review, a "dynamic and detailed Dolby Atmos presentation" – one that is insightful and engaging. We also praised its bass performance as unusually good at this price point, with it adding "welcome weight to lively action films and scores".
Not bad for B&W's first attempt at a Dolby Atmos soundbar at all, even if we would like the next to excel more at midrange (voice) clarity and have a broader, more spacious soundfield on par with the Sonos Arc's.
At the rear is a single HDMI eARC input and optical digital for owners of older TVs, while streaming smarts come courtesy of AirPlay 2, aptX Adaptive Bluetooth and Spotify Connect. High-res streaming is accessible through the Bowers & Wilkins Music App where you can play the likes of Tidal, Deezer and Qobuz if you have the relevant subscription.
A class-leading rival like the Sonos Arc might deliver a more accomplished all-round performance, but given the enormity of this Panorama 3's saving, it makes the B&W's case a lot more convincing, to the point where you really should consider introducing it to your living room. If your budget doesn't stretch to the Arc, you won't regret it.
MORE:
Best Dolby Atmos soundbars 2023: budget to premium home cinema sound
Our longer list of the best Black Friday soundbar deals available
Black Friday deal alert! Spectacular savings on this five-star Sony LCD TV