With Black Friday proper just around the corner, you might be inclined to hold off on looking for deals at the moment. However, that doesn't mean there aren't plenty of impressive discounts already there for the taking.
Here's one such example – Technics EAH-A800 wireless noise-cancelling headphones are currently available for £199 on Amazon, down a tidy £100 from their usual retail price, and undercutting other favourites such as Sony's XM5 headphones by an even wider margin than before.
We tested these headphones at their original price and they earned a four-star review for their dynamic sound, battery life and stylish design. At the old price, they had a tougher time standing out from the crowd, but this latest price drop means they are worth a look more than ever.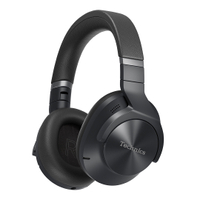 Technics EAH-A800 Headphones £299 now £199 at Amazon (save £100)
We gave the EAH-A800 headphones a four-star review across the board. They look and feel good, offer good noise cancelling, have impressive specifications, and come with an impressive battery life – 60 hours maximum. With a fresh 34 per cent price drop, it's easier to forgive a few downsides to what is a quality pair of headphones.
Read our Technics EAH-A800 Review
The Technics EAH-A800 present audio in a way that is convincingly naturalistic; bass frequencies are deep and well controlled, treble is crisp but not lacking weight, and prompt attack and decay help express a song's momentum.
The noise-cancelling tech in these headphones is designed to minimise noise from both within and outside of the cans. There are 100 stages of adjustment available and we felt in our review that, even at the highest setting, there wasn't any negative aural side effect.
These headphones use Bluetooth 5.2 for wireless connectivity with SBC, AAC, and LDAC codecs supported. The headphones boast a 60-hour maximum battery life and we found they can go for around 30 hours with LDAC and noise-cancelling turned up to the max; rivals at this new price point will be hard-pressed to top these numbers.
With multi-point pairing for connecting to multiple devices, earcup touch controls, voice-control capabilities, and handy equalisation options on board, the Technics EAH-A800 are feature packed and offer much flexibility.

Tempted to grab an early Black Friday deal? Get yourself a pair for just £199 over at Amazon.
MORE:
Black Friday 2023: the best UK deals already live
Best wireless headphones 2023: Bluetooth headphones for every budget