It's still relatively early in the grand scheme of the Amazon Prime Big Deal Days, but Bose's Award-winning QuietComfort Earbuds II are already looking like one of the best wireless earbuds deals.
They recently plummeted in the UK to the lowest price we've ever seen them – just £178. And now we've seen them drop to just $199 in the US. Many models attempting to rival the QC Earbuds II have come and gone, but very few have managed to beat the performance and value offered by these excellent wireless in-ears.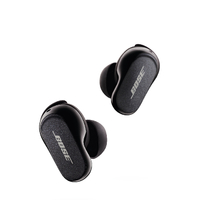 These five-star earbuds are soon to be replaced by the new, and more expensive, QuietComfort Ultra Earbuds which is probably part of the reason why we're seeing big discounts such as these.
The Bose QuietComfort Earbuds II almost need no introduction at this point, such is the reputation of such a mighty pair of noise cancelling in-ears. Combining engaging, dynamic sound with a comfortable build and some of the best noise cancelling we've ever heard at this level, the QC Earbuds II were truly capable of taking on the might of the magnificent Sony WF-1000XM4. We awarded them a What Hi-Fi? Award in 2022, so such a hefty discount on a pair of awesome in-ears really isn't to be sniffed at, all things considered.
Available in a choice of four finishes – black, "soapstone", blue and grey – the premium true wireless earbuds not only boast superb active noise-cancelling tech, but they're also IPX4 water resistance rated and capable of providing a total of 30+ hours of playback when using the charging case.
Oh, and that sound! While the WF-1000XM5 may offer a slightly cleaner more detailed sound, the Bose are seriously fun and entertaining.
Don't forget you've also got Bose's excellent noise cancelling on tap, a solid feature set to fall back on and excellent build quality. Combined, it all makes them a seriously attractive proposition for the money.
Sure, the new Bose QuietComfort Ultra are out but they cost significantly more and this deal represents stunning value for money in our opinion. Take the plunge and we're sure you won't be disappointed.
MORE:
Amazon Prime Big Deal Days 2023: the best tech deals in October's Prime sale
The best wireless earbuds you can buy
I'm a noise-cancelling newbie and I can't believe what I've been missing out on