Are you looking for a new TV but not looking to empty your bank account for the pleasure? Well, the good news is in: you can get yourself a 50-inch 4K smart TV at Best Buy for just $290 down from $450.
We haven't reviewed the 4-Series just yet, but this line of Fire TV offers up a slew of competitive features and specs in a value-first package. If you're looking for a budget-friendly set, make sure to put this Fire TV on your radar.
Amazon 4-Series Fire TV Best Buy deal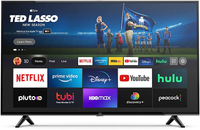 50-inch Fire TV 4-Series was $450, now $290 (save $160)
This 50-inch set supports 4K, HDR10 and HLG, Dolby Digital Plus, and Amazon Alexa as well as packs in all the smart functionality you'd expect from a TV in 2023. At under $300, this set is well worth a look if you need a TV.
Amazon has been making budget-conscious TVs for a while now aimed at competing with other value-friendly brands like Hisense, Insignia, and Toshiba. Fire TVs always bring with them the user-friendly Fire TV OS, but they may not always have best-in-class value; however, with a good sale, that can change.
This 4-Series set manages to support 4K, come with HDR by way of HDR10 and HLG, includes Dolby Digital Plus tech, packs in HDMI 2.1, and, of course, has the Fire TV OS that'll let you stream all your favorite content from all your favorite services with a nice, user-friendly UI just about anybody can navigate.
For gamers, you will get 4K/60Hz and HDMI 2.1, and that's enough for some casual gaming on a next-gen console like a PS5 or Series X, but if you're looking for more gamer-focused features or the best response times, you're going to need to spend some more on a pricier TV. However, this can get the job done.
Put simply, the 4-Series isn't the flashiest TV out there, but it's more than enough for casual use. If value is what you're looking for above all else, make sure to put this Fire TV Best Buy deal on your radar while supplies last.
MORE:
Check out our guide to the Fire TV line in 2023
As well as our list of the best TVs out there
And all the best TV deals live right now