Amazon Prime Day is over, but that doesn't mean the deals have to stop anytime soon. We never rest when it comes to seeking out the biggest savings on the best products, and you really couldn't do much better than a 42% slashing of JBL's awesome Flip 6.
As one of the best Bluetooth speakers we've tested, we can personally confirm the Flip 6 is a sturdy, brilliantly made item that delivers energetic, entertaining sound and a five-star overall performance. Now that it's just 58% of its original retail price on Amazon, we're struggling to think of a reason not to buy one.
The Flip 6 originally retailed at around £130, and while we've seen that intermittently drop over the months, this is the lowest we've ever seen its tag fall. Amazon UK lists the Flip 6 at just £75, so long as you're happy to have it in a rather fetching all-white finish, we'd recommend making hay while the sun shines.
JBL Flip 6 Bluetooth speaker deal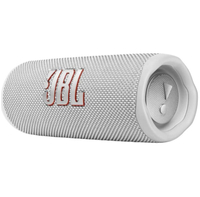 JBL Flip 6 (white) £130 now £75 at Amazon (save £55)
One of JBL's most popular models once again justifies its reputation thanks to fantastic sonic clarity, meaty bass and 12 hours of battery life. If you want a small, slimline speaker that won't break the bank, there really aren't many rivals that can beat it.
There was always going to be a concern that the Flip 6 might not match the high standard set by its predecessor, the Award-winning Flip 5, but JBL has continued to push the bar with an even more sonically impressive follow-up.
In our JBL Flip 6 review we called it "another resoundingly five-star product", with "sonic upgrades in terms of clarity and breadth across the frequencies (that) are easy to spot". In fact, most of the real competition for the slim, burrito-sized performer comes from alternative offerings from across JBL's heaving stable of five-star operators, including the larger Charge 5 and the rugged JBL Xtreme 3.
For social butterflies who like to get out and about with their mates with a Bluetooth speaker in tow, the rugged and musically exciting JBL Flip 6 is a class-leading proposition, and with 12 hours of battery life, it should be able to fire out tunes well into the small hours.
It's not even a particularly old speaker, meaning that a price drop at this stage represents a smart investment, even if we can't guarantee how long such a deal will last. Prime Day may be over, but this is a deal worthy of the best that Amazon has to offer.
MORE:
Read our full JBL Flip 6 review
Our pick of the best Bluetooth speakers: portable speakers for every budget
Slim or study? It's JBL Charge 5 vs Flip 6 in our Bluetooth speaker battle