Apple's bog standard iPad comes in two variations right now, and while both are discounted in the Amazon Prime Day sales, only one is actually worth it right now.
While the latest and greatest 2022 10th Generation model offers a redesigned chassis and upgrades to the picture and sound, the 2021 9th Generation version is actually a much better deal right now, and the one we'd recommend buying.
At just £299, down from its usual £369 asking price, the 9th Generation iPad from 2021 is a much better buy despite not having the updated design or USB-C. However, it is £140 cheaper than the newer model right now.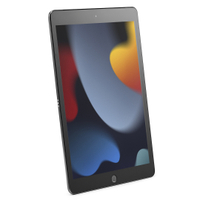 Apple iPad 2021 was £369 now £299 at Amazon (save £70)
The 9th Generation iPad is a stellar tablet, even two years after it launched. Its picture and sound both thoroughly impressed us, and it has some additional features over the newer model such as a headphone jack. Available in Space Grey and Silver.
Read our full Apple iPad 2021 review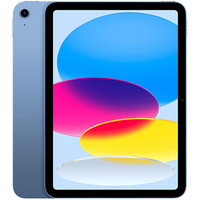 Apple iPad 2022 was £499 now £439 at Amazon (save £60)
The latest iteration of the standard iPad is a welcomed refresh in the design department, and the switch to USB-C was a long-overdue improvement. Apple pushed the boat out to commemorate its original tablet hitting double digits, but it also made it a fair bit more expensive. Available in Blue, Yellow, Silver and Pink.
Read our full iPad 2022 review
Apple is currently selling the two most recent versions of its entry-level iPad concurrently. The 9th Generation uses a familiar design, with a home button and Lightning connector, while the 10th Generation adopts the design language of the more expensive iPad Air with thinner bezels, swipe navigation, a fingerprint sensor in the lock button and USB-C for charging and data transfer.
So why are we recommending the older option, which on paper seems to have a less desirable design and feature set compared to its newer sibling? Well, there are two distinct things that have swayed us. The foremost and possibly less important is that the 9th Generation model is the last iPad to include a headphone jack, so if you're planning on using your iPad as a portable music machine - then this model might just serve you better.
Onto the more important factor; price. Right now, the 10th Generation model is £439 in the Prime Day sales, whereas the iPad 9th Generation is only £299. Yes, of course, we expect the newer model to be more expensive compared to the now two-year-old iPad, however, the performance between these two iPads is actually much closer than you'd expect.
While the newer iPad looks a tad sharper and slightly more three-dimensional, the five-star iPad 2021 is still a fantastic-looking tablet. The colours are bold and punchy, yet still authentic, and the image is sharp and detailed enough to hold its own against its newer companion. Neither model has HDR, and both actually have the same 264 ppi pixel density.
Moving onto sound, the speakers on the newer iPad 2022 are admittedly much better, however when it comes to headphone sound, they are quite evenly matched. The newer model is a tad more expressive, but once again not really enough to justify such a big price difference. Both iPads provide rich, natural and textured sound through headphones, making them ideal devices to take your music on the go.
At the end of the day, both of these iPads are five-star tablets with top-notch picture and sound performance. However, the older model paired with this Prime Day deal is an excellent value proposition, and considering the fact that Apple still sells it to this day, you can expect to get plenty of life out of it yet.
MORE:
These are the best Prime Day deals
Check out our picks for the best iPads
As well as the best Apple deals available now