The Sony WF-1000XM5 recently cemented their place among the best wireless earbuds we've ever tested. But, flagship performance comes at a flagship price.
But what if we told you there's another pair of buds currently on the market, also from Sony, that offers a chunk of their performance but for a fraction of the price? Head over to Amazon and you can find the five-star Sony WF-C700N for the ridiculously cheap price of just £76, down from £99. That's the lowest price they've reached since we tested them earlier in the year.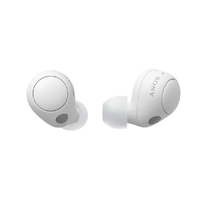 Sony WF-C700N earbuds was £100 now £76 at Amazon (save £24)
Comfortable and lightweight, decent features, good battery life, ANC and even better sound. The Sonys are a mature, exciting pair of earbuds at a terrific price. This saving only applies to the Black finish - White, Lavender and Sage Green will set you back £79.
Read our Sony WF-C700N review
The Sony WF-C700N launched back in April this year and immediately impressed us with their convincing blend of sublime comfort, good ANC and excellent sound quality. Okay, so they can't match the level of sound quality or noise cancelling offered by their more expensive siblings, but you're still getting serious bang for your buck.
We found the WF-C700N extremely comfortable during extensive testing, mainly thanks to their lightweight design and flexible eartips. They're also nice to use with responsive controls on each earpiece to help you control playback, volume and sound modes.
They also have good noise-cancelling for the money and good battery life which stretches to seven-and-a-half hours per charge with extra juice provided by the slimline charging case.
And, thanks to a recent firmware update, The Sonys now boast mutlpoint Bluetooth, which allows you to have two sources connected simultaneously – handy if you want to have your laptop and smartphone hooked up while you're working.
But that's not all that's great about the Sonys. We found the WF-C700N produce a wonderfully refined and mature performance which belies their budget price. For the money, detail levels are superb and Sony's trademark musicality keeps you coming back for more.
The wireless earbuds market is awash with budget models, but these Sonys are buds we can really get behind, especially at this low price. We think they're worth every penny.
MORE:
Sony's five-star WF-C700N wireless earbuds get two major feature upgrades
Sony WF-1000XM5 vs Sony WF-C700N: which five-star wireless earbuds reign supreme?
Which Sony wireless earbuds should you buy? XM5, XM4, C700N and C500 compared