The price of Bose's new QuietComfort Ultra headphones has dropped for the first time, thanks to a brilliant deal that's still going this Cyber Monday.
The headphones are currently down to £399 from £449 on Amazon, despite hitting stores less than two months ago.
Bose QuietComfort Ultra over-ear headphones are positioned as the company's latest flagship model of cans, arriving roughly four years after the Bose Noise Cancelling Headphones 700.
In 'headphone-years' that's quite a while, so naturally, there was plenty of anticipation for the QuietComfort Ultras. They didn't disappoint, earning a five-star review thanks in part to their impressive sound, foldable design, and exceptional noise-cancelling abilities.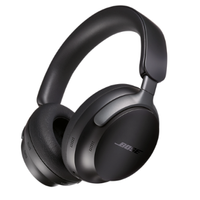 Bose QuietComfort Ultra Wireless Headphones was £449 now £399 (save £50)
Despite not being on shelves for all that long, Bose's new flagship headphones are already seeing their price drop thanks to the Cyber Monday discounts that have begun to trickle out. Looking for a brand new pair of headphones with fantastic noise-cancelling tech and excellent, full-bodied sound? The Bose QuietComfort Ultra Headphones might be the pair for you, especially considering this first-ever price drop.
We find that the QuietComfort Ultras deliver audio with a nice sense of richness and refinement. Highs and lows sound equally pleasing, and there's genuine dynamism as tracks build in intensity.
They also feature Immersive Audio tech – Bose's take on spatial audio. This is designed to make music sound more three-dimensional. We don't find this feature to be hugely convincing, but it does work better with certain tracks than others. A few of the main features and specifications to note include a handy capacitive touch strip for controlling volume and shortcuts, along with 24 hours of battery life (18 hours with Immersive Audio engaged).
Bose is known for its high-quality active noise-cancelling tech, and the QuietComfort Ultra headphones don't falter in this department, even edging out Sony's WH-1000X5 – no small feat. The ANC did exactly what we expected during use – heavily reducing background noise and the sound of the London Underground during daily commutes, for example.
Tempted? Head over to Amazon to get your hands on Bose's latest flagship wireless headphones with their first-ever price drop.

MORE:
Check our full Bose QuietComfort Ultra Headphones review
Cyber Monday 2023: the best UK deals already live
Best headphones 2023 – every type tried and tested