The PS5 has finally had a discount worth paying attention to this Black Friday. If you've been holding out on upgrading to the next generation console, or perhaps you're team Xbox and are curious to see what's happening on Sony's side, this is your best bet at getting a decent deal on the PS5.
Usually retailing for £480, EE still has the PS5 at the lowest price we've seen since its launch; although this is somewhat of a loaded statement as the PS5 has increased in price since then. Originally retailing for £450, Sony has since raised the price to £480 where it has remained since.
Now, thanks to an early kick-off for Black Friday, you can scoop up the disc-drive-equipped PS5 for £379 at EE - a saving of £101. We're especially pleased to see it's the version that includes the disc drive, as this model can double up as a gaming machine and a 4K Blu-ray player.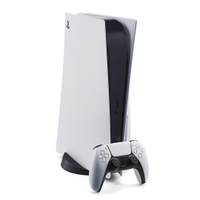 Sony PlayStation 5 was £480 now £379 at EE (save £101)
The PS5 has finally received its first major discount thanks to this Black Friday deal. Game in glorious 4K HDR and immersive yourself in Dolby Atmos audio with the latest generation PlayStation; not to mention its capability to play 4K Blu-rays too.
Sony's next-generation console had a rocky start back in 2020, with supply issues and a lack of notable titles plaguing the system at launch. However, three years on these issues have been ironed out, with abundant stock and loads of excellent titles such as Marvel's Spider-Man 2, Horizon: Forbidden West and God of War: Ragnarok.
It's also had a few technical upgrades along the way too. Notably, Sony has since updated the PS5 to output at Quad HD (1440p) for those with monitors or TVs that support the resolution, as well as a huge audio upgrade that it released just a few weeks ago. The PS5 is finally capable of system-wide Dolby Atmos support, meaning you can play games and watch movies using the immersive audio format over supported HDMI eARC devices such as Dolby Atmos soundbars.
This model notably includes a disc drive, meaning you can use physical media for games and movies, 4K Blu-rays to be exact for the latter. There is also a model that is digital only, although it doesn't seem to be on sale - this could be due to the impending new model that can be equipped with a detachable disc drive. That new model is expected to perform the same as the current PS5 so don't worry about getting an inferior version if you spring for a new console now. You'll also get access to a range of streaming services on the PS5, including Netflix, Apple TV+, Amazon Prime Video and Disney Plus, as well as region-dependent services such as BBC iPlayer and ITVX.
So will you be taking the plunge into next-generation gaming? If you do, make sure you have a top-notch gaming TV to plug it into, as this generation is all about 4K/120Hz.
MORE:
Check out the best Black Friday deals
Alongside the best Black Friday TV deals
And read our full Sony PlayStation 5 review