With seasonal sales galore, some of the best Nintendo Switch deals are making themselves known. We've scoured the internet for the cheapest prices on Nintendo's brilliant games consoles, including the new Switch (OLED model).
There are three versions of the Nintendo Switch. The standard Switch costs £260 and doubles as a portable games console; slot the tablet-sized screen into the controller, and you can game on the go. Like all Nintendo's, it offers family fun and Mario games galore.
The Nintendo Switch Lite is a cheaper version of the Switch. It costs £200 and is designed for gaming on the go. The Lite can't be used to play games on your TV, nor does it come with a dock. The Switch Lite has a 5.5in screen, compared to 6.2in on the Switch.
Lastly, there's the brand new Switch OLED. This is the priciest model at £310, but offers some nice upgrades including a 7-inch OLED display, enhanced audio and extra internal storage.
Ready to score a cheap console? Here are today's best Nintendo Switch deals...
Best Nintendo Switch OLED deals 2022
The new Switch (OLED Model) is already selling fast but if you're quick, you might be able to bag one. We've listed the best Switch OLED deals below...
Best Nintendo Switch and Switch Lite deals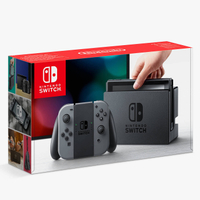 Nintendo Switch £280 £247 at Amazon (save £33)
Unlike the PlayStation and Xbox, the Nintendo Switch doubles as a portable console. Slot the tablet-sized screen into the controller, and you can take Mario Kart, Donkey Kong and Animal Crossing wherever you go.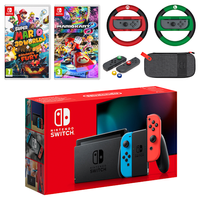 Nintendo Switch Mario Mega Pack £360 at Nintendo
Head to the official Nintendo Store for this 'Mega Mario' Switch bundle, which includes classics such as Mario Kart 8 Deluxe and Super Mario 3D World, plus a host of accessories including a racing wheel attachment and a carry case.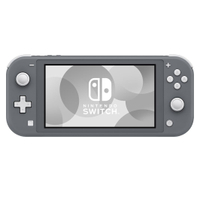 Switch Lite £213 £175 at Amazon (save £38)
Amazon has stock of Nintendo's most affordable handheld games console – and at a discount, too. Choose from grey, turquoise, coral and blue. Stock is low, so don't hang around.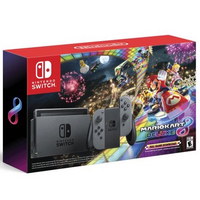 Switch Mario Kart 8 Deluxe bundle £300 £279 at Currys (save £20)
Who doesn't love Mario Kart? This sought-after bundle comes with the Mario Kart 8 racing game and a healthy discount to boot!
MORE:
Today's best PS5 restock news
Treat your ears to the best AirPods Pro deals
Upgrade your set-up with the best gaming TVs