Best surround sound system Buying Guide: Welcome to What Hi-Fi?'s round-up of the best surround sound systems you can buy in 2022.
Putting together a surround sound system can be a daunting prospect. Do you go with separate speakers, an all-in-one system or a soundbar or soundbase? Which sounds better? How do you connect your set-top box, games console, 4K Blu-ray player and all the rest? Relax. We're here to help.
In this guide we'll look at everything you need to consider, and suggest the best home theatre systems available. By the end you'll know all you need to start buying with confidence.
The first big question is whether to go for a speaker package or a soundbar. It really depends on how much space you have for a system, what your budget is, and what other devices you want to plug into it.
A speaker package will give you true surround sound, as the speakers will be placed all around you in a 360-degree arrangement. But a full surround sound system will cost more than a soundbar and requires more boxes in your room, including an AV receiver.
For many, a soundbar is the best option. It's a simpler, more elegant solution, as it combines speakers and amplification into a more discreet package. A lot of soundbars come with Dolby Atmos, which does a very good job of replicating surround sound by positioning audio above you as well as around you. A soundbase is just like a soundbar, except your TV stands on it rather than behind it.
Whichever surround sound system you're considering, do your research and make sure it will fit your space, and will accommodate your games console, 4K Blu-ray player, set-top box, and whatever else you're planning on hooking up. And that you can afford it, of course. Happy listening!
If you want a true home theatre experience, this is the very best surround sound system when it comes to performance-per-pound value. These Dali speakers sound full and warm, bringing out the best in any soundtrack. The sound is transparent but fun, powerful yet at the same time subtle. It won our coveted Product of the Year last year. Need we say more?
If you're wondering what to partner it with, you can't go wrong with the Denon AVR-X3700H AV amp - it can be set up for 5.2.4 or 7.2.2 Dolby Atmos, or add an extra amp and you'll have a 7.2.4 arrangement, so it covers all your bases. Add in eight - eight! - HDMI inputs, and you've got an absolute beast of a system.
But it's not ready yet, not without something to provide the visuals. We'd recommend the Panasonic DP-UB820 4K Blu-ray player. Its vibrant, immersive HDR picture is complemented by a powerful and weighty sound that will do your system proud.
Read the full review: Dali Oberon 5 5.1 Speaker Package
A good partner for 55in TVs and above, the Arc can be placed straight on your furniture or wall-mounted with the optional £79/$79/AU$99 mount. Who needs loads of boxes?
There are touch-sensitive play/pause and volume controls on the bar, while connectivity includes AirPlay 2, ethernet and eARC for Dolby Atmos from compatible TVs.
The Sonos Arc uses 11 drivers to create your surround soundfield, a number of which are upfiring and angled into your room to bounce sound off your walls and ceiling. It all adds up to an impressive surround sound performance for a soundbar.
You're transported to the heart of the action. Those surround effects are expertly placed and there's great dynamism and good weight to the sound too. Tonally, it's nicely balanced if you just want to listen to music, although it could sound a tiny bit more direct. But, there's no doubt this is a hugely impressive soundbar for the money.
Read the full review: Sonos Arc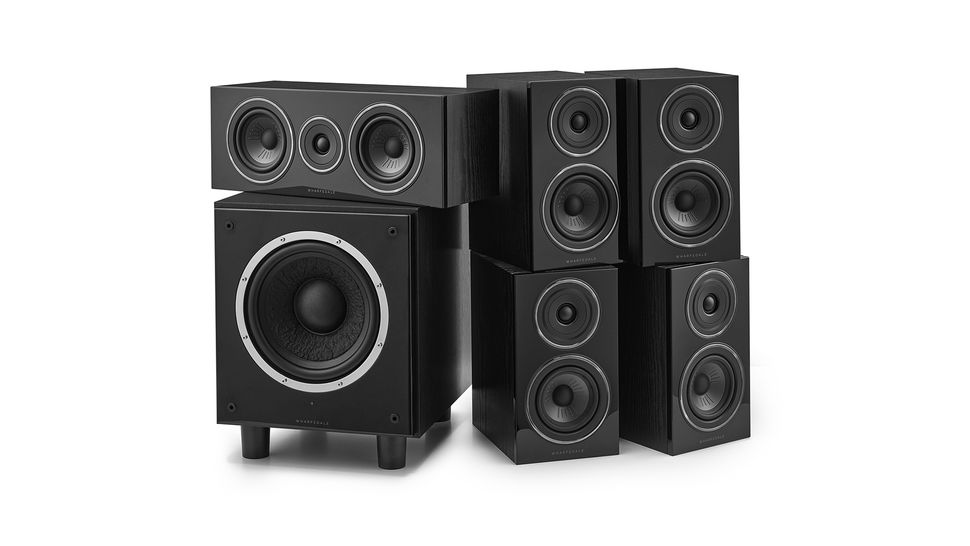 With poise, effortlessness, cut-glass diction and charisma, the Wharfedale Diamond 12.1 HCP is essentially the Audrey Hepburn of home theatre speaker packages. It offers rich bass without sacrificing or overpowering the mid and treble, presenting a mature sound that's rich in impact, agility, detail and sensitivity.
The package is made up of a quartet of the excellent, mid-sized Diamond 12.1 bookshelf speakers for fronts and surrounds with the 12.C in the middle and the SW10 powered subwoofer supplying the bass.
The tautness and dexterity of the SW-10 is remarkable. It's an incredibly musical sub blending seamlessly with the smaller speakers, which themselves have an impressively well integrated low end. The result is a rich and lively sound.
Large enough to provide cinematic scale with a wide soundfield, but discreet and affordable enough to be accessible to a variety of audiences, the Diamond 12.1 system proves to be an excellent choice for both music and film.
Read the full review: Wharfedale Diamond 12.1 HCP
Delivering Dolby Atmos from a small chassis is no mean feat yet the Sonos Beam Gen 2 achieves a convincing, immersive performance without so much as a vertical speaker in sight. Instead, when watching Atmos content, two of the soundbar's five front-facing arrays are dedicated to reproducing overhead and surround sounds. With its hefty processing power, the Sonos Beam Gen 2 uses psychoacoustic HRTF (head-related transfer function) technology to give the impression of height without needing to get vertical.
While genuine overhead sounds are perhaps a stretch too far for this petite performer, its virtual delivery of the Atmos format outstrips any similarly priced soundbar and even a few that are more expensive. The Beam Gen 2 offers an enveloping, spatial soundscape with rich, detailed audio as well as tangible motion and depth.
Not that many soundbars at this price point come with networking capabilities, but this being a Sonos product, the Beam Gen 2's ability to integrate into a wireless multiroom system is fundamental to its design. This means you can stream to the Beam Gen 2 from a handheld device using Apple AirPlay 2, and Spotify Connect is built-in too. There will also be a forthcoming upgrade to add support for Amazon Music Ultra HD audio, which will give access to lossless 24-bit/48kHz tracks as well as Dolby Atmos Music.
Despite the lack of upward drivers, if space and budget are limited there isn't a better Dolby Atmos soundbar that we'd recommend.
Read the full review: Sonos Beam Gen 2
Sony has excellent form with soundbars, and the flagship HT-A7000 soundbar is no different. A 7.1.2 slab of sound, this Dolby Atmos soundbar packs in two up-firing speakers, two beam tweeters, five front-facing drivers and a built-in dual subwoofer into a single chassis. Using a combination of driver placement and psychoacoustic techniques, the Sony HT-A700 delivers a broad and high soundstage, whether you're watching immersive content or not, while retaining musicality, presence and detail.
In terms of height and precision, the performance is similar to that of the Sonos Arc, but the width of the soundstage and its forward projection is more convincing. It's not the same as having direct audio from the speaker above or the side, but it's effective and dramatically enticing, enriching the viewing experience. The integrated sub is also particularly impressive with a taut, controlled and powerful performance.
In terms of supported audio formats, the A7000 excels itself and includes Dolby Atmos (in both the Digital+ and TrueHD formats), DTS:X, LPCM, hi-res wireless audio and Sony 360 Reality Audio.
The A7000 is as packed with streaming smarts as it is stuffed with speakers with Spotify Connect, Apple AirPlay 2, Google Chromecast all on board and integration into a multi-room system – with Amazon Alexa, Apple HomeKit and Google Home all supported.
Alongside two HDMI 2.1 pass-through sockets capable of handling 8K@60Hz, 4K@120Hz, and Dolby Vision HDR, there are ports for eARC, analogue and optical audio inputs and USB type-A. There's also an analogue output for Sony's Acoustic Center Sync, which lets a compatible Bravia TV become part of the soundbar's centre channel when the two are connected using the supplied cable.
The Sony HT-A7000 is an outstanding, future-proofed, all-in-one performer with excellent integration if you have a newer Sony Bravia TV.
Read the full review: Sony HT-A7000
This speaker package makes for a listen that's straight-up fun, but with plenty of low-end rumble to boot. The timing is snappy, making for a fast but natural-sounding performance, while the centre speaker (which handles the all-important dialogue) is effortlessly dynamic and engaging.
If you want a real step up in performance, you'd have to spend around double, which just shows what great value this represents.
Pair it up with the Sony STR-DN1080, and you'll have quite a home theatre system on your hands. The AV amp won our Product of the Year two years in a row, which is testament to what an offering it is. There's plenty of punch and dynamism on show, but never at the expense of any detail. Fire it up and you'll be spellbound.
Taking care of the visuals should be the Sony UBP-X700. This 4K Blu-ray player delivers a stunningly natural picture that's crisp and has excellent contrast and colours. Even better, it doesn't cost the earth. No wonder it won one of our coveted Awards in 2019.
Read the full review: Q Acoustics 3050i 5.1 Cinema Pack
Sony's HT-A9 Wireless Home Theatre System encourages users to position its speakers arbitrarily, promising an even, uniform and immersive soundfield regardless of the symmetry of your set-up.
How does it achieve this wizardry? The HT-A9 supports Sony's 360 Spatial Sound Mapping which calibrates your room's height size and combines it with speaker distance and relative location. The aim is to create an Atmos-like dome of sound from 12 'phantom' speakers notionally placed around the that audio bubble.
While we reserve a healthy dose of scepticism regarding phantom channels and sound bubbles, the wide dispersion of the HT-A9's speakers is instantly striking and undeniably effective. It makes for a refined precision and texture that is more immersive than any soundbar package we've tried. No matter how haphazard our speaker positions, the sound design never feels off-kilter or detracts from the action on-screen and that makes the HT-A9 an excellent choice for people not prepared to sacrifice their furniture arrangement at the altar of surround sound.
It might not have the same fidelity and transparency we would expect from a traditional speaker package but it's an excellent compromise of performance and practicality. This is a system that we expect to appeal to many.
Read the full review: Sony HT-A9
With five different audio inputs, three ways to mount it and ten drivers all working together to deliver an immersive sound experience, there's plenty to talk about with the Dali Katch One. It is quite tall, so you really have to mount it on a wall, but that will only aid bass performance from the rear-firing drivers.
The Katch One is also a good looking bar. and comes in three different finishes: Iron Black, Ivory White and Mountain White. There's an ARC-enabled HDMI socket for getting the audio from your TV, plus a pair of optical inputs and Bluetooth. And the bar serves up a great dynamic performance with a broad, clear soundstage which works well for movies, and it also boasts the ability to sound fun with music, too.
Read the full review: Dali Katch One
This soundbar is proof you don't need a full separates home theatre system to enjoy surround sound, even if it is of the virtual kind, rather than 'proper' surround sound. DTS Virtual:X helps emulate the kind of immersive audio you'd usually only get from a 7.1.4 set-up, and it does a mighty fine job of it too, with a much bigger, more enveloping sound than you would expect from such diminutive dimensions. The sound field is layered with plenty of texture and detail, while there's plenty of dynamism and crispness on show. In a word, superb.
If you're looking for a 4K Blu-ray player to buddy up with the Yamaha, the Sony UBP-X700 is for you. It delivers a stunningly detailed 4K picture: images are wonderfully subtle yet sharp as you like, while the skin tones are rendered in jaw-droppingly lifelike hues.
Read the full review: Yamaha YAS-207
This speaker package is 'designed for modern living', according to Monitor Audio. That means the speakers have smaller chassis, as well as minimal variance in performance regardless of where they're situated. That should be a godsend if - like most of us - you don't have endless placement options. You can even wallmount the satellites and still achieve a wrap-around sound field.
The speakers chime with military precision, with both stereo and surround sound performances being equally as impressive. Gunshots pop, dialogue is clear, and the bass rumbles satisfyingly - it's an instant upgrade to any movie.
So, what to partner it with? The Denon AVC-X6700H is so good we now use it as our reference home cinema amp - in other words, it's the standard by which we judge all other home cinema kit. Praise doesn't come much higher. Eight HDMI inputs give you plenty of scope for sources, while Dolby Atmos, DTS:X and high-res audio support make it a joy to use. There's even Alexa Voice Control for hands-free operation.
The Pioneer UDP-LX500, meanwhile, is the best Blu-ray player for the job, although it is a little long in the tooth. Its awesome combination of excellent 4K visuals and superb sound quality make it worth the extra investment. You can tailor its output to the display you're using - LCD TV, OLED TV or projector - and adjust the sound using one of three presets (choose between a solid, soft or smooth sound). It all makes up for a versatile disc spinner that can take care of business.
A mighty fine alternative is the Panasonic DP-UB9000, which offers a similarly stunning picture (including Dolby Vision and HRD10+ support) and very good sound quality for the money.
Read the full review: Monitor Audio Silver 200 AV12
This was one of the first real quality Dolby Atmos soundbars available, and it's just as impressive today as when it first launched. It's a little smaller than some of its rivals, but still packs a punch sonically: there's a definite sense of space and movement to proceedings, yet with no hint of harshness at higher volumes. It's mighty versatile too, with support for streaming services and plenty of inputs onboard.
Its ideal partner in crime is the Panasonic DP-UB820, a 4K Blu-ray player that delivers on many levels. It boasts a vibrant and immersive HDR picture, which it combines with punchy colours and a powerful, weighty sound. At this price, it's a great buy.
Read the full review: Sony HT-ST5000
Two grand is a lot to spend on a soundbar, but this Sennheiser is something special. It's bigger than its rivals, but then it has much larger drivers and a built-in subwoofer, capable of delivering much more impactful sound. We're talking a genuine one-box home theatre solution.
The downside? Its size and driver placement means it can be a little tricky to situate. You're best off wall mounting it.
But if you can make space and are willing to make the investment, this soundbar will reward you in spades. It has a wealth of options when it comes to connections and supported wireless tech, and the sound quality will blow you away.
Add in the Pioneer UDP-LX500 4K Blu-ray player, and you'll have a system to be reckoned with. It offers a crisp, insightful picture that's bursting with detail, while the sound is dynamic and expressive with a fantastic sense of timing. It's one of the pricier models around, but the perfect partner to the Sennheiser Ambeo.
Read the full review: Sennheiser Ambeo Soundbar
MORE:
11 of the best 4K Blu-rays to test your system
Our pick of the best soundbars you can currently buy