For those of us for whom the word commitment is synonymous with panic attack, thankfully there are services such as Now TV.
Essentially, you're able to choose from Sky's packages for Movies (£9.99 per month), Entertainment (£6.99 per month), Kids (£2.99 per month), Sport (£6.99 per day, £10.99 per week or £33.99 per month) or any combination of the four with no fixed-term contract and still access the on-demand content from each package.
MORE: How to watch catch-up TV online
Build
For that, its Smart TV functions and general ease of use, it was a doddle awarding Sky's last Now TV box five stars; so, how does the new Now TV Smart Box up the ante? [Dramatic pause for effect.] Freeview.
That's right, as well as a new look – something akin to a robot ash tray – redesigned interface and faster quad-core processor, the new box has a Freeview tuner built-in, negating the need for any other such set-top box cluttering up your telly stand.
MORE: Now TV Box review
Features
In terms of features of the box itself, there's obviously a digital aerial socket and an HDMI to connect the device to the outside world and your TV, an Ethernet port – there's also built-in wi-fi to reduce the number of cables running around your living room – and USB and microSD card slots for playing media from external devices.
There's capability for 5.1 and 7.1 sound passing through HDMI, but picture output is still limited to 1080p Full HD as it was on this box's predecessor. So no 4K here - you need Sky Q to get Sky's Ultra HD service.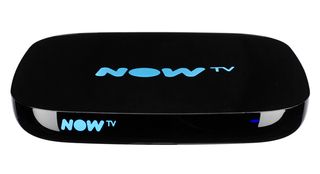 Our main gripe isn't that there isn't an internal hard drive – the extra cost would undoubtedly put off many potential customers – but that there isn't the option even to attach one externally.
Now, we understand why Sky wouldn't want you to record a month's worth of movies and never pay for their services again, and there is an ever-growing catalogue available now on-demand, but this means that if you want to record an episode of something not covered by catch-up services you'll need a separate Freeview tuner to link with any recording facility.
To many, that leaves the tuner encased in the Now TV box a little redundant.
MORE: Best media streamers 2016
Interface
But that's what you're buying into, and you should know that very well when you purchase the box. Generally, in terms of doing what it says on the tin, the Now TV Smart Box setup is without fault.
The new interface is exceptionally intuitive; aspects such as being able to browse catch-up highlights from each provider without necessarily loading the app save those frustrating hours scouring the services for something to watch, and the speed with which each item loads (granted, things will be a little slower with a dodgy WiFi connection) is imperceptible.
Performance
The same characteristics follow during streaming as well; the picture is swiftly up to optimum quality and suffers no dip in performance.
As mentioned previously, you won't have access to streaming rivals such as Netflix, Amazon Prime or MUBI, but there are in excess of 50 apps, including YouTube, from which you can choose to fill your library.
MORE: Best streaming services 2016
We'd have no complaints if this were to be our go-to Freeview tuner, either.
Picture quality, as with any set-top box, will of course also rest on the worth of your set, but there's plenty of detail here, no scent of garish colouring or saturation, and the sound output is again as good as that of your telly or external speakers.
What does irk us about the Freeview experience, however, is the remote control; having no numbers was excusable when Now TV was mainly about scrolling through menus of catch-up shows, but not being able to jab in the number of the channel you want soon becomes frustratingly cumbersome.
Some customers won't own a smartphone capable of downloading a remote app (or just won't want to control it that way), so it shouldn't be too much to ask for a few digits on a controller.
MORE: Now TV app review
Verdict
In all, the new Now TV Smart Box does exactly what we were told it would, and for the most part it does so with slick precision.
But with no option to record and too basic a remote, we'd prefer to use the Freeview tuner built into our TV and opt for the older, cheaper Now TV box. After all, you'll do well to find a TV that doesn't already include Freeview and offer the option to connect a Now TV box via HDMI.
All told, a good streaming box but not quite as smart as it thinks.
See all our Sky reviews