A good pair of earbuds can quickly get expensive, but the good news is that you can pick up a great pair of buds for just $75 over at Amazon.
In our review of the WF-C500 earbuds, we gave them five-stars in our review, appreciating their comfort, compact design, and overall balanced sound profile. If you need some wireless earbuds, put these on your radar.
Sony WF-C500 earbuds Amazon deal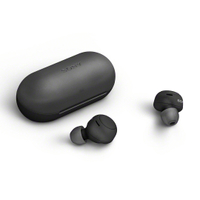 Sony WF-C500 was $100, now $75 (save $25)
These five-star earbuds won a What Hi-Fi? Award in 2022 thanks to their excellent sound quality for the price, comfortable design, and ease of use. If you need a pair of earbuds, don't let this Amazon deal pass you by.
When it comes to headphones, Sony has been a heavyweight for a long time, but even for an established brand, it can be tough to offer up good quality kit at a budget price. However, that's just what Sony has managed to do with the WF-C500 true wireless earbuds.
With the WF-C500 earbuds, you're getting Bluetooth 5.0, 10hrs of battery life (or 20hrs with the charging case), and IPX4 water resistance. Plus, you'll get one of the very best control apps out there that gives you complete control over your listening experience, making these earbuds a total joy to use.
When it comes to sound quality, the C500s aren't going to stun you, but they are going to offer up a remarkably balanced, even-handed sound. The midrange is loaded with detail, dynamics are handled well, and overall, the C500s have a well-defined, easy-on-the-ears presentation. Put simply, they can handle it all.
If you're in the market for a new pair of wireless earbuds but don't want to spend an arm and a leg, make sure to check out this Amazon deal. Regardless of what sound profile you prefer, the C500s are a great choice.
MORE:
Check out our full Sony WF-C500 review
As well as our list of the best wireless headphones out now
And take a look at all the best headphones deals