Are you looking for a big TV that won't come with OLED prices? Well, the good news is that you can pick up a 58-inch Hisense set for $298 at Walmart.
We haven't had a chance the review the R6 just yet, but this TV comes with competitive specs and features for the price, and at just $298, you won't find a ton of TVs out there that can beat this R6's value. Make sure to give this Walmart deal a look if you're in the market for a new set.
58-inch Hisense R6 4K TV Walmart deal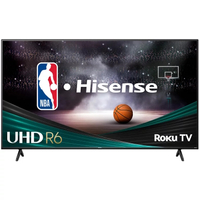 58-inch Hisense R6 Roku 4K TV was $338, now $298 (save $40)
This Hisense Roku TV features 4K support, HDR, easy access to all your favorite streaming content, virtual assistant integration, and DTS Studio Sound. It's not the fanciest TV with the most premium screen technology, but for less than $300 it will be tough to find another set of this size and smartness for the price.
Hisense has been making value-focused TVs for a long time, competing with other budget brands like TCL and Insignia, and on paper the R6 set looks competitive indeed at this discounted price. For a 58-inch screen with a built-in smart interface and support for HDR and 4K, a price tag under $300 is relatively unusual.
More specifically, you're getting a 4K LED panel with HDR in the form of Dolby Vision and HDR10. You're also getting audio tech by way of DTS Studio Sound, Roku's smart TV OS for access to the popular streaming services, virtual assistant support, and an overall sleek, bezel-less design that'll look good in any living room.
Gamers get a dedicated gaming mode that reduces input lag, but that's about it. While this set doesn't support nice-to-have gaming features like VRR or ALLM, and is stuck at just 4K/60fps, this set will be able to handle casual next-gen gaming on a PS5 or Series X. Just don't expect the moon here.
That probably goes for picture quality, too – don't expect a premium OLED or QLED quality of experience from a budget LED TV. But for what it is – a big-screen, budget telly – it looks just the ticket. If you're looking for a cheap set, you've found one.
MORE:
Check out our guide to Hisense TVs in 2023
As well as our list of the best TVs money can buy