In need of a new Bluetooth speaker? If so, put the JBL Charge 5 in your shopping basket while it's on sale at Amazon for $130, down from $180.
In our Charge 5 review, we gave it the full five-star set, praising its clear, detailed sound, wide soundstage, and rugged design. All told, this is an all-round excellent speaker at its original price let alone its discounted one, so make sure to give this deal a look if you're after a portable Bluetooth speaker.
JBL Charge 5 Amazon deal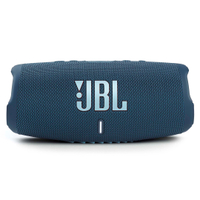 Charge 5 was $180, now $130 at Amazon (save $50)
This premium Bluetooth speaker has great audio quality and sports a hardy design. For just $130 at Amazon, it'll be tough to find a better-value portable speaker, so do yourself a favour and chuck this in your Amazon basket.
JBL is well known for making excellent speakers, and the Charge 5 is no different in this respect. This is a value-packed speaker that sounds great, especially for the price. At a meaty discount, it's going to be tough if not impossible to find yourself a better Bluetooth speaker for just $130. We certainly haven't come across one.
With the Charge 5, you get your pick of eight different finishes, Bluetooth 5.1, 20 hours of battery life, and JBL's PartyBoost tech where you can connect your Charge 5 with other JBL speakers that support PartyBoost. You also get a USB-C port for charging and a USB-A port to use the Charge to power your other devices.
In terms of audio quality, vocals feel energized, bass feels three-dimensional, and detail and nuance are generally well represented.
Put simply, if you need a portable Bluetooth speaker, JBL's Charge 5 is a great choice.
Even at MSRP, this speaker was a solid value, so at nearly 30 per cent off we're talking exceptional value.
MORE:
Read our full review of JBL's Charge 5 Bluetooth speaker
And check out all our favorite Bluetooth speakers
And all the best Bluetooth speaker deals