Samsung's The Freestlye projector is now available for just £399 over at John Lewis.
Gen 2 of this projector is available now for pre-order, however, you might want to hold off and grab a bargain instead.
Listed at £499, there is also a promo code on offer that lowers the price of the first-gen Freestyle projector by another £100 – you just need to sign up for an account with My John Lewis, which is free, and then add MYJLSAMSUNG100 at checkout to receive the additional discount.
The Freestyle is a portable, flexible projector that we tested out back in April of 2022, giving it a four-star rating. We praised its design, noting that while it is decidedly cute and designed to be a jack of all trades, it's actually quite practical and gives a decent picture.
One of the main drawbacks of The Freestyle was the price of £999. The good news is that it's now available for less than half of that, which makes it a seriously tempting proposition.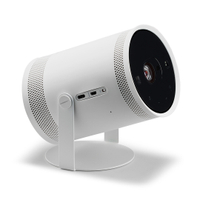 Samsung Freestyle projector £499 £399 at John Lewis (save £100)
With a cute but practical design and impressive auto keystone/focus, the Freestyle brings a bit of fun back to home cinema. It produces bright, sharp, colourful pictures and decent sound. With flexible connectivity and app support, this little gem will let you enjoy your favourite films in any location.
In terms of performance, The Freestyle can throw up a screen size of up to 100 inches, pretty impressive for such a compact unit. It features highly-appreciated auto keystone and autofocus systems, which means you can simply put the projector where you want, tilt it to the right angle, and the projector will automatically adjust its focus and digitally straighten the edges of the image.
We thought that The Freestyle presented good quality HD sources well, with punchy colours and good levels of brightness. We felt the black levels were slightly sub-par, but overall the projector ticked enough boxes to fulfil its relatively casual brief more successfully than we anticipated.
The Freestyle carries built-in wi-fi and the Tizen-based system Samsung features in their smart TVs, granting access to a variety of video streaming apps such as Netflix, Amazon Prime Video, Disney+, YouTube, Apple TV+ and more.
Users can connect wirelessly to The Freestyle using the Samsung Smart Things platform. This (along with the optional battery, available separately) makes The Freestyle a truly cable-free video display system – something that not too many units can say.
On the physical connectivity front, it features a mini-HDMI input (no mini-HDMI to HDMI adaptor included, however) and a USB-C power connection.
More
Read more on our Samsung The Freestyle projector review
The LG PU700R is an ultra-portable 4K HDR projector designed to take on the Samsung Freestyle
Samsung's Tizen is the most popular smart TV platform in Europe