If you need some headphones, well, you're in luck, because Bose's QuietComfort 45s are now on sale for $225 over at Woot.
In our review of the QC45s, we gave these headphones four-stars, and we loved their impressive ANC, battery life, and overall comfy design. At just $225, these headphones are more than worth putting on your radar.
Woot Bose QuietComfort 45 headphones sale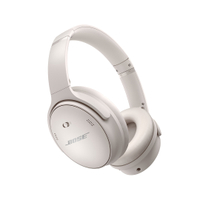 QuietComfort 45s were $329, now $225 (save $104)
These five-star headphones manage to provide effective ANC, excellent battery life, a comfy build, and solid sound quality. At a meaty $104 off, these cans are an exceptional value, too, so you better act fast.
Bose's QuietComfort line of kit has been around for a while, and it's impressed for a while. Unsurprisingly, the QuietComfort 45 headphones are no different, offering up strong ANC and competitive sound quality. What's more is that with this Woot deal these cans are an awesome value, too, while supplies last.
With the QuietComfort 45 headphones, you're getting a meaty 24-hour battery life, Bluetooth 5.1, quick charge via USB-C, the Bose Music app for control, 240g of heft, and an overall comfortable build on top of ANC. Plus, you'll also get a carrying case included right in the box to make transporting these a breeze.
In terms of noise-canceling, the QuietComfort 45s do an impressive job of shutting out the external world. In terms of sound quality, they manage to offer up detail and nuance alongside a fair bit of musicality. Put simply, they sound great, just not at the level of the Sony XM5s.
All told, these headphones are the full package. They've got impressive ANC, competitive sound quality, and a slew of features to enjoy. Considering you can get a pair for $104 off at Woot, it'll be tough to beat the value of these cans.
MORE:
Check out our full review of the Sony XM5 headphones
As well as our list of the best headphones around
And all the best headphone deals live now