Wondering where to start with a 4K TV? We've done the hard work for you, running the rule over all the major televisions we've tested to sort the wheat from the chaff. Here we're highlighting only the best of the best, so you know you're getting top bang for your buck.
After all, there's no better way to feast your eyes on all the Ultra HD content that's becoming more common - you can now watch it on Amazon, Netflix, Sky Q and BT Sport Ultra HD. Plus you can buy 4K Ultra HD Blu-rays. Basically, there's never been a better time to go 4K.
Under £500
The Philips 50PUS6272 is a 50 inch TV with 4K and HDR support, as well as Philips' eye-catching Ambilight picture technology, all for £350. What's more, it goes beyond simple specs by offering picture performance that's genuinely superb for the money. It can be a little bit fussy to use but there's no arguing with the value.
Under £750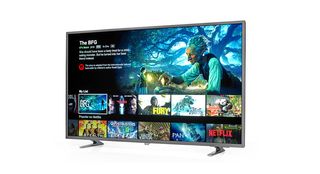 Another great budget Philips 4K TV, for just £450 you get a 50in 4K HDR panel, with three-way-Ambilight thrown in for good measure. And it looks darn good too. Much like Philips' other televisions, the 50PUS6703 comes with the expected streaming apps, including Netflix and Amazon Prime Video, plus the full suite of UK catch-ups.
Under £1000
This Sony TV has pedigree, building on the success of previous generations to deliver Award-winning performance. Despite the relatively affordable price there's a fair amount of trickle-down from flagship sets on here, so it's not short of processing power. 4K and HDR is supported, with Amazon, Netflix, iPlayer and more on board, all within an Android TV interface, which is OK if not as impressive as LG's webOS. HDMI, USB and optical inputs are here, too. But it's the picture that really impresses, most notably in terms of colours and contrast.
Under £1500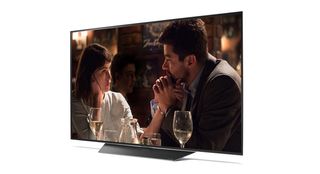 What a time for couch potatoes to be alive. This 2018 LG 4K OLED TV can be yours for just under £1200 - a very attractive price for a television that's capable of delivering such a stunningly good picture. The 55in C8 in this list boasts a more powerful processing engine and does deliver a better picture, but if you're running to a tight budget, this B8 model is the one we'd choose.
55in under £2000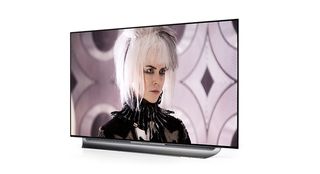 If you want the best picture that LG's current crop of OLED TVs offers, your entry-level point is the OLED55C8, or OLED55C8PLA to give this TV its full name. This 55in set started out life at £3000, but can now be yours for under £2000. It produces an image that's wonderfully bright, punchy and detailed, and still manages to maintain that black depth and naturalism we've come to love from OLED.
65in under £2000
It can be hard to generate excitement around midrange TVs. But there are rare occasions when they throw up something rather special – a television that combines some of the best features of the top-end with a price that's affordable to more people. That's what we've got on our hands here. Strong colours, smooth motion processing, impressive dark levels, it may not be a bells and whistles OLED, but this Sony LCD set is a great all-round option. And look at that price for a 65-inch screen.
65in under £3000
Within the C8's elegant table-top stand lies a wide recessed and ridged channel which helps direct the sound from the downward-firing speakers out towards the listener. The speakers and the TVs connections (including four HDMIs) are all contained inside a wide, chunky enclosure that takes up around a quarter of the TV's back panel. There's support for HDR 10 and Dolby Vision, too. Ultimately there's a jaw-dropping level of detail and clarity on show here, with punchy bright whites and colours, good viewing angles, and decent motion processing.
Under £4000
Sony's flagship Master Series OLED TV aims to get as close to the content creator's intention than ever before. And it does a mighty fine job of doing so. If the combination of brilliant motion processing, excellent detail levels and impressive upscaling isn't enough to convince you to give this TV an audition, the Sony KD-65AF9 has an extra trick up its sleeve. Its next-gen acoustic surface tech delivers some of the most impressive sounds we've ever heard from a flatscreen TV. Detailed and expansive, the Sony really has to be heard to be believed.