Wondering where to start with a 4K Ultra HD TV? We've done the hard work for you, running the rule over all the major TVs released to sort the wheat from the chaff. Here we're highlighting only the best of the best, so you know you're getting top bang for your buck.
After all, there's no other way to feast your eyes on all the Ultra HD content that's becoming more common - you can now watch it on Amazon, Netflix, Sky Q and BT Sport Ultra HD. Plus you can buy 4K Ultra HD Blu-rays. There's never been a better time to go 4K - and with Black Friday around the corner, you might be able to buy a bargain.
Under £500
The Philips 50PUS6272 is a 50 inch TV with 4K and HDR support, as well as Philips' eye-catching Ambilight picture technology, all for £460. What's more, it goes beyond simple specs by offering picture performance that's genuinely superb for the money. It can be a little bit fussy to use but there's no arguing with the value.
Under £750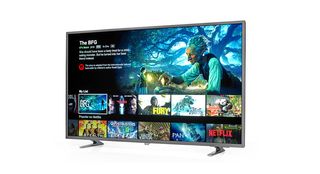 Another great budget Philips 4K TV, for £600 you get a 50in 4K HDR panel, with three-way-Ambilight thrown in for good measure. And it looks darn good too. Much like Philips' other televisions, the 50PUS6703 comes with the expected streaming apps, including Netflix and Amazon Prime Video, plus the full suite of UK catch-ups.
Under £1000
A great QLED TV for not a lot of money from Samsung. Samsung has prioritised punch with its QLED TVs, not least because that's a point of differentiation between them and OLED equivalents. And even though this 49in version of the Q7F is without an OLED rival, the panel's punch is instantly persuasive. Whatever you watch on the Q7F is also accompanied by good, if unspectacular, sound. There's a simple, clean and intuitive OS, two remote controls, all the expected streaming services and great HDR pictures. An excellent TV, and almost the best in class - it just falls just short of the Sony KD-49XE9005 below for motion processing and viewing angles.
Under £1250
This Sony TV has pedigree, building on the success of previous generations to deliver Award-winning performance. Despite the relatively affordable price there's a fair amount of trickle-down from flagship sets on here, so it's not short of processing power. 4K and HDR is supported, with Amazon, Netflix, iPlayer and more on board, all within an Android TV interface, which is OK if not as impressive as LG's webOS. HDMI, USB and optical inputs are here, too. But it's the picture that really impresses, most notably in terms of colours and contrast.
Under £1500
This is the 4K OLED that marked Philips return to the TV top table. And it remains a great TV. We're big fans of Philips' Ambilight – a technology consisting of LEDs at the back of the TV extending the colours of the onscreen action onto the wall around the set in a way that's not only spectacular but also makes the screen seem bigger than it really is. So the idea of an LG OLED panel combined with the tech had us excited from the start. And thankfully, the Philips 55POS9002 didn't disappoint. In fact, even without the Ambilight, this would be one of our favourite TVs currently available.
55in under £2000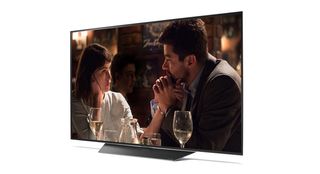 We're not so detached from the real world we would ever suggest £2000 is 'cheap' for a TV. It's way off the price of many range-topping TVs, of course - but this is an era in which you can buy a big 4K TV for well under £1000. What a time for couch potatoes to be alive. But still, that £2000 is a very attractive price for a television that's a) brand new, and b) OLED. You can get an upgraded processor in the more expensive LGs for a slight improvement to the picture but for those on a stricter budget, the better value probably comes in the shape of this OLED55B8PLA.
65in under £2000
It can be hard to generate excitement around midrange TVs. But there are rare occasions when they throw up something rather special – a television that combines some of the best features of the top-end with a price that's affordable to more people. That's what we've got on our hands here. Sony has chosen to stick with Android TV as its operating system, which results in the expected blend of pros and cons. On the pro side you get more apps than you're likely to need. Netflix and Amazon have you covered for subscription-based TV shows and films in up to 4K HDR quality, while BBC iPlayer, ITV Player, All 4 and Demand 5 provide catch-up content. There's Google Play Movies & TV, too. Strong colours, smooth motion processing, impressive dark levels, it may not be a bells and whistles OLED, but this Sony is a great all-round option. And look at that price for a 65-inch screen.
55in under £3000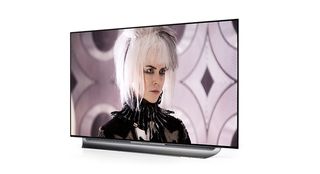 All of LG's OLEDs have pretty much the same panel and picture processing smarts, you select your model based on speaker arrangement, aesthetic appeal and price, apart from the entry-level B8 which has a different processor. If you want the best picture LG offers, your entry-level point is the OLED55C8, or OLED55C8PLA to give this TV its full name. This 55in set still costs £3000, but the benefits of the upgraded processor certainly sound worthwhile. It's not a giant leap forward for LG's OLEDs. Instead it has improved on last year's models in a number of (individually small but collectively significant) ways. The upshot is an image that's brighter, punchier and more detailed, while maintaining the black depth and naturalism we love.
65in under £3000
The way LG positions its OLED TVs means that features and specs are virtually the same across models and screen sizes, with the key variables being the speaker configurations and stand designs. Apart from the show-stopping, wafer-thin W8 wallpaper TV, the C8 line is probably the best looking of the bunch. Within the elegant table-top stand lies a wide recessed and ridged channel which helps direct the sound from the downward-firing speakers out towards the listener. The speakers and the TVs connections (four HDMIs, three USBs, aerial, satellite, optical and headphones) are all contained inside a wide, chunky enclosure that takes up around a quarter of the TV's back panel. There's support for HDR and Dolby Vision, too. Ultimately there's a jaw-dropping level of detail and clarity on show here, with punchy bright whites and colours, good viewing angles, and decent motion processing.
Under £4000
There's no shortage of reasons to buy the QE65Q9FN – the first being it produces a genuinely stunning picture. It combines bright, punchy colours with genuinely deep but detailed blacks. Some OLED sets might go deeper but they may not deliver the same level of punch and colour. Add an excellent user interface, capable sound quality, an abundance of apps and thoughtful features to keep gamers happy, and you have a complete package.