The world of digital radios can seem a bit baffling - should you go for desktop, pocket or in-car? If you're confused, feel free to turn on, tune in and chill out, as we deliver the best DAB radios around, across a range of prices.
Some even come with Bluetooth for wireless streaming from your smartphone, tablet or PC. So you can pump your Spotify tunes through your radio - which is neat. And if your car needs an upgrade, we can help there too.
Pocket DAB under £100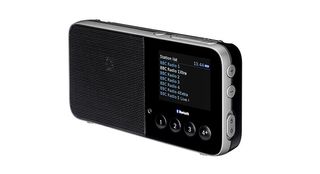 The Move T4 is a talented little radio with the additional benefit of Bluetooth streaming. If you want something neat and portable to take on your travels, the T4's 15-hour battery life should serve you well.
It's a pocket-sized unit (it's a little bit smaller, but deeper, than an iPhone) you can take out and about to the garden, or on a picnic, or from room to room inside the house. And, as such, it's a very competent little unit, and one we have no problem recommending.
DAB radio under £100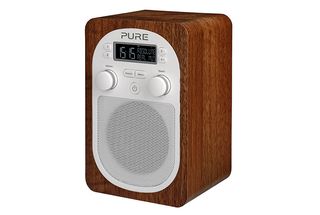 Not much has changed from its predecessor, the Pure D2. But as a multiple Award-winner, that's no bad thing. Sound quality has improved though, making this the budget DAB radio to beat.
It's nicely specced, with a 3.5mm input and headphone socket, as well as a clock, sleep timer and kitchen timer. You get DAB and FM radio of course, with 20 presets. It's not portable out of the box, but you can buy an optional battery pack if required.
DAB radio under £200
A replacement for the Award-winning Stream 93i, the 94i is a great upgrade - Spotify Connect, wi-fi and USB playback all come as standard.
Build quality is excellent, it looks smart and has all the functionality you could need in a radio. There's a subwoofer on the back to boost the bass, and two drivers at the front which, together, deliver great sound quality.
The Stream 94i is the complete package, and that makes it the best radio (for its price) out there at the moment.
DAB radio under £300
At this price, the Revo is head and shoulders ahead of the pack. It's jam-packed with features, streaming tunes from just about any source you wish to pair it with. Not many radios we review manage to impress on so many fronts. Design, ease of use, and sound quality – the Revo has it all. SuperConnect by name, super by nature.
In-car DAB
Most new cars now come with DAB radio fitted as standard, but if you have an older model you may be stuck with FM/AM. But here's a simple solution from Pure. As aftermarket in-car DAB solutions go this is a fine option, and it's simple enough for almost anyone to use - but you will need to get it professionally installed.
And how does it all sound? Well that will depend massively on the quality of the amplifier and speakers already built into your car, but having experimented with three different models we can say that the Highway delivers very clear, crisp and neutrally balanced sound.