Looking for a new pair of in-ear headphones to partner with your smartphone or tablet? This is the page for you.
Those bundled buds will only last so long and this list proves you don't have to spend a fortune to get a serious jump in sound quality. Of course, if your budget allows you can spend more, which is something to consider if, say, you use a premium portable music player full of hi-res music.
Compared to over-ear designs that can look and feel big and bulky, in-ears offer a more discreet listening experience, while their snug fit tends to deliver decent levels of isolation from the outside world.
There's something for everyone on this list including budget and premium earphones, plus wireless and noise-cancelling options too. Rest assured, all the in-ear headphones mentioned below deliver impressive audio for the money.
MORE:
Under £50
Beyerdynamic's track record with headphones is up there with the best, and these sensational in-ears represent ridiculous value for money. Vocals are delivered with a natural, nuanced touch that leaves you hanging on to every word. These buds also manage to tie a track's musical strands together without any hiccups - there aren't many rivals at this price that come close. Add their lightweight design, sturdy build quality, and in-line remote for Android and iOS, and you've got a budget no-brainer.
Under £100
Willing to stretch a bit beyond the Beyerdynamic Byrons? The Klipsch R6i II headphones are your next logical step. These Award-winning in-ears look and feel as if they should be more expensive. They're also a snug fit and extremely comfortable. And then there's the sound quality. Timing and organisation are excellent great sense of refinement. Lows are accurate and balanced, while highs sound sharp and precise. Put simply, these amazing in-ears deliver on all fronts.
Under £200
Given we first reviewed the Shure SE425s back in 2013, it's fair to say they've stood the test of time. Fun, absorbing, classy, polished and captivating are just a few adjectives that you can use to describe their sound. The level of finesse and refinement on offer is astonishing even at this price. You can hear things you never thought were there even on recordings you know inside out. Sure, their looks might not appeal to everyone and they can be a bit fiddly to get in place first time round due to their over-ear design, but these are all about the amazing audio.
Under £400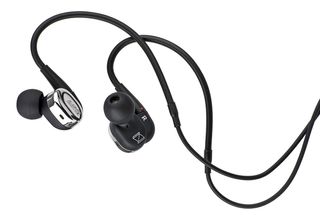 First thing's first. If you've got one eye on the AKG N40s, you need to use them with a suitable source. We're talking a premium(ish) portable music player or a smartphone and accompanying portable DAC/headphone amplifier. Otherwise, there's a good chance you won't be able drive them properly and the sound quality will suffer. If you're satisfied your source is up to it, prepare to be impressed. They're smart looking and comfortable in-ears, with fitted over-ear hooks keeping the buds securely in place. They come with different filters so you can tweak the sound at either the top or bottom ends. It's nice to have the option, but even without using them, their spacious and immersive delivery sets them apart from the competition.
Under £1000
Just when you thought in-ear headphones couldn't get more premium, we arrive at the mighty Shure SE846 earphones. And it goes without saying, you'll need a serious DAC/headphone amp to make the most of their sonic talents - we'd suggest something along the lines of the Chord Hugo 2 or Naim DAC-V1. Like the AKGs above, the Shures provide a filter so you can adjust their tonal balance. The effect is subtle, but it's worth experimenting. The SE846s provide a good seal, with the smooth, curved enclosures sitting nicely against the ear. The fact is you'd have to spend thousands of pounds on speakers before you find as much detail. They deliver every last nuance and dynamic shift while leading edges are beautifully drawn. Yes they're expensive, but the Shures are good enough to justify the cost.
Wireless
There are wireless in-ear headphones and then there are truly wireless in-ear headphones. If you want to cut the cord completely, then the Sony WF-1000X earbuds are our current favourites. They're a lightweight design and compact with it. It's quite the achievement, given the Sonys squeeze in batteries, playback controls, a Bluetooth receiver and active noise-cancelling. Battery life is three hours, although the supplied carry case doubles as a charger, giving you an extra six hours. Their tonal balance is beautifully judged and timing is superb, with a good sense of rhythm and dynamics. Given the WF-1000Xs started out with a £200 price tag, the fact they're now available for under £150 makes them a bit of a bargain.
Neckbuds
As you can see from the picture of the Sony WI-1000X, these are wireless in-ear headphones joined by a collar to keep them together. They're not truly wireless like the WF-1000X (above), but the collar does have a couple of benefits: better stability and built-in battery life. Sony claims the WI-1000X will keep going for 10 hours of use with noise-cancellation and 17 hours without. You can even tailor the noise-cancelling to suit your surroundings with the built-in 'Atmospheric Pressure Optimizer'. They build on the WF-1000X's sound by adding more of everything. Greater subtlety, attention to detail, more obvious dynamic thrust. If you want in-ear portability with on-ear battery life and power, the WI-1000X could be the answer.