Now (which dropped the 'TV' part of its name in March 2021 following a rebrand) has long been the go-to option for Sky content without the need for tying oneself to a lengthy contract.
Despite the slightly confusing name change, Now is (now) a top option for dipping into some great premium TV, such as Sky Movies and Sky Sports content without being locked into a 12 or 18-month deal.
The best bit? It doesn't have to cost the earth. In fact, some of these little passes cost next-to-nothing – as long as you deploy our handy tips on trials, passes and voucher codes.
We've explained all below, including how it works, how to get it and how much it costs.
All set up and ready for deals? See the top deals below, friend.
Top Now deals September/October 2021
What is Now?
Now (formerly Now TV) is a streaming service that offers Sky content without the need for a contract or a satellite dish. It brings you the movies, shows and sports you want, when you want. All you need to get started is an internet connection and a compatible device. You can watch on loads of devices, including tablets, smartphones and games consoles, plus Now's very own Smart Stick.
This means that not only can you watch without being tied into a lengthy deal, you can also watch in locations where you can't get Sky because of planning restrictions on having a dish.
It's delivered over the internet, so as long as you have a half-decent broadband connection, you can watch Now.
How do you get Now?
It's simple. You just need a compatible internet-connected device, and a Now account. These devices can be smart TVs, streaming boxes (like the ones below), smartphones or tablets.
Once you have an account, you just choose which Now Pass you want to buy. You can buy more than one at a time, and you can chop and change each month.
So, if there's no sport you want to watch this month, you can simply not buy the Now Sports Month Pass and save yourself a bit of money. Basically, with Now you need only pay for what you plan to actually watch.
What Now streaming devices are available?
There are two official Now streaming devices: the Now Smart Stick or the Now Smart Box. Both are made by Roku.
The Now Smart Stick is a streaming dongle that plugs into your TV's HDMI socket. It's similar to the Roku Streaming Stick Plus or the Amazon Fire TV Stick.
Now occasionally offers stick bundle deals, meaning you'll get the stick plus a one or two-month TV pass – and you could save up to 35 per cent in the process. Previously, we've seen the Now stick bundled together with a two-month Entertainment pass; a whopping saving. Nothing doing right now, (in fact, they're sold out at the time of writing) but do check the link to see if deals are live.
The Now Smart Stick alone is usually £24.99 at Now, but other online retailers (like the ones below) often offer discounts.
The Now Smart Box sits under your TV, and can display shows and films in 4K, though that's currently limited to Netflix and YouTube. This means that live TV in 4K and Sky Sports in 4K is off the menu with this option – although it is one of the most affordable 4K streamers on the market.
Remember though, you don't actually need either device to watch Now on your TV, as most smart TVs can access Now TV through an app on their smart TV platforms.
Now you're all set up, a Now pass is in your future. Let's find you one... now.
Consider Now Boost to up your Sky streaming game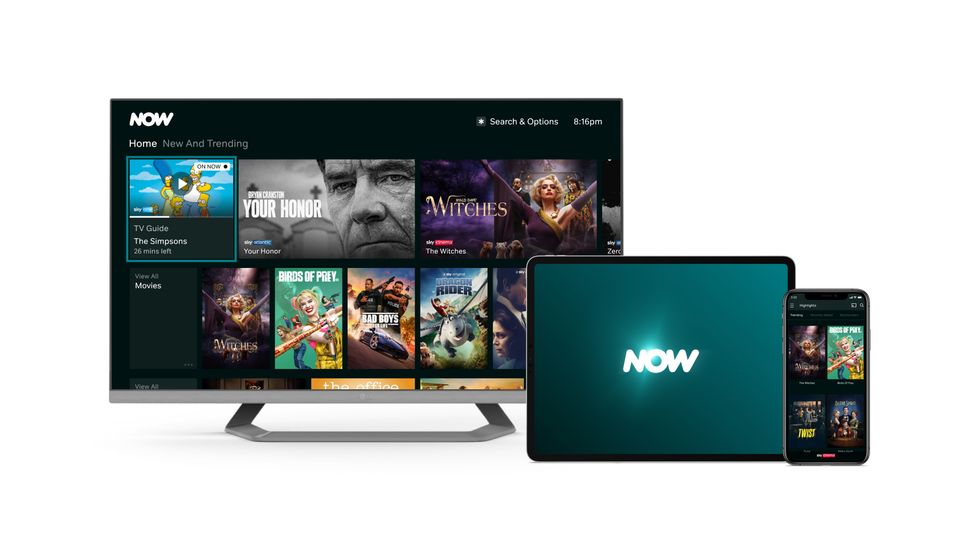 Before we continue though, some important news: Now was once limited to 720p HD. But that was before Now Boost. Think of it as an add-on that lets you add Full 1080p HD, Dolby 5.1 Surround Sound (provided your TV and home cinema setup supports it) plus three simultaneous streams at once.
You can cancel it at any time, and you only need pay once to use Now Boost with all your active Now Month Passes.
Now Boost costs £5 per month, but you can currently bolt it on to a seven-day free trial of any of Now's individual passes to try it out for no extra charge.
Now Entertainment Passes
This usually costs £9.99 a month and gives you access to eight Sky channels (including Sky One, Sky Atlantic and Sky Arts) and 13 channels in total, including Comedy Central, MTV, Gold and National Geographic. You also get over 300 box sets to choose from, including excellent Sky Originals, plus over 1000 episodes of kids TV. Need a new box-set addiction? Now Entertainment is the place to catch Sky One's Manifest, streaming until 7th November 2021.
Want to test drive what's on offer for free? You're in luck: Now is offering free seven-day trial passes for its Cinema and Entertainment options, and they'll bundle Boost (usually £5) in for free during your trial period, too. These passes will auto-renew – incurring those subscription fees – after seven days unless cancelled, but you're unlikely to forget about them after a week. Maybe set a reminder for yourself, just in case.
And that's not all! Check Entertainment, Sky Cinema and Boost out for half-price with the deal below...
Now Cinema Passes
If films are your bag, you need to check out the Now Cinema Pass. It costs £9.99 a month, and gives you over 1,000 movies on-demand from Sky Cinema – including Keanu Reeves in Bill & Ted Face the Music, which is streaming until 25th August 2022. With a new premiere every single day of the year, the library is growing fast.
Like the Entertainment Pass, you can sign up for a free seven-day trial including Boost (meaning Full 1080p HD resolution where available, plus 3 people can watch at the same time). But again, you'll be charged the full whack of £14.99 per month (£9.99 for Now Cinema, £5 for Now Boost) afterwards unless you cancel it, so it makes sense to keep your account details close to hand.
And there's a sweet deal that bags you 50 per cent off Sky Cinema for six months below...
Now Sports Pass
This one currently comes in two options (or three if you're adding the new Boost feature for Full 1080p HD, Dolby 5.1 Surround Sound – provided your TV and home cinema setup supports it – plus three simultaneous streams at once.)
The Sports Day Pass regularly costs £9.99 and gives you access to all 11 Sky Sports channels, for one day only. That means, if there were one big match or event you wanted to see, you could just pay for that one day and not have to shell out for the rest of the month.
For the Month Pass, you'll normally pay £33.99, but it's always important to check for deals – we've listed a cracker below.
Now used to offer a Sky Sports mobile-only pass for £5.99 per month (for viewers content to watch on smaller portable screens), and while this service isn't currently available by itself, the second deal below means that if you buy a day pass for £9.99, you'll get a whole month of mobile viewing for free!
Now Hayu Pass
For more than 8000 episodes of reality TV, check out the Hayu Pass. It bring shows like Keeping Up With the Kardashians, World of Dance, The Simple Life, Real Housewives of New York and more.
It too has a free seven-day trial, after which it costs £4.99 a month.
MORE:
See the best AV and home cinema deals
Check out the best Sky TV deals and packages
Peruse 7 Netflix and Amazon Prime Video streaming service alternatives