With Microsoft's next-gen Xbox Series X and cheaper Xbox Series S already unveiled, and Sony's upcoming PS5 and PS5 Digital Edition added to the mix, 2020 could be the year to buy a new games console.
Microsoft first teased the new Xbox at the E3 games conference in June last year and it's now set to go on sale in early November. Originally codenamed 'Project Scarlett', it now goes by its official name: Xbox Series X.
Xbox Series X promises four times the power of the Xbox One X and is being billed by Microsoft as the "fastest, most powerful games console ever". To match that dramatic leap in performance, the Series X gets a new 'tall tower' design, new wireless controller and a new interface.
If you're looking for the Xbox Series X specs, features, games and all the latest news on the console's release date and pricing, you've come to the right place. We even know what the Xbox Series X will look like when you boot it up.
Plus, we've full details of of the Xbox Series S, formerly code-named 'Xbox Lockhart'. The disc-less version will cost a fraction of the price of the full-fat Series X, but it lacks some of the top-tier features. Read on and we'll explain more...
Xbox Series X release date
Microsoft has confirmed that the Xbox Series X and Series S will go on sale on the 10th November. It's a global release, so you'll be able to get your hands on the next Xbox whether you live in London, Tokyo, New York or Sydney.
Global Xbox Series X pre-orders are now open. Here are the Xbox Series X pre-orde participating retailers for your country:
United States: Microsoft Store, Amazon, Best Buy,GameStop, Walmart, Target, Sam's Club, Newegg, and other participating retailers.
Canada: Microsoft Store, Amazon, Walmart, Best Buy, EB Games, The Source, and other participating retailers.
UK: Microsoft Store, GAME, Amazon, Dixons Currys PC World, Argos, John Lewis, Smyths Toys, AO, Tesco, Simply Game, Shopto and other participating retailers.
Australia: Microsoft Store, JB Hifi, EB Games, Telstra, Harvey Norman, and other participating retailers.
New Zealand: Microsoft Store, JB HiFi, EB Games, Spark, and other participating retailers.
European, Middle East and African territories : Microsoft Store, Amazon, MediaMarkt, GameStop, FNAC, Elkjøp/Elgiganten, and other participating retailers.
Meanwhile, the PS5 pre-orders are now live, with global release dates 12th and 19th November.
Microsoft has also detailed the availability of its Xbox All Access subscription service. This is already well-known in the US, but it's now due to expand to 12 other countries, including the UK and Australia, from 22nd September onwards.
Xbox All Access allows you to get one of the next-gen Xbox consoles plus 24 months of Xbox Game Pass Ultimate (which offers over 100 high-quality games and, soon, an EA Play membership) from $24.99 a month for 24 months – and no upfront cost.
This payment plan will be available in the United States from Best Buy, GameStop, Microsoft Store, and Walmart; in Australia from from Telstra; New Zealand from Spark; UK from GAME and Smyths Toys; Denmark from Elgiganten; Finland from Gigantti; Norway from Elkjøp; and Sweden from Elgiganten.
Xbox All Access availability for Canada, France, Poland and South Korea will follow, sometime before the consoles officially go on general sale on 10th November.
Xbox Series X price
Microsoft has confirmed the Xbox Series S price as $299 (£249.99, €299, AU$499), while the Series X will set you back $499 (£449, €499, AU$749).
More than your budget will allow? Microsoft's Xbox All Access subscription service allows you to pay in installments.
Once approved, you can pre-order an Xbox Series X for £28.99 ($34.99, AU$46) per month on 24-month contract, with nothing to pay upfront. The deal gets you a shiny new console, access to over 100 games on Xbox Games Pass plus multiplayer gaming via Xbox Live Gold. You can pre-order the all-digital Xbox Series S on the same basis for £20.99 ($24.99, AU$33) per month over the same period.
Xbox All Access subscription service is already established in the US but is set to roll out to 12 countries, including the UK (via GAME and Smyths Toys) and Australia (via Telstra). You can find the Xbox All Access small print here.
Sony's PS5 costs the same as the Xbox Series X, but there's more of a difference between the two competing disc-less consoles. At £359 ($399, €399), the PS5 Digital Edition costs more than the Xbox Series S, but it has the same power and storage as the full-fat PS5. The Series S, by comparison, is less powreful than the Series X – hence the cheaper price.
Like the PS5, Xbox Series X games will also cost more than the previous console generation's. Publisher 2K has already revealed its upcoming NBA 2K21 basketball sim will cost $70 (£65, estimated at AU$110) on PS5 and Xbox Series X. That's a full $10 more than it will on the PS4 or Xbox One. Ouch. Expect $70 games to be the new normal.
Xbox Series X specs
Head of Xbox, Phil Spencer, says the Series X will be four times more powerful than the Xbox One X, delivering "more immersion, more exploration, and more detail", with a big emphasis on reduced load times.
Spencer told Gamespot, "we wanted to have a dramatic upgrade from the Xbox One base console. So when we do the math, we're over eight times the GPU [Graphics Processing Unit] power of the Xbox One, and two times what an Xbox One X is."
The CPU (Computer Processing Unit) boasts four times the power of the CPU in the 'Project Scarlett' prototype. Compared to the Xbox One's eight-core 1.75GHz CPU, or the One X's eight-core 2.3GHz CPU, the Series X's eight-core 3.6GHz Custom AMD Zen 2 chip should improve every aspect of how games run.
Take loading times, for example. Spencer said it was something he hoped to "virtually eliminate" with the new Series X console.
There's plenty more tech under the console's hood, including GDDR6 memory and the next-generation of SSDs (Solid State Drives) that are said to offer 40 times the performance of current SSDs.
The cutting-edge combo should ensure that the Series X can keep up with its blazingly-fast AMD chipset and deliver the promised 'next-gen visuals'.
But with great power comes... a great amount of heat. To prevent it melting into a puddle of gooey plastic, the Series X tall tower casing has a far larger volume to accommodate airflow via a single fan and extra heatsinks. Microsoft claims it will be as quiet as the Xbox One X.
Microsoft is also launching a smaller, cheaper version called the Xbox Series S (pictured above in fetching "Robot White").
The more affordable and disc-less version of the Xbox Series X costs £249.99 ($299, €299, AU$499), and has the smallest footprint of any Xbox before it. Being 60% smaller than the Series X, it should slot under your TV easily. Thi also makes it more portable than previous Xbox consoles.
As you'd expect, the Series S not quite as powerful as it's pricier sibling, with 4 teraflops of GPU compared to 12TF. That's not to say the Series S is underpowered though. Microsoft claims it will still "deliver four times the processing power of an Xbox One console."
The Series S can run games with a 1440p resolution at up to 120 frames-per-second, and totes 4K upscaling for games, 4K media playback and support for DirectX raytracing.
In other words, the Series S is pitched at those with a 1080p HD TV or gaming monitors. If you want to make the most of your 4K TV, the full-fat Series X would be the obvious choice.
Finally, the Series S has 512GB of internal storage – half that of the 1TB SSD Series X. Both consoles provide 1TB expansion cards, though, plus HDMI 2.1 sockets with support for Variable Refresh Rate.
What will the Xbox Series X interface look like?
Microsoft recently gave us a first look at the new Xbox dashboard, which will grace all Xbox devices including the Series X. The next-gen OS, dubbed 'The New Xbox Experience', sports a colourful redesign with new fonts and a faster, more "focused" navigation.
The new Velocity Architecture and Quick Resume technology is said to launch Xbox games faster than ever. In fact, Microsoft claims the Xbox Series X Home screen will load "more than 50 percent faster when you boot your Xbox", and "almost 30 percent quicker" when you return to the home screen from a game.
So, booting up should be pretty snappy – but what other new features will we be treated to? Well, Microsoft recently spilled the beans. In it, Jonathan Hildebrandt, Xbox Experiences principal program manager, promised an August 2020 firmware update would be "rolling out soon", along with a bunch of added functionality.
Firstly, there'll be a new Xbox Guide landing page that compiles all your messages, invites and parties into one, easy-to-read notification stream. Secondly, you can expect a new Activity Feed designed to do a better job of showcasing the gaming community.
"We want the focus to be on the content being shared and highlight the awesome screenshots, videoclips and posts players create," says Hildebrandt.
And thirdly, the update will contain a number of smaller tweaks that have been requested by gamers – most notably the ability to control the volume of individual party members. That means you'll be able to dial down any other gamers who get a bit too loud.
We also know that the Xbox Series X will benefit from a slicker Microsoft Store. The upgraded app will launch faster – in "about two seconds" – on any device. It'll also sport improved search and navigation.
Finally, Microsoft has said there's an Xbox mobile app in the works. It will "better integrate your phone into the social experiences on Xbox." That likely means Series X users will be able to share game clips and message others users from the app.
If you already own an Xbox, you should see some of the new features and design cues appear ahead of the Series X launch in November. It's all part of Microsoft's grand plan to "unify the experience" across all Xbox devices before the next-gen console drops.
Will Xbox Series X support 8K video?
The Xbox Series X will support 8K gaming and frame rates of up to 120fps, plus ray tracing for realistic lighting, reflections and shadows. We also know it will support variable refresh rates (VRR), which should help with smoothness and motion handling.
Of course, 8K TVs are way out of many people's budgets, which might be why the focus so far has been on 4K 60fps gameplay. Still, it's clear that Xbox also has its sights on an 8K future.
Other important video features include the ability of the Xbox Series X to use machine-learning to add HDR to legacy titles that didn't support it as standard at launch.
Xbox Series X build
The Xbox Series X measures 30.1 x 15.1 x 15.1cm (hwd) compared to the Xbox One X's 6 x 30 x 24cm. Its weight is 4.45kg, vs the 3.69kg of the older machine.
According to Digital Foundry, the console pulls in air from below, circulating it through the machine before blowing it out of the top vents, using a 130mm fan.
You see the design close-up thanks to German Twitter user @KeemaMr, who posted the first pics of the console in the flesh. Although it's marked 'prototype-not for sale', the snaps give us a good look at the drilled-out top vents complete with splash of green paint, as well as the double USB ports.
Talking of connectivity, Microsoft has confirmed that the Xbox Series X will not have an HDMI input nor an optical digital out - both of which can be found on the Xbox One X and Xbox One S. The HDMI input was introduced to Xbox consoles so you could plug in and control a set-top box, although many felt it was never really implemented properly.
The loss of the optical output could have a bigger impact on users, though. It means if you want to enjoy home cinema sound from your Xbox Series X, you'll need an AV receiver or a soundbar with HDMI passthrough.
Of course, an HDMI output will be present and Microsoft has confirmed that an Ultra High-Speed HDMI cable will be included in the box, which is handy if your display of choice supports HDMI 2.1. Through that, gamers will be able to enjoy frame rates up to 120fps and Variable Refresh Rate (VRR) technology too.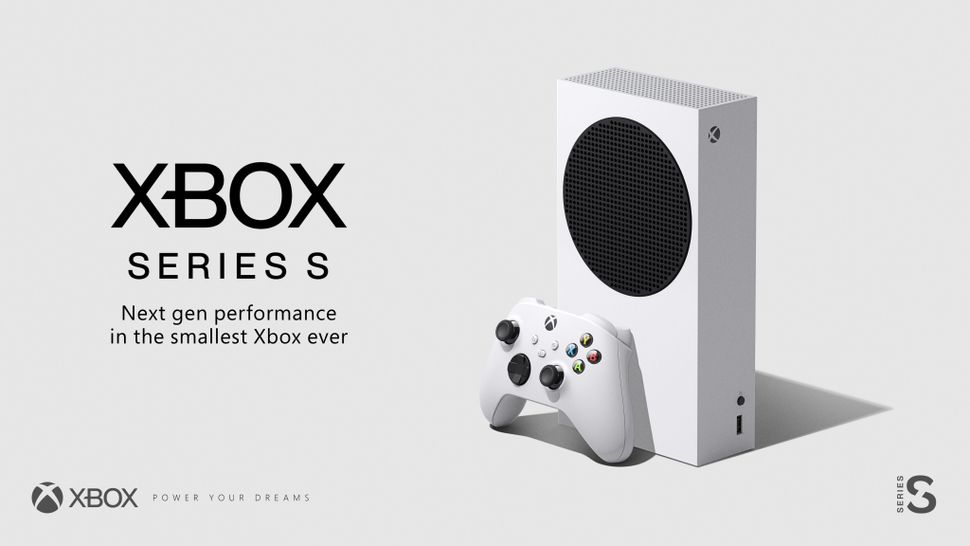 As for the design of the Xbox Series S – the smaller, less powerful, disc-less companion to the Series X – the console has Microsoft's smallest footprint to date, In fact, it's small enough to fit inside an Xbox Series X. You can see that in action in the tweet below.
pic.twitter.com/VMkQY9271KSeptember 8, 2020
Does the Xbox Series X have a new controller?
Yes, although the Xbox Series X Wireless Controller appears to be a case of evolution rather than revolution. It boasts a slightly smaller form factor, a tactile new hybrid D-pad inspired by the Xbox Elite controller, and improved latency thanks to a proprietary wireless communication protocol.
According to Ryan Whitaker, senior designer at Xbox, the bumpers have been rounded and the triggers have been given better sculpted grips and rounded too. Both have a new dotted texture for better control. The idea is to create a controller that works better with different hand sizes.
Dynamic Latency Input (DLI) is a new feature which "synchronises input immediately with what is displayed". Hopefully, this results in a more responsive and precise gaming experience.
Following in the footsteps of competitors Sony and Nintendo, Microsoft has added a dedicated 'Share' button to make capturing screenshots and clips easier. There's also a USB-C charger, indicating the presence of a built-in rechargeable battery.
More importantly, Xbox has also confirmed that the Series X controller can be used with the Xbox One, and vice-versa. It'll even work on Windows PCs and remember multiple devices. All of your current headsets and other Xbox One-compatible accessories will work on the Series X too.
The D-pad's hybrid design involves a deeper "dish" for your thumb to rest in, and the angles are "finely tuned to give you a good amount of leverage with minimal movement".
With regards other Xbox Series X accessories, news has been thin on the ground, although Bang & Olufsen has confirmed it is working on a new Xbox Series X 'audio proposition', which could point to a premium gaming headset being launched with the console. We'll hopefully get more news on this in the next month or two.
How much storage does Xbox Series X have?
Microsoft has confirmed that the Xbox Series X will come with 1TB of internal storage which matches what's available on the current Xbox One X. It's a custom-built NVMe SSD which can be boosted through the use of 1TB expansion cards designed in conjunction with storage specialist Seagate. The cards are described as "very short, quite weighty… and rather like a memory card".
The lower-powered Series S console will feature 512GB of internal storage, plus the option to boost it with a 1TB expansion card.
Microsoft hasn't announced official prices yet but two retailers (Best Buy in the US and Smyths Toys in the UK have revealed that the 1TB Xbox Series X and S SSD storage card will cost £159/$200.
That's over half the price of a Series S, so it's hardly small beer. If legit, this pricing means the £250/$299 Xbox Series S jumps to £409 with 1.5TB total storage, or a whopping confirmed $520 if you're in the States. That's more than a full-fat Xbox Series X.
The card simply slots into the back of the consoles and will likely become part of Xbox hardware bundles once the initial rush of pre-orders subsides, so it might be worth keeping your powder dry.
The launch of a disc-less Series S that mirrors the current Xbox One All-Digital Edition will make sense, given that Microsoft has teamed up with Sony to improve game streaming technologies, and is currently testing it's Project xCloud streaming platform.
Head of Xbox Phil Spencer has said he sees cloud gaming as complementary to traditional discs and downloads. It appears discs are here to stay – for now, at least.
Will Xbox Series X play 4K Blu-rays?
The Series X has an internal optical drive with a slot on the front for discs, and Xbox has confirmed that the next-gen console will indeed be able to play 4K Blu-rays and support both HDR10 and Dolby Vision.
More recently, Dolby confirmed that the Series X and Series S will be the first-ever games consoles to support both Dolby Vision HDR and Dolby Atmos surround sound in games.
That could give the Xbox a serious advantage over the PS5, as Microsoft's consoles would will be capable of displaying improved, dynamic HDR on future Dolby Vision-supporting discs and streams.
Support for Dolby Vision gaming won't arrive until some time in 2021, but Dolby says the Series X and Series S will both support the immersive surround sound Dolby Atmos audio format at launch.
We'd like to think 4K HDR streaming through the likes of Netflix and Amazon Prime Video will be a given too, providing compatible apps are on the console at launch. This should make the console a pretty potent media player although whether we'll need to wait for compatible streaming apps to support Dolby Vision remains to be seen.
The Series X supports both horizontal and vertical orientations, meaning gamers will be able to stand it upright next to their TV or lay it down underneath, like a 4K Blu-ray player.
Does Xbox Series X support Dolby Atmos?
In a word, yes. Just like the Xbox One S and One X, Xbox Series X and Series S will both support Dolby Atmos. Indeed, Xbox has confirmed that Dolby Atmos will be on the menu, together with DTS:X and Windows Sonic.
So which games will support Atmos? So far, Dolby has confirmed that open-world action adventure Cyberpunk 2077, Call of Duty: Warzone, Ori, F1 2020 and Gears 5 will all be Atmos-ready for gaming, although presumably all of the games that already support Atmos via the One X and One S (Forza Horizon 4, for example) will also play in Atmos through the new consoles.
Current Xbox console owners need to download a free Dolby app if they want to experience Atmos with their home cinema systems but they need to pay a fee if they want to listen to Atmos through headphones. We hope there won't be any additional payments required when playing on the new Xboxes.
Add to this the news that B&O has now partnered with Xbox to release a "high-end audio proposition" designed for the Xbox Series X, and we could be in for a real treat for the ears – although whether we should expect a gaming headset from B&O or a wireless speaker optimised for the Series X remains to be seen. Watch this space.
Xbox Series X games
Expect the Xbox Series X to be packed with technology to help give you the best gaming experience possible. To deliver more stable frame rates, the Xbox Series X will employ its own patented type of Variable Rate Shading (VRS), which will enable the GPU to "prioritise individual effects on specific game characters or important environmental objects".
The Xbox Series X will also see the first use of DirectX Raytracing for console gaming, which should help deliver more dynamic effects such as lighting, reflections and produce more realistic real-time audio.
Xbox is also promising a Quick Resume feature, where you'll be able to pick up from where you left off in multiple games at the press of a button without having to wait ages for them to load.
At the Xbox Games Showcase in July 2020, Microsoft showed off a whole load of first-party games as well as a number of third-party titles that will be coming to Xbox either completely exclusively, or at least before any other console. It was noted during this event that all games shown would be available at launch as part of the Xbox Game Pass subscription.
First and foremost on the bill was Halo: Infinite, which is confirmed as featuring open-world gameplay and looks incredible in action. Developer 343 Industries promises that the next-gen version of the game will feature "bigger battles, epic vistas, more complex visual effects, displayed with ten times the processing power, per pixel, of Halo 5", and will run at a "flawless" 60fps.
Unfortunately, it has since been revealed that Halo has been put back to 2021, dealing Xbox a huge blow ahead of the console's launch. Chris Lee, who is in charge of the game at 343 Industries, recently confirmed that his team had made the "difficult decision" to delay the release until 2021 to ensure they have "adequate time to deliver a Halo game experience that meets our vision".
The July event also included very brief teases of new Forza Motorsport and Fable games, but perhaps the most interesting announcement from a technical perspective was that the Series X version of Ori and the Will of the Wisps will run at a 120Hz refresh rate in full 4K HDR and it's highest graphical quality. That should make it quite the feast for the eyes, although it's interesting that an 8K mode wasn't also mentioned, as this is a game that seems perfect for an increase in resolution.
Shown off at both the Series X reveal event and the Games Showcase was Senua's Saga: Hellblade 2, the sequel to Hellblade: Senua's Sacrifice. This will be an Xbox exclusive, and the first title from Ninja Theory since the studio was acquired by Xbox, and if the richly detailed trailers are anything to go by, the Series X version of Hellblade 2 should be quite the visual treat.
Interestingly CD Projekt Red's Cyberpunk 2077 - almost certainly the biggest release of the year - hasn't made an appearance at any of the Xbox Series X or PS5 events so far, even though the game has been confirmed for both consoles.
Microsoft presented an official Xbox Series X gameplay live stream in May, where it showed 'gameplay' footage from a number of new third-party titles including Assassin's Creed: Valhalla.
It seems that we may be expected to pay a premium for some titles. Publisher 2K has already announced that its upcoming basketball game NBA 2K21 will cost $70 (£65) on the PS5 and Xbox Series X, a full $10 more than on the previous generation of consoles. On the other hand, Ubisoft has confirmed that it won't raise prices for next-gen versions of games - at least not around the launch of the new consoles. It may well be that $70 games eventually become the new normal, though.
But there's some good news for Xbox fans who like to play games on the move. Microsoft has recently revealed that its Project xCloud gaming service will be available for free for Games Pass Ultimate subscribers, giving them access to play 100 titles from the Xbox Game Pass library on their phone or tablet.
As stated in a blog post by Head of Xbox Phil Spencer: "In supported countries, we're bringing Xbox Game Pass and Project xCloud together at no additional cost for Xbox Game Pass Ultimate members."
Come September, when Project xCloud officially launches, 100 million-odd Game Pass users will be able to dive into their games from wherever they are.
Is Xbox Series X backwards compatible?
If you've invested a lot of time and money in the current Xbox One eco-system, you might not want to make a fresh start with the Series X. Thankfully, you won't have to pick sides.
We already know that you can use older controllers with the Series X, and during the E3 reveal of Project Scarlet, Xbox said the new console will deliver "four generations of content, better than you've ever seen them before".
In other words, Xbox Series X is backwards compatible and will accommodate older titles that launched for Xbox One, Xbox 360 and even the original Xbox. Not only that, Xbox Series X can add HDR and high frame rates to old games too, using a special in-console HDR reconstruction process.
According to Xbox, older games tagged 'Xbox Series X Enhanced' will be presented with higher, steadier frame rates including a doubling of frame rates for select titles, players will also see these games operating at their maximum resolution all of the time. They'll even benefit from the Xbox Series X's quicker loading times.
Unfortunately, the same can't be said of the all-digital Series S. The bargain next-gen console won't run Xbox Series X enhanced versions of older games. Instead, the Series S will make do with enhanced Xbox One S versions of Xbox One and Xbox 360 games.
As Microsoft puts it: "The Xbox Series S runs the Xbox One S version of backward compatible games while applying improved texture filtering, higher and more consistent frame rates, faster load times and Auto HDR."
In other words, the Series won't run older Xbox titles in 4K, something the Xbox Series X allows you to do.
Microsoft has already added backwards compatibility to over 600 Xbox and Xbox 360 games for its current consoles, which are expected to be available to Series X owners.
The Xbox Series X will also employ a feature called Smart Delivery, which will allow you to buy a game once and be sure that it will be optimised for whatever Xbox you want to play it on. Microsoft has said that all Xbox Game Studio titles will offer Smart Delivery, but it will be up to other game developers to use it for titles that launch on Xbox One first and come to Xbox Series X at a later date.
Microsoft also mentioned PC and mobile in the same breath as Series X, so this would point to cross-device support for a wide range of games, presumably with the help of Xbox's upcoming xCloud cloud gaming platform.
We'll be sure to update this article with more news, specs and information, as we approach that 10th November on-sale date.
MORE:
Xbox Series X price and pre-orders: how much will the new Xbox cost?
Xbox One X vs Xbox Series X: should you upgrade?
PS5 vs Xbox Series X: specs, power, features, pricing and controllers compared
PS5: release date, price, specs and news for the PlayStation 5