B&W has launched its long-awaited wireless music system - and it's clear the company means business. B&W Formation is a fully formed multi-room wireless offering that aims to appeal to those who want the convenience of streaming audio without losing any of the quality. And we mean any.
B&W is promising whole-home audio performance that's a match for the sound quality you can expect from a pair of wired speakers or indeed a separates hi-fi system. At the forefront of the claim will be the B&W Formation Duo, a fully active pair of wireless speakers and the flagship product in the Formation range.
Design
The Formation Duo speakers are instantly recognisable as a pair of B&W speakers thanks to that trademark decoupled tweeter on top of the cabinet and the now familiar Continuum cone, which replaced the previously used Kevlar models.
Available in black or white, they put a futuristic spin on that classic design so you know you're not getting a typical pair of passive speakers. The matt black finish was the winner for us, though the white speakers with newly designed stands looked pretty smart, too. Standing just under 40cm tall and just over 30cm deep, they're no shrinking violets, and at 10.6kg, they're a reassuringly hefty piece of kit.
Inside is the same 6.5in Continuum driver found in the B&W 800 Series and a 1in carbon-domed tweeter, which incorporates B&W's patented tweeter-on-top technology. B&W claims a frequency response of 25Hz to 33kHz. The speakers are driven by two, 125-watt digital amplifiers.
Round the back of the speaker, tucked underneath the wireless module at the base of the unit, is the power connection – all you need to get started. There's also an Ethernet port if you want to be extra sure of the wireless network connectivity, and a USB port for service updates. And that's your lot in terms of connections.
At the base of the front of the speaker you'll see a Formation connection button, plus volume and play/pause controls. These could come in handy when moving from room to room, allowing you to pause in one room and pick-up the music where you left off in another room, though naturally you'll be doing most of your control from your phone, tablet or laptop.
Features
While they look as simple as a pair of speakers can look, with nothing but a power cable required for each to start working, there is a whole host of wireless functionality at your disposal.
Firstly, they work with all the other B&W Formation products, including the Formation Bar soundbar, the Formation Bass subwoofer, the Formation Wedge wireless speaker and the Formation Audio wireless hub.
As with all those other devices, the Formation Duo speakers support Apple AirPlay 2 and aptX HD Bluetooth. They have Spotify Connect and are Roon Ready, so can be controlled straight from the Roon app. There's also a B&W Formation app.
Thanks to all that functionality it should be possible to play music from pretty much any source. Naturally, we're keen to see how it works in reality with a variety of apps, including hi-res streaming services such as Tidal and Qobuz, and whether B&W's app measures up to those from the likes of Bluesound, Sonos and Naim.
Elsewhere, there's also Dynamic EQ, as seen on some of the company's digital subwoofers, which promises to fine tune the sound as you listen. We look forward to seeing how that works.
Sound
We were treated to a sneak preview of the new Formation products, including a listening session with the Duo speakers. As ever, a limited time in a new environment, with a system and songs that aren't necessarily familiar, can only tell you so much.
That said, B&W was clearly confident in the speakers' ability, and keen to show what the Duo could do (even if one B&W team member confided that it was far from an ideal listening room, being pretty big and complete with wooden floors).
We were treated to a wide range of styles, from Neil Young to St Vincent, Chris Stapleton to The Chemical Brothers, allowing certain aspects of the overall performance to come to the fore.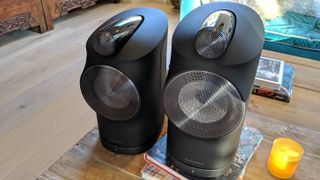 The Chemical Brothers' The Golden Path delivered bass that went deep, stayed tight and was packed with detail, driving the track along as it should without dominating the soundstage. There was impressive scale, too, filling a big room with sound without losing control.
Young's guitar strums showed an impressive level of fidelity; the level of detail where every intonation is apparent, helping to deliver that sense of a live performance despite the fact you're sat on your sofa streaming the song. Incidentally, our demo of the Duo speakers was delivered via Roon which, while a solid piece of software in its own right, it did strike us as slightly strange not to be using the B&W Formation app.
St Vincent's Masseducation offers plenty of raw emotion and bare vocals, and it's clear that midrange clarity and stereo imaging should be strong points for these wireless speakers, with voices and instruments placed neatly and cohesively in front of us. It's easy to hear the anger in Clark's voice, such is the transparency on offer.
We're even treated to some vinyl, with Gregory Porter's dulcet tones sent wirelessly to the Duo speakers via the Formation Audio (though you do need a phono stage in there somewhere). As much as anything, it shows the versatility of the B&W Formation system.
Initial verdict
The B&W Formation Duo speakers are the flagship product in the Formation range, with a price tag to prove it. They certainly look good on paper, and in the flesh, and our first impressions are positive.
B&W wants to deliver the ultimate level of wireless performance, both in terms of sound quality and functionality. We look forward to finding out if the company has achieved that lofty aim very soon.