Are you looking for a new centerpiece for your entertainment center? Well, you're in luck, because this 75-inch TCL QLED is now on sale for $675.
We haven't reviewed this set just yet, but its specs are competitive and its pricetag is something you'd usually see attached to a smaller set. Put simply, if you're in the market for a new TV, make sure to give this TCL sale a look.
75-inch TCL QLED Best Buy sale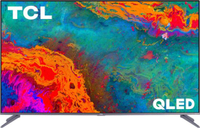 TCL 75S555 was $1100, now $675 at Best Buy (save $425)
This 4K QLED set comes packed with full array local dimming, Dolby Vision, HDR10+, and HLG as well as the Roku OS and virtual assistant support. On clearance, you'll be hard-pressed to find better at this size for the price.
Over the years, TCL has become known for its value-focused approach to TV design, offering up TVs that may not be the best of the best but manage to offer up solid featuresets for approachable prices, and this massive 75-inch TCL QLED TV doesn't look to be, on paper, messing with that legacy.
You'll be getting a 75-inch 4K QLED equipped with full array local dimming as well as the full suite of HDR support, including Dolby Vision, HDR10+, HDR10, and HLG. Plus, you're getting Roku's smarts built right in on top of familiar features like virtual assistant support, Wi-Fi, HDMI 2.1 and HDMI ARC.
For the gamers out there, you may not be getting luxuries like VRR or 120Hz support, but with 4K/60Hz, you will be able to use this TCL set with a next-gen console, like PS5 or Series X, and not feel held too much back, at least on paper. In general, QLED TVs like this don't tend to cost so little, especially at 75 inches.
While you'll be able to find TVs with more features out there or better image quality, you probably won't be able to find one of those that's 75 inches large and will run you just $700. If you've been dreaming of a huge new TV but don't want to spend thousands for the pleasure, take a look at this TCL QLED.
MORE:
Check out our list of the best 4K TVs out right now
As well as our guide to whether you should buy a TCL TV
And make sure to take a look at all the best TV deals live now