Amazon has slashed the price of its Echo Dot 5th Gen smart speaker by £20. The Alexa-powered speaker is now just £34.99, down from £54.99 – that's a saving of 36 per cent, and almost matches the deal in Amazon's spring sale a couple of months ago.
That price is for the Charcoal model. The Deep Sea Blue and Glacier White model are £5 extra, at £39.99.
There's no word on how long the deal will last, but with Amazon Prime Day probably happening next month, expect it to shoot back up to full price before too long.
Amazon Echo Dot 5th Gen deal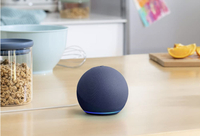 Amazon Echo Dot 5th Gen £54.99 £34.99 at Amazon (save £20)
The 5th Gen model of Amazon's mini smart speaker has dropped to its best price since Amazon's Spring Sale at the end of March. The deal applies to only the black model – the blue and white are a fiver extra. The version with a clock is also reduced by £20, to £44.99.
The Echo Dot 5th Gen is Amazon's latest generation smart speaker. It only launched on 20 October 2022.
We haven't reviewed the 5th Gen Dot yet, but considering how much we loved the Echo Dot 4th Gen we're still comfortable recommending this deal.
The 4th Gen Echo scored a respectful 4 /5 when we tested it. Our experts particularly praised its responsive microphones, which made it quick and easy to quiz Alexa about upcoming calendar events, random trivia and control our other smart home gadgets with voice commands.
The Echo 5 shares the same core-DNA and subtle spherical design but comes with a few key upgrades. The biggest include the promise of "radically" improved sound quality, more advanced Alexa commands and mesh wi-fi support. The latter is important if you've got a mesh router system, which can use the Dot to extend your wi-fi signal.
But it's not the only Echo deal in Amazon's spring sale. The Echo Dot 5th Gen with a clock built-in is also reduced by £20, to £44.99.
Amazon Prime Day usually takes place in late June or early July. Amazon hasn't announced the dates for 2023 yet, but there's every chance we'll see plenty more tasty deals like this one very soon indeed.
MORE:
Check out which Amazon Echo smart speaker should you buy?
Alexa, find me the best Alexa speakers
Our pick of the best smart speakers