Have we got a wireless headphones deal for you! Sony's stunning WH-1000XM4 over-ears are now just £199 at Amazon. That's a massive £151 off the original £350 RRP and just pennies away from their lowest price ever.
It's fair to say Sony's What Hi-Fi? Award-winning wireless headphones are a classic pair of cans. They offer excellent sound quality straight out of the top drawer, impressive 30-hour battery life and great noise-cancelling. Okay, so they've been trumped by the newer WH-1000XM5, but at this price, the XM4 now offer incredible value for money.
It's not quite the lowest price we've ever seen them at, but it's pretty close. During Amazon Prime Day 2023 they dropped to £198, but £199 still seems like a steal to us. We don't know how long they'll be available at this price, so now could be a good time to take the plunge if you've been holding off.
Prime Day Sony WH-1000XM4 deal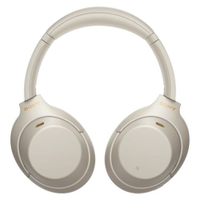 Sony WH-1000XM4 was £350 now £199 at Amazon (save £151)
Sony's premium wireless noise-cancelling headphones have never been cheaper and they deliver across the board. They sound detailed, dynamic and have a natural knack for timing. Nothing really lets them down – battery life, build, comfort and usability are all fantastic for the money. An absolute steal at this new low price.
The five-star WH-1000XM4 are a bit of a classic when it comes to the best noise-cancelling headphones of recent years. Up until the arrival of the WH-1000XM5 they were Sony's top-of-the-range pair in this particular market. With a winning combination of stunning sound, excellent comfort, clever controls and adjustable noise-cancelling, the XM4s were hard to beat at their peak. And they're even harder to resist at this new low price of just £199.
The XM4 are still as comfortable as they come and fold up giving you proper portability (something the XM5 don't do). The 30-hour battery life is still competitive in this class and they include multipoint Bluetooth so you can connect to two sources simultaneously.
They've also got useful features that elevate the user experience such as 'Speak to Chat', which allows you to talk to someone while the headphones are still on your head, and Sony's NC Optimiser calibrates the noise-cancelling for your environment.
More importantly, the headphones still sound fantastic. Their sense of musicality and enthusiasm is addictive and the way these headphones just slip into the groove of anything you throw their way just keeps you coming back for more.
Our advice? If you're looking for an outstanding pair of headphones that combine superb sonic prowess with convenient wireless technology, this deal is there to be snapped up. Grab the Sony WH-1000XM4 for just £198 while you still can.
MORE:
Here are the best Sony headphones we've tested
AirPods Max vs Sony XM4 vs Bose 700: which ANC headphones are better?
Sony WH-1000XM5 vs WH-1000XM4: which headphones should you buy?
Our pick of the best wireless headphones