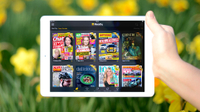 INSIDE EVERY ISSUE
Australian Hi-Fi is the definitive magazine for discerning listeners and hi-fi enthusiasts. Every issue brings you news on the latest happenings in the hi-fi world, in-depth and expert reviews of new hi-fi components with full laboratory test reports, 'how to' articles on how to get the best quality sound for your home, and much more besides...
Hi-fi reviews in this issue
HI-FI ROSE RS520 streaming amplifier
Could a self-confessed analogue fan come to love a device that goes against all that in just about every particular? HI-FI ROSE machines are far from traditional hi-fi products, but as it turns out are no less compelling for that.
Rega Elex Mk4 stereo amplifier
The second Rega amplifier to get the digital treatment (after the Elicit), the fourth-generation Elex is even more musically triumphant than its celebrated predecessor, winning back the model's previously held position at the top of the class at the mid-tier price point.
Marantz AV 10 & AMP 10 preamp/power amplifier
This reviewer uses the word 'wow' no fewer than three times to describe this magnificent Marantz pair, which delivers the goods on so many levels thanks to its fantastic, box-ticking feature set, powerful delivery, and revelatory sonic chops with both stereo and multi-channel audio.
+ Our 'secret' high-end review!
A relative new-kid-on-the-block from Melbourne delivers power in spades from its stereo power amplifier, which has been fittingly named after its 'diamond-like attributes' – purity, faithfulness and constancy.
Hi-fi news in this issue
In this issue, we have the latest news from the global hi-fi industry, featuring a haul of core hi-fi launches including speakers from KEF, Fyne Audio, Wilson Benesch, MartinLogan, Sonus faber and Revival. Cambridge Audio has pulled the cloth off two budget music streamers, while JBL has released its first-ever turntable as part of a trio of heritage-inspired Classic products.
NAD CS1 Music Streamer
Bowers & Wilkins Pi7 S2 & Pi5 S2 Wireless Earbuds
Sennheiser HD 660S2 Wired Headphones
JBL Classics Electronics
Musical Fidelity Nu-Vista Amplifiers
Sonos Era 100 & 300 Wireless Speakers
Sonus faber Homage Loudspeakers
Audiolab 7000 Series Electronics
Fyne Vintage Five & Fifteen Loudspeakers
Yamaha TW-E3C Wireless Earbuds
dCS Bartok Apex Streaming DAC
MartinLogan Motion Loudspeakers
Revival Sprint Loudspeakers
Sony NW-A306 Portable Music Player
Cambridge Audio AXN10 & MXN10 Music Streamers
Wilson Benesch A.C.T.3zero Loudspeakers
Melco N1-S38 Digital Music Library
KEF Reference Meta Loudspeakers
Hi-fi features in this issue
Interview
I sit down, open up Zoom, and discuss with British turntable legends Rega its journey towards digital amplification, and what the future might look like for the 50-year-old brand.
AI Sound Is Here
You've tried the chat, you've seen the art – now hear the AI audio. Our Jez Ford dives into the sites creating music.
Hi-fi Primer
Record players are arguably the most temperamental hi-fi components – even the best are easily upset by poor positioning, adjustment or support. Which is why it's important to take care in set up and ensure you get the best sound from yours.

Sound Travels (Dealer interview)
Australian Hi-Fi contributor Tom Waters sits down with Nigel Ng of Sydney's Audio Connection distributor and retailer, which aspires to be the place that everyone goes to for hi-fi information.
Music reviews
Top Picks
Babymetal's latest is a nigh-on no-filler of heavy music meets J-pop, and unquestionably their strongest compendium of delirium to date. Meanwhile, new You Me At Six material rarely falters, and 40 years in, Yo La Tengo chooses to intensify rather than subside.
Rock Rippers
Lyrically, British rockers Haken use animals to metaphorically and allegorically explore some aspect of the world around us; Supergrass's erstwhile leader Gaz Coombes continues his maturation into a thoughtful and eloquent singer-songwriter; and Anglo-French former YouTube star Laura Cox delivers an album of bracing trad-rock despite it not being a very popular genre in France these days.
Reissues
A sweeping collection of Genesis' intimate BBC sessions and massive live shows gets pressed on wax, while indie fans should be able to delight in a boxset of The Strokes' 10 seven-inch singles released from their first three albums, which this reviewer calls "a clutch of magnificent pop moments". Motorhead, Neutral Milk Hotel and Gary Numan material get reissued too.
Where to buy this issue
The March/April 2023 issue of Australian Hi-Fi magazine is available now in all good newsagents. To pick up a print subscription, visit techmags.com.au. It's also available as a digital edition in the Readly app or through Zinio.