SIM-only deals are a fantastic way to slash your monthly phone bill – especially if you like to stream movies on-the-go. To help you save big, EE is offering 100GB of data for £20 month with a handful of streaming freebies worth £165 thrown in.
Sign up to the 24-month SIM-only deal and you'll get: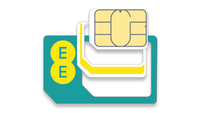 The above streaming subscriptions can be cancelled any time, so you aren't locked into a contract and you cancel when the free periods end.
The special offer runs until 30th June.
Fancy a new phone to go with your new SIM? Here's our take on the best smartphones for movies and music.
MORE:
The 35 best shows to watch on Netflix right now
Best wireless earbuds 2020: budget and premium