Some of you might be groaning at the thought of another tech journalist singing the praises of Apple's noise-cancelling earbuds. Others might be wondering why it's taken me so long to get around to this way of thinking.
The truth is, despite being an iPhone, Apple Watch and MacBook user I've been quite dismissive of Apple's earbuds in the past. But, spending some quality time with the AirPods 2 over the past few weeks has been quite the eye-opener...
One size doesn't fit all
I've used Apple products for a while, but have always given its earbuds a bit of a wide berth. That's because, for a brand that's produced some of the world's greatest tech, Apple's earbuds history, dare I say, is littered with models that have been distinctly 'meh'. The original iPhone Stereo Headset, for example, wasn't up to the job sonically and neither were a number of its predecessors.
At least some of the earlier models fit my ears, unlike the EarPods that launched back in 2012. And, unfortunately, things never really improved in the following years, even when Apple cut the cord and introduced its wireless AirPods.
The most recent 3rd generation Airpods still take a one-size-fits-all approach which, quite frankly, drives me insane. It's a point that's already been touched upon by one of my esteemed colleagues, and I wholeheartedly agree. I find getting a satisfactory seal with them nigh on impossible. And if a pair of earbuds won't fit me, I'm not interested.
And, while the original AirPods Pro sounded good, the wealth of great-sounding options on the market from other brands meant they never really entered my thinking.
The AirPods Pro 2 just work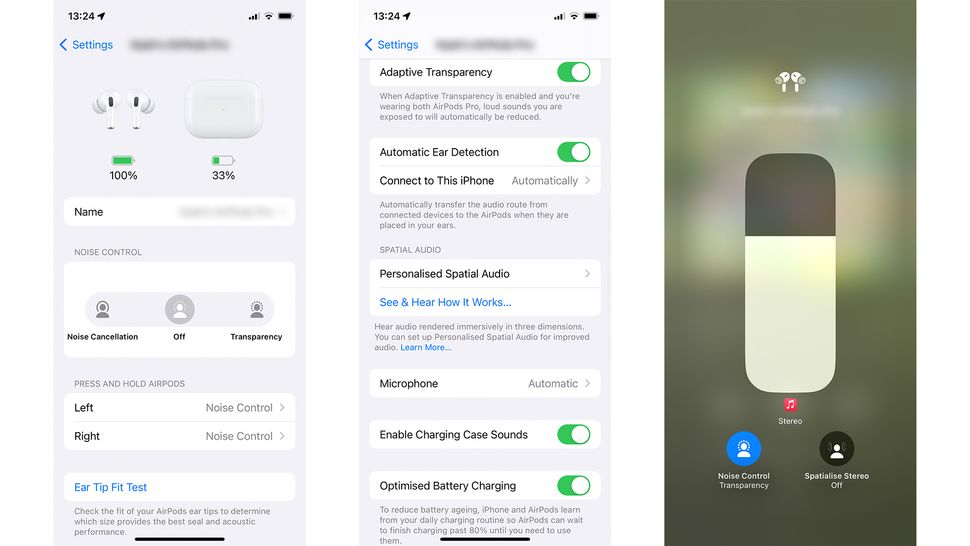 But ever since I got my hands on a pair of Apple's 2nd Gen top-of-the-range wireless buds, my cold, pessimistic heart has started to defrost. Why? Well, for a wide variety of reasons. For a start, they fit great and the silicone tips create a great seal.
In terms of ease of use, it obviously helps that I'm using an iPhone. At the flip of a lid, the battery life for both buds and case appears instantaneously on my phone screen is a slick way to highlight my charge status. The way the settings are integrated into the iPhone menus makes everything clear and easy to understand.
They pair without any problems and continue to connect time after time without fail. You can also pick up where you left off with a simple squeeze of one of the stems. I'm still not a huge fan of the styling, but I can't fault the actual execution of the controls.
New features work well
Recently, it's been interesting to see how the features of the AirPods Pro 2 have expanded thanks to the arrival of iOS 17.
Now, I'm not going to pretend that a lot of the features are groundbreaking ones that Tim's team has cooked up (see what I did there?) over in Cupertino, but in true Apple fashion, they've been executed extremely well.
For example, I've never been hugely convinced by Sony's Speak-to-Chat function which sees compatible headphones in Sony's range lower their volume and background noise when you start speaking. It seems to get tripped up too easily by the odd cough or me speaking a word or two from a song's lyrics a bit too enthusiastically. Now, Apple's take on the feature, 'Conversation Awareness' has me warming to it.
It feels to me like Apple's earbuds are processing and identifying my voice a little quicker and that they're better at differentiating between a conversation starting and those coughs and occasional blurtings. The way they fade the music in and out is done smoothly too.
I think Apple's new Adaptive Audio feature works just as well as the Bose and Sony equivalents too. It dynamically adjusts the level of ANC according to the noise in your surrounding environment and I've found it does a very balanced job, going about its business without me really noticing. Again, another well-executed feature.
Sound quality was a big surprise
One of the main reasons the AirPods Pro 2 are five-stars and among the best wireless earbuds is, of course, their sound quality. Apple's previous efforts have been okay in this department, but this model is the first where you really feel connected to the music they serve up.
There's detail and refinement I've never heard from Apple's in-ears and they really sound like a pair of premium wireless earbuds that can go toe-to-toe with what the very best at this level can offer. There's a sense of musicality on display that really complements the sound qualities we've heard from other Apple devices, including its smartphones, tablets and the different versions of its HomePod wireless speaker.
But they're not perfect
So, enough of all the praise. Are there any areas I'd like to see Apple improve? We've written a list of things we like to see from the AirPods Pro 3 should they ever emerge, but here's my two pence (or cents) on the subject.
The noise-cancelling from the AirPods Pro 2 is good, but I think the Bose QuietComfort Ultra Earbuds (and the QuietComfort Earbuds II before them) have the edge for me. Big rumbles are reduced significantly and the general amount of noise cancelled just seems to be greater in my opinion.
I think that although sound quality from the AirPods is very good, the Sony WF-1000XM5 are currently unbeatable in this area. They add even greater levels of detail and dynamics to the equation.
I've also had a few instances in busy London train stations (Waterloo, Paddington) where the connection has dropped out for more than a couple of seconds. It's not the end of the world, but it is inconvenient, especially when you're listening to a podcast and you're missing vital words. I know a lot of wireless headphones can suffer from this in built-up areas where there are a lot of wireless devices operating, but it can't hurt to try and improve them in this area.
One more thing...
Apple's flagship wireless earbuds have made big advances in only a couple of generations which is great to see. But, if the AirPods Pro 3 aren't coming any time soon, I'm hoping Apple turns its attention to the design and sound quality of the standard AirPods.
Yes, it's a crowded part of the market and yes, there are some fantastic alternatives at that level, not least the Sony WF-C700N, but I think a couple of tweaks to a new AirPods 4 model could make the entry-level buds an even more tempting proposition. Or is it just me? Let me know in the comments below.
MORE:
I love the Sony WF-1000XM5 but there's one thing I would change (and it isn't the noise-cancelling)
I switched from the Bose QuietComfort Earbuds II to the Sony XM5 and... I'm torn
7 of the best Taylor Swift tracks to test your wireless headphones