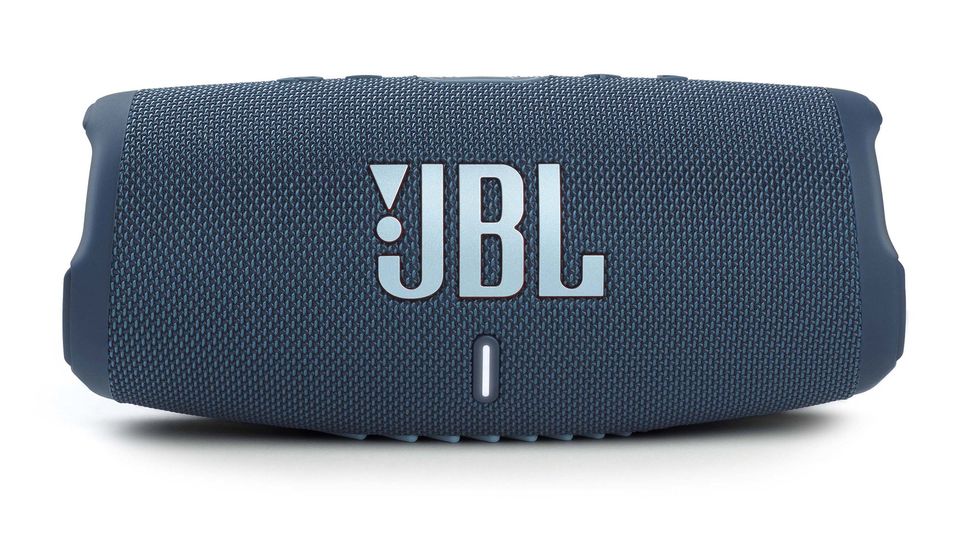 Battery life: 20hrs
Bluetooth: 5.1
Dimensions: 22 x 9.6 x 9.4cm
Weight: 960g
The Charge 5 won a 2022 What Hi-Fi? Award, and with good cause – it sounds superb, has a marathon battery life, and offers a stable wireless connection. It's also very affordable considering its feature set and build quality. It won't disappoint.
For
Clear, detailed, punchy sound
Wide soundstage for its size
Dust/waterproof
Battery life: 15hrs
Bluetooth: 5.1
Dimensions: 13.9 x 29.8 x 13.4cm
Weight: 1.97kg
Want something a little larger to fill a bigger space with sound? The Xtreme 3 is for you. The battery life is a little shorter and it costs more, but the integrated carry strap, bigger and bassier sound and rugged build make it great for weekend warriors.
For
Uber-rugged design with strap
Detailed, dynamic and musical
Big sound for larger spaces
Against
No smart features
Bettered for battery life
JBL's efforts consistently rank among the best Bluetooth speakers, but how do you determine which is best for you? Here, we compare two of the company's biggest and best-sounding wireless speakers – class leaders in their field, no less – to help you decide which one, if any, is best for your needs. (Want a small, super-portable speaker? Perhaps you should look at our JBL Charge 5 vs Flip 6 comparison instead.)
The JBL Charge 5 is the smaller of the two models under scrutiny here and a current What Hi-Fi? Award winner, while the hefty JBL Xtreme 3 is as rugged as they come and built to handle outdoor adventures while able to fill bigger spaces with sound. So what exactly are the differences between them, and which should you go for? Well, you're just a scroll away from finding out...
JBL Charge 5 vs JBL Xtreme 3: price
As the Charge 5 is the smaller of the two, it's probably not surprising that it's also the cheaper model. It launched in 2021 at £160 / $180 (around AU$280) but can now be picked up for around £110 / $150 / AU$200.
The Xtreme 3 has also reduced in price since its launch, but it's still at the pricier end of the (wi-fi-less) Bluetooth speaker market. It launched at £300 / $350 / AU$400, but can now be found online for around £249 / $300 / AU$330.
Ultimately, you're paying around twice as much for the Xtreme 3. While we believe both speakers are very much worth their price tags for what they offer, the best-value option is, in our minds, the Charge 5.
It's worth mentioning that both JBL speakers tend to come down in price during sales periods, so anyone shopping around Amazon Prime Day (July) and/or Black Friday (November) should keep a lookout. Generally, along with wireless earbuds, Bluetooth speakers see some of the tastiest deals going.
**Winner: JBL Charge 5**
JBL Charge 5 vs JBL Xtreme 3: design
Both speakers take JBL's tubular approach to design, but there's nothing wrong with that. They both feature JBL's updated design language too – the logo is bigger and bolder than on its older speakers, where it looks more like a badge than a front-and-centre design trait.
Again, the Xtreme 3 is the bigger of the two – too big for flinging into a handbag and carrying for miles. But both are on the large side for Bluetooth speakers, with the Charge 5 standing nearly as tall as a drinks bottle.
As the name suggests, the Xtreme is built to take whatever you can throw at it – it's waterproof, dustproof and wrapped in a ruggedised shell. The bass radiators at each end vibrate along as the speaker plays, which adds a nice bit of theatre to proceedings. The hooks are very handy for attaching a shoulder strap (included) to the device for easy carrying (or flinging over a tree branch!) And what's more, the shoulder strap features a bottle opener. Call us shallow, but that seals the deal for us.
Don't think the Charge 5 is rolling over in this round, though. It features the same IP67 rating as the Xtreme 3, meaning it's dust-tight and waterproof for submersion up to one metre for 30 minutes. And its smaller casing is well built too.
**Winner: JBL Xtreme 3**
JBL Charge 5 vs JBL Xtreme 3: features
The Charge 5 and Xtreme 3 are quite similar propositions, so there's not much to choose between their feature sets. They both offer Bluetooth 5.1, which is one of the more recent versions, providing plenty of range (240m) and a robust wireless connection.
One difference is the battery – the Charge 5 has a 7500mAh unit, while the Xtreme 3 boasts a 10,000mAh battery. Despite this differential, the Charge 5 actually has the longer battery life – 20 hours to the Xtreme 3's 15. That's probably due to the Xtreme 3's greater power output (100W to the Charge 5's 40W) requiring more juice to operate. Both figures are pretty good for Bluetooth speakers, though the five-hour discrepancy in endurance may be enough to swing some in the Charge's favour.
Both can work as portable power banks too, letting you use the speaker's built-in battery to charge up your mobile device over a USB Type-A connection.
Both speakers have JBL's PartyBoost feature too. This replaced Connect+, but does pretty much the same thing – it lets you wirelessly daisy chain up to 100 JBL speakers to create a louder, more immersive sound. Or you could just connect two for stereo. It doesn't work with older JBL speakers that offer Connect+ though, so you'll have to pair like with like. In the current line-up, PartyBoost speakers are the Xtreme 3 and Charge 5, Boombox 3 and 2, Pulse 5 and Flip 6.
Both work with the JBL Portable app too, which lets you find other speakers to sync with for PartyBoost. But the app doesn't offer much else besides, apart from firmware updates.
**Winner: JBL Charge 5**
JBL Charge 5 vs JBL Xtreme 3: sound quality
In terms of sound quality, the Charge 5 has come on a little from its Charge 4 predecessor. Notes' leading edges through the low end are crisper, resulting in a more agile performance, while vocals have more energy. The audio is all-round more impactful and provides an expansive mix for a portable speaker of this size.
It's capable of delicacy and nuance among all the bass clout, while the treble remains clean and clear. An impressive performance, no doubt about it. No wonder the Charge 5 picked up a 2022 What Hi-Fi? Award.
The Xtreme 3, meanwhile, is a beast of a speaker, sitting just one below JBL's flagship Boombox 3. You might, then, expect a hefty low end – and in this case, you'd be right to. This is a speaker capable of filling a large living room or reasonably sized garden, whereas the Charge is more comfortable in more modest spaces. Wireless speakers at this level don't tend to produce the biggest or widest stereo images, but the Xtreme is one of the few that can.
The Xtreme is decent elsewhere too: it serves up plenty of bass, and without overwhelming the overall tonal balance. There's good instrument separation in there, and even the most subtle of dynamic shifts is handled with aplomb. It's an engrossing performance as far as Bluetooth speakers go.
We believe the Charge 5's sound better nails our performance-per-pound criteria, but both are excellent for their size and money.
**Winner: JBL Charge 5**
JBL Charge 5 vs JBL Xtreme 3: verdict
Both the JBL Charge 5 and Xtreme 3 speakers are great options. That's why they both received five-star reviews, after all. But for its lower price and superb sonic performance (not to mention longer battery life), the Charge 5 takes it for us.
Having said that, you could be better served by the Xtreme 3 if your priorities are a louder, meatier sound, you don't mind a bigger, heavier speaker, and budget isn't an issue. You will no doubt find the carry strap (and perhaps also the integrated bottle opener) handy, and might side with the added peace of mind that a more robust build quality provides. Your choice, but know that both are winners in our eyes.
MORE:
Which JBL speaker should you buy? Flip 6, Charge 5, Xtreme 3, Link Portable
See our JBL Flip 6 vs Flip 5 in a battle of new vs old
See the best Bluetooth speaker deals on the internet