If it's just about time for you to add a new pair of wireless earbuds to your home, make sure to give the Sony LinkBuds S now on sale for $109 at Amazon a look.
When we reviewed the LinkBuds S, we gave them four-stars in our review and appreciated their overall balanced sound, solid bass, and effective ANC. Put simply, if you're looking for a good pair of earbuds, the LinkBuds S could well be them.
Sony LinkBuds S Amazon deal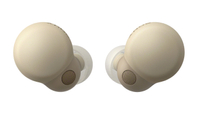 LinkBuds S were $199, now $109 at Amazon (save $90)
These earbuds pack in an overall balanced sound, impressively solid bass, and good noise-cancelling. These originally retailed at $199, but down to just $109, it's tough to pass these earbuds up.
Sony earbuds can be some of the best values around, and when it comes to the LinkBuds S, these are no different in this respect. With solid sound quality, effective ANC, and good bass response at nearly half off, the LinkBuds S are a great choice when it comes to wireless earbuds.
With the LinkBuds S, you're getting SBC, AAC, and LDAC codec support, 6 hours of battery life and 14 hours of battery with the case, USB-C charging, ANC, three finishes, and 4.8g of heft per bud. Multipoint has also been added during a November 2022 firmware update.
In terms of audio quality, the LinkBuds S offer up an incredibly evenhanded sound profile. There's not much here that will stun you, but there's nothing serious to complain about, either. All told, the audio performance of these earbuds can suit just about anybody as their daily driver.
Overall, these buds are solid all-around performers, and on deep discount, these buds are also an exceptional value. If you need some earbuds, make sure to give the LinkBuds S and this Amazon deal a look.
MORE:
Check out our full review of Sony's LinkBuds S earbuds
Here's our list of the best wireless earbuds you can buy
As well as all the best wireless earbuds deals live right now