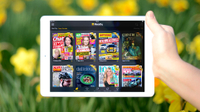 cover story: EISA AWARDS 2023-2024
We announce the global EISA Awards, voted by technical magazine editors around the world, including our own. We list all winners, with full citations for all the AV expert group categories including televisions. projectors, multichannel audio and soundbars.
full equipment reviews

SONY STR-AN1000 AV receiver
It looks identical to its long-running predecessor, but internal upgrades and updates bring Sony's new midrange receiver back to the top of its class.
TCL P733W soundbar + subwoofer
This well-priced soundbar and sub combo seems simple but proved loaded with a great many EQ options. It's an energetic performer.
OPTOMA L1+ ultra-short-throw projector
The smallest ultra-short-throw we've yet enjoyed gives little away because of its size, coming with Android TV and a sound system built-in.
LENCO LBT-225 turntable
It arrives at an entry-level price, but this walnut-finished turntable has both performance and facilties we'd expect from a higher-level deck.
MUSICAL FIDELITY A1 amplifier
It was a classic in its day, and now it's reissued in nearly its original form. But is 1980s hi-fi something we should be excited about today?
KEF R3 Meta standmount speakers
The R Series is the latest to get KEF's MAT disc 'Meta' treatment. Does the innovation help the already excellent R3 standmounts sing still more?
VIVID AUDIO KAYA S12 speakers
These are Vivid's smallest speakers, yet they retain the brand's unique design, they love going loud, and aren't short of bass. What's their trick?
world-class Australian custom installation showcases:
SURPRISE US...
The brief was brief for this stunning Australian home cinema installation by Wavetrain Cinemas, with the owners requesting simply "Surprise us..."
AV AHOY!
How much harder is it to install AV in a long-range high-speed cruiser on the open seas? We talk with CIS Allure about this unusual marine installation.
News
Yamaha raises the bar with 'True X'
Bowers & Wilkins has a new 600 Series
An Apple patent reveals a weird 'phone idea
Sennheiser confirms an imminent AMBEO Mini
Advance Paris arrives from Fontainebleau
Tidal clarifies its FLAC vs MQA policy
Hegel launches a winning amp and CD player
Rotel updates Ken Ishiwata's final products
Stax celebrates 85 years with a portable pack
Yamaha brings more affordable smart amps
Sennheiser re-colours the Momentum 4
A Jony Ive Linn Sondek LP12 special edition!
Leica's Cine 1 ultra-short-throw projector
Metaxas & Sins have an electrostatic head unit
music & movies
TUBULAR BELLS AT 50
How a demo tape, a new record label and a quiet 20-year-old composer-performer combined to deliver this classic album back in 1973.
CLASSIC ATMOS SCENES
From Soul to Mad Max: Fury Road, here's another set of great Atmos test scenes to put your surround sound system through its paces.
MUSIC REVIEWS
New releases by Public Image, Joni Mitchell and Girlschool, plus new collections and remixes of The Beach Boys, Mud, and, wooh, 1973 prog rock.
CLASSIC SCENE
Back in 1983 Videodrome saw James Woods sticking his head into the televised lips of Debbie Harry. How did they do that... and, er, why?
CLASSIC TRACK
Sabbath's greatest single was created as a filler for their second album, and two of the band nearly rejected it as a Led Zeppelin rip-off...
It's all in Sound+Image #353 for September-October 2023. The magazine is available in newsagents now, and digitally through multiple platforms, including Readly, where you can peruse Sound+Image and thousands more Aussie and international magazines with a 1-month free trial, then AU$9.99p/m.