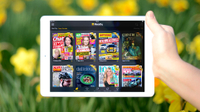 Streaming 4 ways
Don't pay twice or three times for streaming – work out exactly what you need, then get the best product for your money. In this article we look at four different paths to streaming, what to consider, and the top kit for each path to music.
MUSIC STREAMERS featuring:
▶ Cambridge MXN10
▶ Merging +NADAC +Power
▶ dCS Rossini Apex
▶ Arcam ST60
▶ Sonos Port
▶ HEOS Link
▶ Bluesound Node
▶ Aurender ACS10

SMART AMPS & ZONE PLAYERS featuring:
▶ Denon PMA-900HNE
▶ NAD C 700
▶ Yamaha R-N2000A
▶ Arcam ST60
▶ NAD C 3050
▶ Naim NSC 222 / NAP 250
▶ Sonos Amp
▶ Bluesound Powernode
▶ Yamaha XDA-QS5400RK
▶ Technics SA-C600
▶ Naim NSC 222 / NAP 250
▶ Sonos Amp

ALL-IN-ONE STREAMING SYSTEMS featuring:
▶ JBL Xtreme 3
▶ Ruark R2 Mk4
▶ Sonus faber Omnia
▶ Bang & Olufsen BeoSound A5
▶ Naim Mu-so & Mu-so Qb
▶ Bluesound Pulse Soundbar+
▶ JBL Bar 1300
▶ Devialet Dione

STREAMING STEREO SPEAKERS featuring:
▶ Klipsch The Fives
▶ KEF LSX II
▶ PSB Speakers Alpha iQ
▶ JBL 4329P Studio Monitors
▶ Klipsch The Sevens/The Nines
▶ JBL Flip 6
▶ Apple HomePod 2
▶ Sonos Five
▶ KEF LS50 Wireless II
News, views, music & movies
comment
AUSTRALIA'S OPEN LIFESTYLE
The Editor loves Australia's open-window lifestyle, but where do you hang the herring?
news
▶ Encel's Brains
▶ Burgers are back!
▶ Musical Fidelity M3x DAC
▶ TCL P733W soundbar
▶ Denon Perl buds are Nura inside
▶ 21st century Snail: Bowers & Wilkins Nautilus anniversary
▶ Morten Lindberg: Atmos music supreme
▶ TAGA Harmony: from Warsaw to Australia
▶ Australian Hi-Fi Retailer of the Year!
show reports
MUNICH HI END
& THE AUSTRALIAN Hi-FI SHOW, SYDNEY
Our picks from Munich Hi End, and our full Show Report from Sydney's Australian Hi-Fi Show – relive the magic, or see what you missed!
music & movies
CLASSIC ATMOS DEMOS
Got an Atmos system? Here's a set of special soundtracks that will put it through its paces.
MUSIC REVIEWS
New music from old dudes Dylan, Sparks, Pauls Weller and Simon, plus re-releases from guitarists Brian May, Rory Gallagher and John Mayall.
CLASSIC SCENE
Did Steve McQueen make that classic motorcycle jump in 'The Great Escape'? Well yes he did, as did co-stars Coburn and Bronson – but not on film.
in-depth reviews
TCL 55C845 Mini LED Google TV
800 nits pure white, 2200-nit peaks: TCL's C845 Mini LED Google TV iteratively improves on last year's model to compete dazzlingly against OLED.
JBL Bar 1300 soundbar system
Pull apart this smart '7.1.4-channel' Atmos-equipped soundbar to get true wireless surround – or bonus Bluetooth speakers.
Electrocompaniet ECI 80D integrated amplifier
From Norway comes this 'Classic Line' amp... which seems impressively modern to us.
Bluesound Powernode Edge smart zone amplifier
A 'junior' Powernode may be just the thing for an extra zone of music in your home.
Sennheiser HD 660S2 headphones
These wide-open wired 'phones show that the changes at Sennheiser haven't spoiled the sound.
Sound+Image Buying Guide
12 pages of award-winning kit:
118 product recommendations!
▶ Projectors
▶ Systems & wireless speakers
▶ CD players / DACs
▶ Headphones
▶ Subwoofers
▶ Amplifiers
▶ Streaming music players
▶ Loudspeakers
▶ Vinyl

It's all in #352, July-August 2023, out now in print and digital issues – available in newsagents now, and digitally through multiple platforms, including Readly, where you can peruse Sound+Image and thousands more Aussie and international magazines with a 1-month free trial, then AU$9.99p/m.