Hisense Roku TVs are ones to consider if you're looking for rock bottom prices, solid picture performance, and all the necessary smart features and services. And the good news is that they're now even cheaper. Both the 55in and the five-star 50in Hisense Roku R50A7200GTUK are down to their lowest ever prices.
Both TVs are Argos exclusives. You can pick up the 50in Hisense Roku TV for £349 and the 55in Hisense Roku TV for £399.
Don't expect these deals to last long, though. The 65in model has sold out at its discount price and has already gone back up. So, if the Hisense Roku R50A7200GTUK is a set you've been eyeing up, we suggest you don't wait around.
Hisense Roku TV deals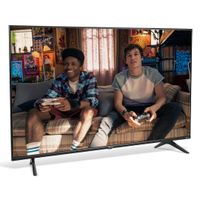 These Hisense sets are still the UK's only Roku TVs. The A7200UK replaces last year's also excellent B7120UK models.
These 4K TVs are built on a zippy and intuitive Roku smart platform and are packed with over 8,000 apps including big hitters like Apple TV+, Netflix, Spotify, Disney+, Now, Google Play, Rakuten, Amazon Prime Video.
Best of all, though, the picture quality on the 50in R50A7200UK that we tested was very, very decent for the money. The 4K picture is clean and dynamic, while its processor does an excellent job of upscaling HD content to 4K levels too.
These direct-lit LED TVs are 2021 Hisense Roku TV models and this is the first time we've seen them available with a £50 discount. If this is the kind of size and price you're looking for, you'll struggle to find better. Should you want to aim a little higher, then take a look at our round-up of the very best TVs which covers a wide range of prices from budget to premium.
MORE:
Here are the best cheap TVs around right now.
Take a look at the best TV deals live right now.