The Sonos Arc Dolby Atmos soundbar – a recent entry to What Hi-Fi?'s Hall of Fame – has been on sale for a week or so now, but now a handful of retailers have taken an extra £50 of the already discounted price, meaning it's now cheaper than we've ever seen it before.
So, right now, the Arc, which is officially priced at £899, is down to just £649 at Amazon – that's a massive £250 discount.
Sonos is currently running its own sale, where the Arc is down to £719, but this is obviously a much better deal.
It's worth noting that that price is only on the black version, with Amazon charging an extra £50 for the white model, but you can buy the white Sonos Arc for £649 at Richer Sounds.
Admittedly, Sonos Arc discounts aren't unheard of, but this is the lowest we've seen it go. Until now, £699 was the best deal price we'd seen.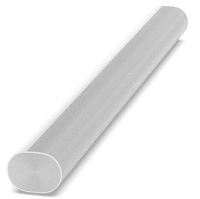 Sonos Arc soundbar £899 £649 at Amazon (save £250)
Available at this price in black, this three-time What Hi-fi? Award winner delivers five-star Dolby Atmos performance and wi-fi connectivity for easy integration with other Sonos products and music streaming.
The Arc sits above the Beam (Gen 2) in Sonos's range, using 11 speakers to deliver one of the most convincing Atmos performances around. Features include Apple AirPlay 2, Spotify Connect and Tidal Connect for easy streaming, and a choice of voice assistants, with Google Assistant and Amazon Alexa both built-in. It's simple to set up, slots into the Sonos ecosystem, and has earned What Hi-Fi? Awards in 2020, 2021 and 2022.
I've personally been involved in various Sonos Arc tests over the years, including its first What Hi-Fi? review and various comparisons since, and it's still without a doubt the Dolby Atmos soundbar I would choose. In fact, it's the Dolby Atmos soundbar I did choose – I've been using one at home for the last few months, a brief flirtation with a pair of HomePod Gen 2's notwithstanding.
If you want to go the whole hog and add true surround (one of the best things about going with a Sonos is that you can expand your system over time), you could add a pair of the new Era 300 or Era 100 speakers, which we've recently reviewed and are superb, but I think they're probably overkill for pure surround duties, so I'd go for a pair of cheaper One SL speakers myself. They're currently available for £153 each at Amazon.
You can also add a subwoofer to the Arc. There are now two – the huge and expensive Sub and the smaller and more affordable Sub Mini. Personally, I don't think the Arc needs an additional subwoofer, so I'd suggest living with the soundbar itself at first and only adding one at a later date if you're really craving more bass.
MORE
These are the best Dolby Atmos soundbars you can buy right now
Read the full Sonos Arc review
Shop today's best Dolby Atmos soundbar deals