The majority of my portable music listening is done through my phone. It's an Apple iPhone 12, and I use both Apple Music (great playlists, music discovery) and Tidal (great higher-quality Masters tracks) for everyday music streaming. Whether I'm commuting to work, picking up groceries or even just sitting outside for a quiet moment, music gets pumped into my ears from my phone through Bluetooth into wireless earbuds.
But there are too many distractions from my phone to really concentrate on just the music. Fun apps, text notifications, cat videos, doom scrolling, the temptation to keep checking in on the latest news or searching for the next songs I might be in the mood for... My eyes are always glued to the screen and taking in other information, with the music taking a back seat. And my iPhone doesn't play high-res audio, either.
I need a dedicated portable audio player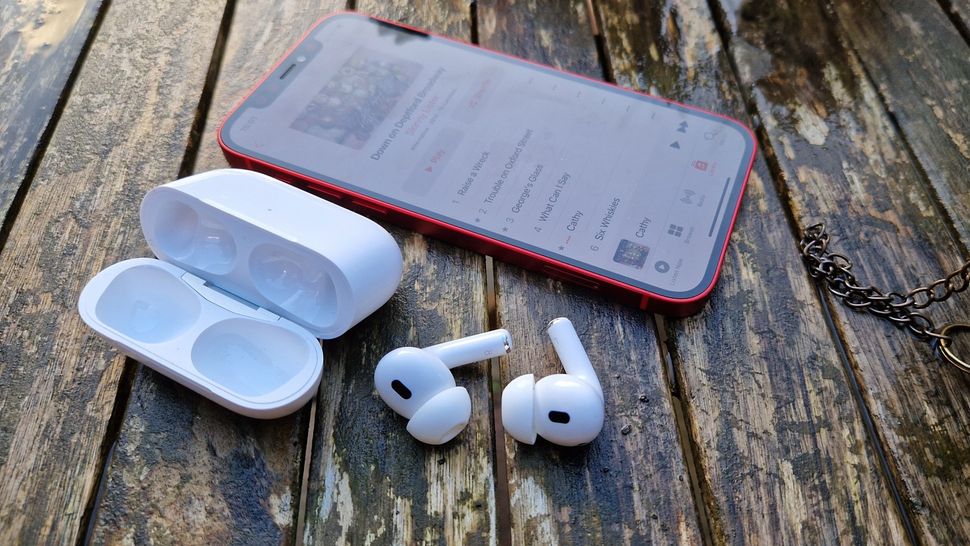 A dedicated portable music player is what I really need, which focuses on doing just one job: playing music. It also means I can ditch my very convenient AirPods/Sony earbuds in exchange for a 'proper' pair of wired headphones thanks to all portable music players offering, at the very least, a 3.5mm headphone jack.
Astell & Kern's fleet of extremely capable hi-res digital music players is the obvious choice here. Every single player we've tested has offered genuine portable hi-fi quality and received five-star reviews, not to mention stunningly crafted designs and sleek performance in use. Its stripped-back interface also meant you could listen to albums in full, without skipping or any distractions, much like you'd get with the vinyl experience. It is, in many ways, such a pure and personal listening experience.
But as much as I've enjoyed listening to my small but curated library of hi-res albums on the A&K players like the latest A&norma SR35, I'm always worried my clumsy fingers will drop it, or the beautiful screen will get scratched amongst my keys and other random stuff I carry in my bag. It's rather expensive and very expensive-feeling for my personal everyday use; it's something I'm always aware of when using it. These players can also be rather bulky; forget even trying to fit one into the pocket of my skinny jeans.
Sony's new Walkman could be a winner
Enter the new Sony NW-A306 portable music player. This Walkman is not only more affordable but also plays all the hi-res audio formats you can dream of. Costing £349, it's more than half the price of the SR35, which is A&K's current 'entry level' player at £799. The Sony also has a modest design that prioritises a secure, grippy hold over high-fashion. It's compact, easy to hold in one hand, and has no sharp edges. In my time with the review sample we had for What Hi-Fi?, I was never worried about dropping it or getting it scratched. It was sturdy, durable and was begging to be used in my daily life.
I loved being able to plug in the terrific Grado SR325x or the super comfy Shure SRH1540 wired headphones to fully immerse myself in my digital music collection. And since the Sony NW-A306 can handle full-fat hi-res audio files (we're talking 32-bit/384kHz PCM/FLAC, DSD256, MQA – the very same file resolutions as the SR35), I could listen to hi-res albums through a player that offered greater resolution, ample precision and even-handed balance, with an openness and clarity that you just don't get with a smartphone. Even one as good-sounding as an iPhone.
But there's one slight issue
But there's one problem. The Sony doesn't just play music. It also acts, rather disappointingly for me, like a phone. The NW-A306 comes with a full Android 12 operating software baked in, meaning it works just like your normal app-heavy Android smartphone. Which is exactly what I wanted to get away from when looking for an iPhone alternative with a dedicated music player.
Not only does the Android OS bog the Sony's interface down somewhat (menu swipes aren't as smooth and selecting music to play is a tad delayed compared to using my phone), but it also takes up so much internal space (nearly half of what's available). Space that should really be given up to storing as many hi-res, CD quality and even MP3 music files as possible.
All the distractions I was trying to get away from in my iPhone are present there in the Sony. Yes, you can simply turn off every single notification, turn off wi-fi and not download any new apps, but the fact that they're there, waiting, ready to spring an unsuspecting app update on me is always on my mind. Swiping down on the screen reveals hidden notifications and updates, even if muted. There's no escape.
I can understand why Sony felt the need to include the whole suite of Google apps and the Play Store with this Walkman (more choice is better, right? Not always...) – it seems obvious to offer more features and at such a decent price. But we've enjoyed the more basic and functional interfaces of previous Sony models like the Sony NW-A55L (£160 in 2020) and NW-A45 (£180 in 2019), which didn't offer any smartphone-aping features that took away from the main job of playing your music. Both those models were five-star Award-winners.
My husband uses an even older Walkman model (NWZ-E585) which is entirely devoid of any fancy operating software, it doesn't even have a touchscreen (or even a backlit screen) and it doesn't do hi-res. But it has zero apps and zero notifications to distract him, he gets the full use of the onboard storage, and, despite looking very worn and used (and loved), it actually still sounds pretty decent. As much as I enjoy the feel, the sound quality and technical capabilities of the newer NW-A306 player, I did envy his distraction-free music experience.
Astell & Kern gets it right
You don't get this distraction (or the space-hogging OS issue) with the Astell & Kern players. There's simply no room for it, and there's a beauty to that limitation. It lets you switch off, gives you a wonderful sense of calm away from constant doomscrolling and screen use, and offers the unbridled joy of listening to albums (Agnes Obel's Aventine, Tom Waits' Closing Time, The Dismemberment Plan's Emergency & I) in full.
That's the experience I longed for with the Sony A306, which is such an otherwise brilliantly designed and ideally priced (and specced) player. It's a talented and mature performer and is easy to recommend. If you can live with the smartphone-like distractions, that is...
MORE:
Read the full Sony NW-A306 review
And the Astell & Kern A&norma SR35 review
Where can you buy hi-res music? Here are the top download sites