Thanks to the arrival of a number of virtual assistants, backed by big-hitters such as Amazon, Apple and Google, wireless speakers have never been smarter.
No matter if you want to know what the weather's like, find out the name of the track you're listening to, catch up on news headlines or just can't be bothered to get off the sofa to adjust your lighting, AI assistants such as Alexa, Siri and Google Assistant are standing by to help you out.
But the very best smart speakers aren't just clever so-and-sos, they also sound excellent when listening to music over Bluetooth or wi-fi. And, depending on the brand, you also have access to a number of different music streaming services, including Apple Music and Spotify.
And these are the best smart speakers around right now...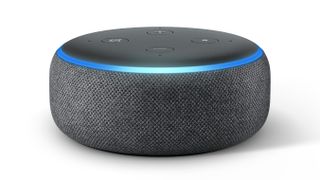 Perhaps the smartest way to bring Amazon's Alexa voice assistant into your home, the latest generation of the Dot also doubles as a simple (and cheap) wireless speaker. The fabric-covered puck-shaped device looks smarter then previous versions and it's easy to get up and running, either over wi-fi or Bluetooth. And as a device for playing background music, there really is little to fault, especially at this price.
Read the full review: Amazon Echo Dot 3 review
Moving up a size (and price category), the Amazon Echo 2 does everything you'd reasonably expect of smart speaker at this level. There are lots of smart features you can play with and the speaker goes loud enough and sounds capable enough to fill small or medium-sized rooms without too much fuss.
Read the full review: Amazon Echo 2
Arguably the best all-round smart speaker you can currently buy, the Sonos One sounds superb for the money and has all the functionality you're likely to need. There's Spotify and Tidal integration, the ability to chat with Alexa (Google Assistant is also on the way) and the option to build a multi-room system around it using other Sonos speakers or AirPlay 2.
Read the full review: Sonos One
Apple was late to the smart speaker market, but the HomePod was well worth the wait. Aimed squarely at Apple users, it helps if Apple Music is your go-to music streaming service, but this is a clever, capable and desirable device. There's multi-room and stereo pairing support, plus a Siri voice assistant that works extremely well in this musical context. Very impressive.
Read the full review: Apple Homepod
The Megablast is Ultimate Ears' loudest and smartest speaker yet. With Amazon's Alexa voice assistant built in, it can answer your questions as well as play all your favourite tunes..
More crucially, the Megablast joins the brand's portfolio of five-star Bluetooth speakers that are simply fun to use and listen to. Good-looking and great-sounding, the Megablast is an absolute treat.
Read the full review: Ultimate Ears Megablast
The Audio Pro Addon C5A is almost identical to the Addon C5, which was our wireless speaker Product of the Year in 2017. So adding Alexa voice control to an Award-winning speaker is the icing on the cake.
Available for the price of an Addon C5 plus the cost of an Amazon Echo product bolt-on, it brings the whole package into one tidy, easy-to-set-up box. And with that same Award-winning sound, this is the ideal combination for those who want an excellent Alexa wireless speaker that can be expanded into a full-blown multiroom system.
Read the full review: Audio Pro Addon C5A
MORE: Best wireless speakers 2019: portable, multi-room, smart speakers