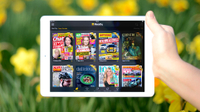 REVIEWS THIS ISSUE IN SOUND+IMAGE

YAMAHA True X soundbar system
Yamaha revives a higher level of soundbar in a 'True X' format which pairs the bar with a wireless subwoofer and then battery-powered wireless rears with a life of their own.
BENQ GV31 portable projector
BenQ has upgraded its circular projection concept with higher quality visuals but the same simplicity of set-up and battery operation.
ADVANCE PARIS MyConnect 150 all-in-one
There's a new brand in Australia (though long-established in Europe), and here's a big glowing box which brings CD, radio, streaming and power for a powerful just-add-speakers solution.
BOWERS & WILKINS 607 S3 standmount loudspeakers
The smallest speakers from Bowers & Wilkins' entry-level range receive tweaks that makes them a now smoother yet still incisive listen.
CAMBRIDGE AUDIO MXN10 streamer
It's the small streamer which whisked away our budget streamer award by taking on the big brands. Here are the reasons why.
BANG & OLUFSEN Beosound A5 wireless speaker
Around the home and even further afield, Bang & Olufsen's Beosound A5 aims for all-round wireless speaker performance with benefits.
CEDIA AWARDS 2023
Meet all the finalists and winners in the Asia-Pacific region of the CEDIA Awards, including the world's best home cinema!
- Best home cinemas
- Best integrated homes
- Other categories
FEATURES & REGULARS
comment
Dude, where's my car-Mignon?
The Editor recalls the joys of playing vinyl in the car.
news
Rega's post-concept Naia turntable - plus Yamaha, Bowers & Wilkins, Krix's passive soundbar, ProTools Pro-Ject, Ruark and NAD...
show report
UK Hi-FI Show Live
Sunshine over Ascot for a huge show with some top brands
hi-fi history
50 Years of Tivoli Hi-Fi
The Melbourne store started in a back yard in 1973: Philippe Luder gives us the inside story.
music & movies
Twin Peaks 35 years on
Over three seasons David Lynch and Mark Frost up-ended TV norms and had adult viewers hiding behind their sofas...
Rlbum reviews
Great new releases from classic names including Ash, The Pretenders, Kristin Hersh and Steve Hackett.
Classic Track
A top riff and a cri de coeur brought Eric Clapton his classic track.
BUYING GUIDE
We close up this mega issue with our Buying Guide packed with pages of award-winning product recommendations.
It's all in Sound+Image #354 for November-December 2023. The magazine is available in newsagents now, and digitally through multiple platforms, including Readly, where you can peruse Sound+Image and thousands more Aussie and international magazines with a 1-month free trial, then AU$9.99p/m.