Fancy yourself a Dolby Atmos soundbar for your home cinema setup but can't quite stretch yourself to the class-leading Sonos Arc? Not to worry, because you can now save big on the Bose Smart Soundbar 900 (a very capable Arc rival) on Amazon.
Thanks to a 22 per cent discount, the Bose 900 is now just $700.
In our Bose Smart Soundbar 900 review, we praised its expansive breadth, sleek design, and clear vocal projection. If you're in the market for a very decent premium soundbar that doesn't break the bank, this Bose bar is certainly worth considering.
Bose soundbar deal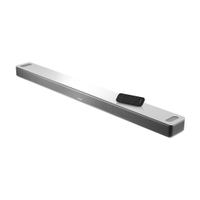 Bose Smart Soundbar 900: $899 $699 at Amazon
This talented soundbar manages to offer up Dolby Atmos support, a clean minimalist design and a wide soundstage. There may be better-sounding soundbars higher up the market, but the value on offer here is tough to beat thanks to the 22 per cent discount.
A soundbar is a great way to upgrade what is most often an unspectacular set of speakers built-in to your TV, and finding one with Dolby Atmos support generally means you'll get a more immersive, broader sound experience. Bose's Smart Soundbar 900 manages to offer 5.2.2 channels with Dolby Atmos – and that can even be upgraded by adding companion surround speakers and/or a subwoofer.
Inside the bar is a pair of height drivers and a center tweeter alongside four racetrack transducers. There are no side-firing drivers in sight, but you'll find speakers positioned at the far left and right that rely on Bose's PhaseGuide tech to beam multi-directional sound.
This soundbar supports Dolby Digital, Dolby TrueHD, and Dolby Digital Plus alongside Dolby Atmos, while it also comes with Chromecast streaming support, Bluetooth 4.2, Wi-Fi and HDMI eARC too. Essentially, you'll get just about all the support you'd want and expect from a modern soundbar here, including Bose's own form of room calibration technology via the Bose Music app.
In our review, we found this Bose bar to offer up an impressively wide soundfield, clear forward projection with character, and an overall responsive, cinematic performance. It may fall short of the best of the best out there in the soundbar world, but the Bose Smart Soundbar 900 certainly offers up a competitive value, most especially if you can find one on sale.
The long and short of it is that Bose's Smart Soundbar 900 supports a ton of modern features, sounds good, and is now $200 off. If you're looking for a no-fuss soundbar upgrade at a decent price, you'd do well opting for this Bose bar.
MORE:
4 of the best Dolby Atmos soundbars to look forward to in 2023
Here are the best soundbars we've tested
And our list of the best 4K TVs you can buy right now