It's no secret that HDMIs are precious commodities, and as someone who is slowly accumulating more and more things to occupy these ports, I'm always willing to hear smart suggestions for a streamlined setup. I am also someone who is conscious of cable clutter; in fact, I owe my sanity to a bumper pack of Velcro strips I bought on Amazon about five years ago that have ensured that my wires don't resemble Spaghetti Junction.
Either way, I'm a fan of combining two separate devices into one package for the sake of convenience and neatness, which is why 2020's Roku Streambar has recently caught my eye. No, it's not perfect – there are obviously better streamers and soundbars out there as separate entities – but the concept just makes sense to me even if the performance here doesn't. And yet, rather than usher in a new wave of similar devices, we haven't really seen anything else like it since. Or have we?
Did you know that Fire TV Edition soundbars exist? I didn't until now, and that's probably because they have been a bit of a flop so far. Anker's attempt has already been discontinued after a CES 2020 debut, and TCL's offering has gained very little traction as far as I can see. In an ideal world, I want a Fire TV-equipped Echo soundbar, directly from Amazon, and here's why.
Amazon's current lineup of Echo speakers is basically begging to be utilised in a home cinema surround format. The Echo Studio is a Dolby Atmos speaker that faired well in our review, and just so happens to cost about half the price of the new Sonos Era 300. It's already compatible with the Fire TV Sticks and Cube, so the groundwork is there – just imagine it as the rear surround speakers. Now if that wasn't enough, there's the Echo Sub, which comes in at around a quarter of the price of the Sonos Sub Mini. What we're looking at here is a smart surround system that could undercut a Sonos home cinema setup by hundreds of pounds/dollars. Now I just need Amazon to produce something to compete with the Beam Gen 2.
Amazon doesn't even need to beat the Sonos Beam for sound quality. More important is that it's priced aggressively but includes Dolby Atmos support and has the features of a Fire TV Stick 4K built-in.
Theoretically, Amazon could offer a fully unified Fire TV and Alexa-powered home cinema surround system for the same or less than the cost of the Beam – and who wouldn't want that? Even if that doesn't appeal to those who want the best and most expensive home cinema speaker system, you can't deny that it sounds like an interesting proposition.
The best part is that this isn't a total pipe dream. As mentioned, Fire TV Edition soundbars are on the market, and Amazon is already expanding its first-party Fire TV hardware with the new 2-Series, 4-Series and Omni QLED TVs, so a new take on the Fire formula isn't out of the question. The same can be said of Amazon's Echo lineup, with the Show now coming in more screen sizes than ever and the Dot remaining a popular micro-sized smart speaker, it's the perfect time to add a new member to the Echo family.
However, all of this Amazon talk has kindled a new tangent, that echoes my initial statement; I want more soundbars with built-in streaming devices, and it's not just Amazon that makes those. If only there was another big brand that has just updated its streaming device and launched a new speaker that can be used to play movies in spatial audio... oh, wait a second...
It's true that the Apple doesn't fall far from the tree, and that's who I'm setting my sights on next. The Apple TV 4K and a pair of HomePod 2s make for an excellent movie-watching combo, so let's apply the same principle. Imagine a HomePod soundbar, complete with the spatial audio prowess of the latest smart speaker, with a built-in Apple TV 4K for a convenient all-in-one home cinema setup, complete with the usual Apple seal of quality. The fabled Apple ecosystem is already in full swing when it comes to the outstanding synergy between the iPhone, HomePod, Apple TV and Apple's iTunes and TV+ services – so why not take it up a notch with a soundbar?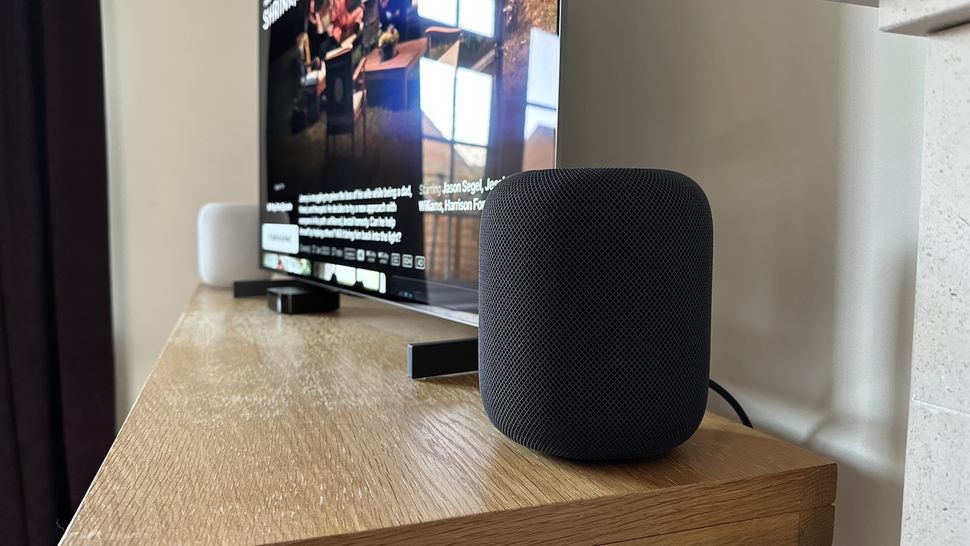 But why stop there? After a discussion with my fellow AV enthusiast Tom Parsons, he suggested a soundbar with the new Sky Stream box built in. This sounds like the ultimate all-in-one system for live content, online streaming and upgraded sound, and it could even be a path of retribution for Sky after the slightly misguided Devialet-powered Soundbox from 2019. Instead of an expensive soundbar with no streaming smarts of its own, a more budget-oriented 'bar with the features of the Stream puck built-in makes far more sense.
While some of these concepts are perhaps more realistic than others, the bottom line is that I think Roku is onto something with the Streambar, and I want to see more brands take their own spin on the idea. Amazon, Apple and Sky all seem to have the fundamentals for streaming soundbars lined up, they just need to take the plunge.
MORE:
Read our full Roku Streambar review
Check out our picks for the best Dolby Atmos soundbars
And check out the best soundbar deals