JBL is the master of rugged portable products, exemplified by the excellent Flip range. And the Flip 6 is one of our current favourites. It's a handsome, reliable package that delivers an entertaining five-star sound. Not only that, it's been reduced in price by almost 25%, so now could be the time to consider snapping one up.
The Flip 6 usually retails at around £130, but that sum has dropped significantly thanks to an amazing deal over at Very which lists the Flip 6 at just £80, although this seems to be limited to the white version. If you want more colour choices or you're based elsewhere, the Flip 6 is now £99 thanks to a 23 per cent reduction of the full price over at Amazon, a hefty £30 off the original price.
JBL Flip 6 Bluetooth speaker deal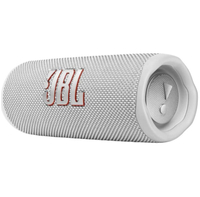 JBL Flip 6 (white) £130 now £80 at Very (save £50)
One of JBL's most popular models once again justifies its reputation thanks to fantastic sonic clarity, meaty bass and 12 hours of battery life. If you want a small, slimline speaker that won't break the bank, there really aren't many rivals that can beat it.
There was always going to be a concern that the Flip 6 might not match the high standard set by its predecessor, the Award-winning Flip 5, but JBL has continued to push the bar with an even more sonically impressive follow-up.
In our JBL Flip 6 review we called it, "another resoundingly five-star product", with "sonic upgrades in terms of clarity and breadth across the frequencies (that) are easy to spot". In fact, most of the real competition for the slim, burrito-sized performer comes from alternative offerings from across JBL's heaving stable of five-star operators, including the larger Charge 5 and the rugged JBL Xtreme 3.
For social butterflies who like to get out and about with their mates with a Bluetooth speaker in tow, the rugged and musically exciting JBL Flip 6 is a class-leading proposition. And with 12 hours of battery life, it should be able to fire out tunes well into the small hours.
It's not even a particularly old speaker, meaning that a price drop at this stage represents a smart investment, even if we can't guarantee how long such a deal will last.
MORE:
Read our full JBL Flip 6 review
Our pick of the best Bluetooth speakers: portable speakers for every budget
Slim or study? It's JBL Charge 5 vs Flip 6 in our Bluetooth speaker battle