With winter drawing in, and seasonal deals flooding onto the internet, now's a great time to bag an Xbox One games console. Whether you fancy a cheap Xbox One S or fully featured Xbox One X, you'll find 2022's best Xbox One deals below...
The Xbox One was superseded by the Xbox Series X and Series S in late 2020, so it's now more affordable than ever. The Xbox One S is a capable box of tricks that offers quality gaming at a bargain price, including 4K Blu-ray playback as well as movie and music streaming. The pricier Xbox One X ups the ante with immersive and native 4K gaming, improved Blu-ray picture quality and support for streaming services such as Netflix.
Stock is becoming quite rare, but we've listed today's lowest Xbox One prices below. Game on!
Best Xbox One S deals
The Xbox One S upscales your current games collection to 4K resolution and supports HDR (High Dynamic Range) compatibility. The Xbox interface has never been better and the controller is superb, allowing you to immerse yourself in titles such as Call of Duty: Modern Warfare, Gears 5, Far Cry and Sonic Frontiers.
Best Xbox One X deals
Want true 4K gaming? Look no further than the Xbox One X. Microsoft's range-topping console offers silky smooth graphics and blisteringly-fast load times. It also supports HDR, for improved blacks when exploring cities at night or creeping through shadowy buildings. And with improved 4K Blu-ray picture quality and Dolby Atmos support, the One X doubles as a family-friendly entertainment hub.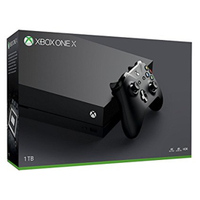 Open-box Xbox One X 1TB w/Assassin's Creed Origins Bonus Bundle £330 at Amazon
This deal bags you an "open-box" Xbox One X 1TB Console plus a game, which is a bargain compared to the cost of the newer (but also more powerful) Series X.