BT Sport is changing. As of July, it will be known as TNT Sports after it was bought by Warner Bros. Discovery. The US conglomerate also owns Eurosport, and plans to merge the two properties into one mega sports offering under the name TNT Sports.
But that'll come further down the line. Until then, here's what to expect from the rebranded BT Sport, how the channels will be affected and whether the price will change.
Why is BT Sport rebranding as TNT Sports?
It's because of a business deal. Back in September 2022, Warner Bros. Discovery – the US conglomerate that owns other media brands like DC Studios, Warner Bros. Television, HBO, CNN and Discovery – announced plans with BT to form a Joint Venture that combines the assets of BT Sport and Eurosport UK.
The first change is that BT Sport is changing its name to TNT Sports, which is the brand Warner Bros. Discovery already uses in some other parts of the world. At some point in the future, BT Sport and Eurosport will be combined (presumably under the moniker TNT Sports), but it's not been announced exactly when this will happen.
"Over time, the intention is to launch a new sports brand in the market and present this combined sports offering together with an entertainment offering from Warner Bros. Discovery," reads the press statement. Could this be a whole new streaming service to rival the likes of Netflix, Prime Video and Disney+? Watch this space...
How will BT Sport change?
For now, everything is as it was. The name change officially happens on 18th July 2023 – less than a month before the start of the 2023/24 Premier League season. Until then, it's business as usual.
What happens after that is less clear. We would expect TNT Sports to remain on the same channels as BT Sport, but BT told us it would confirms channel numbers – and ways to watch – soon. "Our aim is for customers to notice very little difference compared to how they currently enjoy BT Sport," the spokesperson added.
What we do know is that the TV contract prices will remain the same, for now at least. BT Sport has confirmed on its landing page that the price won't change with the rebranding, but there's no guarantee that a price hike won't come further down the line.
BT hasn't made the same pledge with flexible subscriptions. BT Sport currently costs £29.99 a month on a rolling 30-day contract – there's no mention of a price rise, but from 18th July, if you want to take BT Sport on a rolling contract you'll have to do so through the Discovery+ app rather than the BT Sport one.
What will happen to the BT Sport app?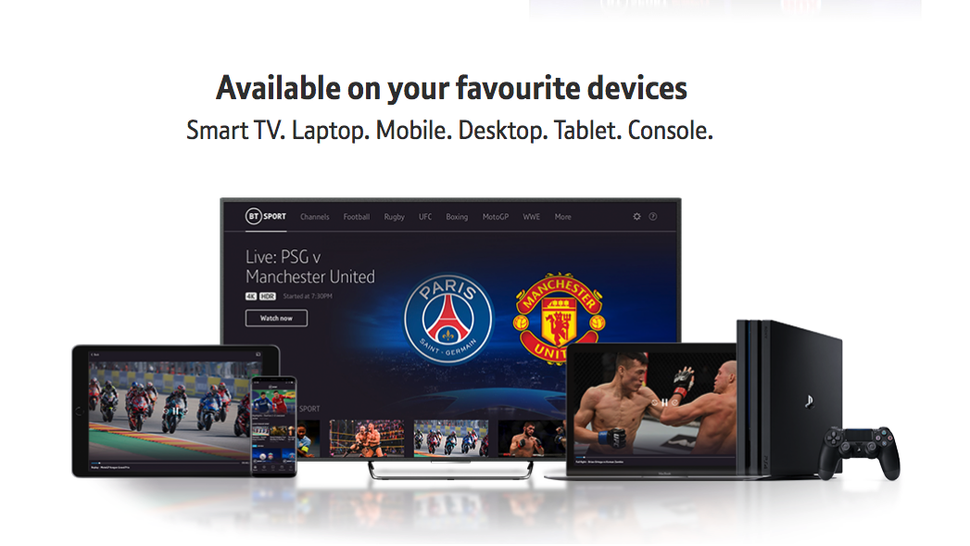 There's no word as yet, but with BT Sport no longer existing as a brand, it's likely to close, or at the very least change its name to TNT Sports.
BT Sport customers already have access to the Discovery+ app. This is likely to be where you can watch sports on your mobile device once the rebrand takes effect, so if you haven't downloaded it yet, now's the time to do so.
What will TNT Sports offer?
TNT Sports will offer the same stable of sports content that BT Sport currently does. Once Eurosport comes into the fold, this will include the Olympic Games, the Premier League, UEFA Champions League and Europa League, Premiership Rugby, MotoGP, UFC, Boxing, WWE, tennis Grand Slams, cycling Grand Tours and the winter sports season.
In the US and South America, TNT Sports is home to European football from the likes of La Liga and the Bundesliga, and American sports like the NBA, NHL and NCAA.
What channels will TNT Sports offer?
TNT Sports will offer equivalents to all of BT's current channels – all that will happen is their names will change. So BT Sport 1 becomes TNT Sports 1, BT Sport 2 will be TNT Sports 2, and so on.
The full stable of channels on offer will be: TNT Sports 1, TNT Sport 2, TNT Sports 3, TNT Sports 4, TNT Sports Ultimate, TNT Sports 5 to 10 (on the red button) and TNT Sports Box Office HD.
Why is BT changing to TNT?
It's part of a Joint Venture between BT and Warner Bros. Discovery, which also owns Eurosport. First, BT Sport will rebrand as TNT Sports, then it will encompass Eurosport UK too at a later date. This will then be offered "with an entertainment offering from Warner Bros. Discovery".
Will TNT Sports be available on Sky?
Should be, though this is yet to be confirmed. But with Sky being the UK's biggest pay-TV broadcaster, you can bet TNT Sports will be keen to get its wares in front of Sky's 12-million-odd customers.
What channels are included in BT Sport?
As well as BT Sport 1-10, you get an HD equivalent for each, as well as BT Sport Ultimate and BT Sport Ultimate 4K HDR. For pay-per-view events, there's also BT Sport Box Office and BT Sport Box Office 2, as well as an HD equivalent for each.
MORE:
Here are 5 things we learned watching BT Sport's live 8K broadcast
BT Sport Ultimate 4K is now available on Amazon Fire TV
Here are the best streaming services for movies and TV shows