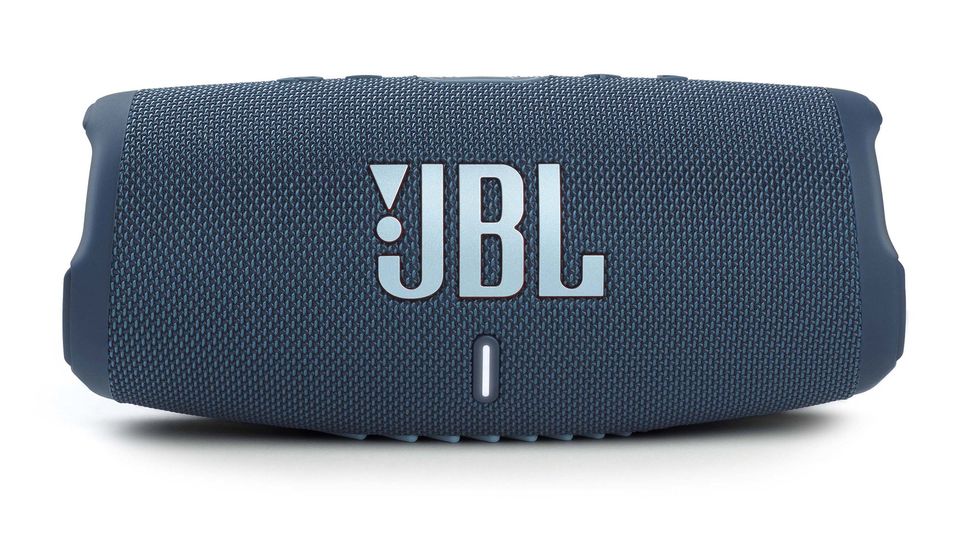 Battery life: 20hrs
Bluetooth: 5.1
Dimensions: 22 x 9.6 x 9.4cm
Weight: 0.96kg
What Hi-Fi? Awards 2022 winner. With study reliability, a heavy feature set and some supreme sound, JBL's fifth-generation Charge remains one of the finest portable Bluetooth speakers you could hope to find.
For
Clear, detailed sound
Wide soundstage
Updated dustproofing
Against
More affordable JBL models available
The Wi-Fi upgrade offers a viable alternative
Battery life: 20hrs
Bluetooth: 5.3
Dimensions: 22.3 x 9.7 x 9.4cm
Weight: 1kg
If you are charmed by the excellence of the JBL Charge 5 but are keen on using the likes of AirPlay and Alexa via wi-fi connectivity, the updated Charge 5 Wi-Fi could be right up your street.
For
Confident, well-organised sound
Typically solid, durable build
Sounds even better via wi-fi
Against
Price premium over the standard version
No PartyBoost for other JBL speakers
JBL is the dominant force in the world of portable audio, filling out our lists of the best Bluetooth speakers and outdoor speakers with impressive regularity. In recent times, the JBL Charge 5 has been right at the top of both, winning us over with its jack-of-all-trades dependability and excellent sonic chops.
There is, however, a new Charge on the block. The JBL Charge 5 Wi-Fi is a new speaker that takes the original model and adds in, you guessed it, wi-fi capabilities. This new model should have the edge over the original iteration, yet things are rarely so simple. We have found adding in new features and capabilities can often lead to compromises in areas such as sound, design and price. Time to find out if the Charge 5 Wi-Fi is a far better all-rounder than the established Bluetooth-only model, or whether it is ultimately hamstrung by its own compromises.
JBL Charge 5 vs JBL Charge 5 Wi-Fi: price
The Charge 5 is actually a fantastically well-priced piece of gear, and while it was decent value at the time of its release, that price tag has become only more attractive as discounts and deals chip away at its RRP. The Award-winning portable originally launched in 2021 at £160 / $180 (around AU$280) but if you look around (or wait for Black Friday deals) you can pick one up for nearer £110 / $150 / AU$200 in 2023.
The Charge 5 Wi-Fi, meanwhile, takes those figures up a serious notch. Considering how new it is, the new speaker won't be enjoying many discounts (although be on the lookout for introductory offers), so it is by far the pricier of the two. Expect to pay a retail price at launch of £230 / $230, approximately AU$330, a pretty sharp increase of around £70 / $70 over the original model.
If you're looking for the best bargain, the established Charge 5 is the cheaper of the two and, thanks to ongoing discounts, may represent better value for money right now.
**Winner: JBL Charge 5**
JBL Charge 5 vs JBL Charge 5 Wi-Fi: design
As you might expect, this is going to be a bit of a case of spot the difference. Considering both speakers are made by the same manufacturer and both bear the 'Charge' title, there isn't a huge amount to separate the two. Squint your eyes a bit and you will be able to suss out those key differences.
For a start, the Charge 5 Wi-Fi is a tiny bit heavier than the Charge 5 (1kg vs. 0.96kg); but place both models next to each other and you will barely notice the differences in profile. The Charge 5 Wi-fi is a tad more premium feeling, perhaps, thanks to its solid black finish punctuated by hints of gold on the main logo and at the sides.
The rest remains practically the same, including the large control buttons, rubberised underbody, USB charging port under a rubber cap, and those distinctive, indented sides. The Wi-Fi model does have the wi-fi symbol on the side logo, to differentiate the two.
Where the new boy might be limited is with regards to colour options. If you are keen on bright shades to showcase your personality, the Charge 5 comes adorned in a whopping nine potential finishes, ranging from teal to pink and even camouflage; the Charge 5 Wi-Fi model currently comes only in black with gold trim. We're holding out hope that more finishes are added down the line.
**Winner: Draw**
JBL Charge 5 vs JBL Charge 5 Wi-Fi: features
The Charge 5 and Charge 5 Wi-Fi are pretty similar in terms of build and design, and those superficial similarities extend somewhat to features, too. Both offer Bluetooth (although the Charge 5 Wi-Fi boasts 5.3 over the original's 5.1), both feature 20 hours of battery life and both offer a strong IP rating of IP67 against dust and water splashes. You can also charge your smartphone or MP3 player using both speakers' USB-A port. It's worth noting, though, that while those 20-hour playtimes are the same, the newer model will take six hours to charge against the four hours boasted by the Charge 5.
The original Charge 5 offers a JBL PartyBoost button on the control panel on top of the speaker, allowing daisy chaining by linking it with up to 100 other PartyBoost-enabled JBL Bluetooth models, although you are a little restricted in terms of the speakers you can actually use (no JBL Gos, for example).
The Charge 5 also has support from the JBL Portable app from where you can receive firmware updates and use PartyBoost, or set up a stereo pair when you have two Charge 5s linked together.
The Charge 5 Wi-Fi comes alongside a new app, JBL One. From here, you can set up your fancy new speaker, customise the EQ and browse integrated music platforms, such as Tidal and Spotify, all in one place, as well as link two of the same models together in a chain. You can't, crucially, link a new Charge 5 Wi-Fi model with its older, cheaper brother – a disappointing limitation all things considered.
What you do get with the Charge 5 Wi-Fi is, you guessed it, wi-fi connectivity. That brings in support for features such as AirPlay 2, Chromecast and Spotify Connect, not to mention voice control courtesy of Alexa Mulit-room. You are also afforded more freedom when connected via wi-fi, as you can continue using your phone to take calls or use social media without it interrupting or affecting your music.
As you would expect, the newer Charge 5 Wi-Fi speaker builds on the good work laid down by the 2021 model, taking a solid win with its bolstered feature set and useful wi-fi connectivity.
**Winner: JBL Charge 5 Wi-Fi**
JBL Charge 5 vs JBL Charge 5 Wi-Fi: sound quality
We hailed the original Charge 5 as sounding "as good as you can get in a portable Bluetooth speaker design for under £200 ($200 / AU$300)", praise that ultimately helped it to become a multi-Award winner in its class. Weighty, spacious and well-balanced for a portable speaker of its type and size, it remains an impressive listen even after more than two years on the market.
The Charge 5 Wi-Fi boasts a slightly larger woofer than the original (53 x 93mm against 52 x 90mm), and while most of the internal hardware remains unchanged, there are certainly marked differences in sound quality when the two models are played side by side.
When compared on an equal footing – i.e. when using a Bluetooth connection – the Charge 5 Wi-Fi claims marginal sonic improvements. The difference is hardly night and day, but there is certainly a little more forwardness and a forthright authority about the Wi-Fi model that gives it the edge, albeit a slight one. With discernable weight and punch, combined with a maturely composed and pleasingly wide soundstage, the Charge 5 Wi-Fi delivers textbook JBL sound with a little extra spice and spark added into the equation.
The real advantages come when wi-fi-enabled platforms are used. When we stream to the Charge 5 Wi-Fi using AirPlay, for instance, there are increased levels of refinement, not to mention some welcome flourishes of dynamic musicality. Play the same track back to back but replace the Bluetooth stream with a wi-fi stream, and you will hear more space, clarity and musicality overall. This, evidently, is where the newer speaker has the advantage.
Both perform marvellously as party speakers or musical outdoor travelling companions, yet it's the Charge 5 Wi-Fi that has the edge here, even with that significant price increase.
**Winner: JBL Charge 5 Wi-Fi**
JBL Charge 5 vs JBL Charge 5 Wi-Fi: verdict
Both the JBL Charge 5 and the JBL Charge 5 Wi-Fi are excellent portable speakers; they are durable, well-made, easy to use and great-sounding models that excel in all the areas you would hope for in the world of portable audio, and either one would make a fine addition to your personal sonic stable.
Having said that, the Charge 5 Wi-Fi does have its advantages if you want improved sound and the extra stable of features you get with a wi-fi connection. AirPlay, voice control and Spotify Connect are fine additions to this new Wi-Fi edition. While that price is a substantial increase on the original Charge 5, it's certainly worth it when it comes to sound quality (especially through wi-fi streaming) and if you are keen to prioritise the new tricks and treats the newer iteration brings to the table. However, if you are after the very best bargain, the Charge 5 still remains sound-for-pound the best value portable Bluetooth speaker around.

MORE:
Read our JBL Charge 5 Wi-Fi review
And the Award-winning JBL Charge 5 review
Which JBL speaker should you buy? Flip 6, Charge 5, Xtreme 3 and more
See our JBL Flip 6 vs Flip 5 in another battle of new vs old
Check out the best Bluetooth speaker deals on the internet