Check out the latest digital edition at Zinio
You're probably watching more movies lately than ever before in your life. If the audio system you're using doesn't have a subwoofer, you're missing out on all the deep bass movies have to offer. KEF's awesome new KF92 subwoofer delivers a fantastic deep bass sound, is small enough to be inconspicuous in any room and it won't break the bank. There's a full review, complete with independent test laboratory measurements in Australian Hi-Fi March/April 2020.
Parasound Zphono XRM preamp
Have you been using your time at home to brush the dust off some of your old vinyl? It's going to sound better if you add a good phono preamplifier to your hi-fi system, and in this issue we review and test the latest one from US manufacturer Parasound. The inexpensive full-featured ZPhono XRM does everything you could possibly want it to do, and does it all magnificently well. It even has a rumble filter!
Sony WF-1000XM3 true wireless earbuds
Everyone should own a pair of good noise-cancelling headphones, and Sony makes some of the best, especially the WH-1000XM3s. But if in-ear noise-cancellers are what you're after, Sony's new WF-1000XM3s are simply the best available, in terms of both sound quality and their ability to eliminate unwanted environmental noise. And they're bargain-priced!
Dynaudio Evidence Platinum loudspeakers
You won't be able to afford them, and you'll find it difficult to find a pair, but you should really listen to a pair of Dynaudio Evidence Platinum loudspeakers, because they really rip up the tower rulebook and will point you in the direction of the loudspeakers you should be buying…
Hi-Fi set-up interviews
Have you ever wondered what type of hi-fi equipment other people have in their homes? And why they purchased it? And if there's any component they regretted having purchased… or discarded? Each month we take you into a private home to answer these questions and so we can ask a few of our own.
Expanded music section
This issue of has a bumper-sized music review section, with a Top Picks column dedicated to the best new Australian music, a Super Fidelity column that identifies not only great music, but also music that will sound great on your hi-fi system, plus special columns dedicated to reviewing new and re-released titles in the rock and jazz genres… in other words, pages and pages of music you'll like.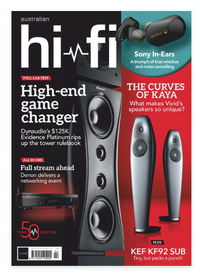 Australian Hi-Fi Magazine's March/April issue (#512) is ON SALE NOW at all good newsagents as well as digitally on Zinio. For print subscriptions visit techmags.com.au.